What next for #TimesUp after Hollywood's biggest night?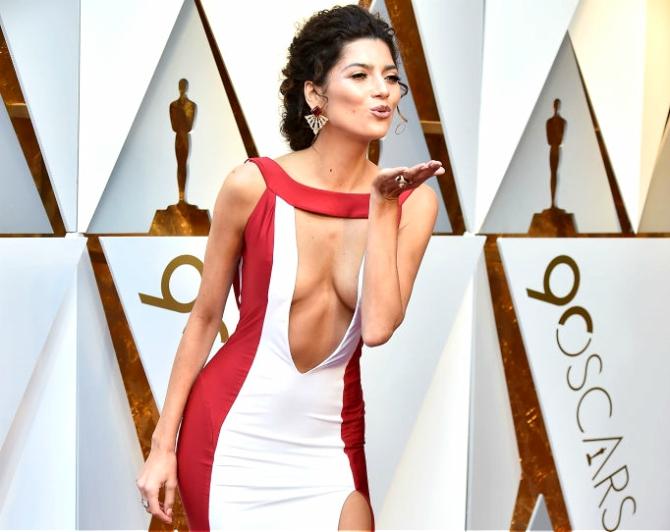 Blanca Blanco, one of the actors who didn't join the black dress protest at all this awards season, at the Oscars on March 4.
Don't miss: Why I didn't wear black to the Golden Globes
Photograph: Frazer Harrison/Getty Images.
After the show of solidarity with the #MeToo movement on the red carpet at the Golden Globes, BAFTAs and the Grammys, a final big show of strength was expected at the Oscars, Hollywood's biggest night. But Time's Up, the organisation that spearheaded the red carpet protest and is taking the fight forward decided against it.
Time's Up leaders like Shonda Rhimes, Laura Dern, and Ava DuVernay explained their decision to a group of journalists in Hollywood.
'It's really important that you know that Time's Up is not about the red carpet,' Rhimes, the name behind hit shows like Grey's Anatomy and Scandal, told the media. 'And those women you saw on the red carpet representing Time's Up are now off the red carpet working their butts off being activists.'
She added, 'We are also well aware of the kind of attention people are able to command at certain times. Some of these amazing women have a superpower, and we like to deploy that superpower usefully and in an intelligent way -- and not just because we can.'
The question of E! host Ryan Seacrest, who is facing allegations of sexual harassment, being on the red carpet also came up.
DuVernay told the gathered media, 'Our position is, we support people who are bearing witness to what has happened to them. But the bottom line is if you're on the carpet, you make your individual decision about it. We are trying to build something that is sustainable, long-lasting, and serious.'
Recommended for you: The history of protest fashion at awards
TV Reed, the Buchanan distinguished professor emeritus at Washington State University, the author of The Art of Protest, and the editor of the web matrix, culturalpolitics.net applauded the move in a column for Fortune where he spoke about 'protest fatigue'.
He wrote, 'In several decades of researching social change, I have never seen a social movement arise as quickly and spread as widely as the #MeToo campaign against sexual assault and harassment. But like all contemporary protests, supporters face the difficulty of sustaining momentum in the face of a public whose attention span seldom lasts beyond a single news cycle.'
Recommended for you: Meet the desi activist who walked the Golden Globes red carpet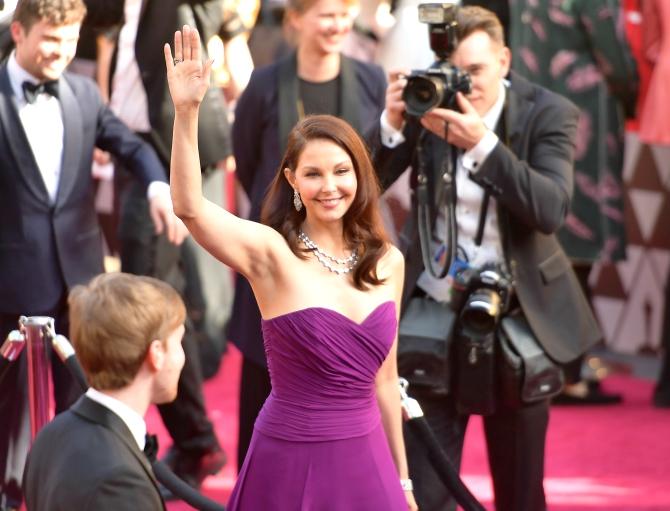 Ashley Judd, one of the actresses who spoke up in the first story against Harvey Weinstein in October 2017, on the Oscars red carpet.
Photograph: Matt Winkelmeyer/Getty Images.
The Time's Up movement came up in response to the revelations about how Hollywood mogul had sexually abused women for years and the resultant #MeToo movement.
It's aim is to provide legal assistance to victims of sexual abuse to take the fight forward and bring real change. Announced on January 1, 2018, the organisation had raised $21 million for its legal defense fund by the Oscars night.
According to a report in Vanity Fair, 'Time's Up has received requests for assistance from 1,700 women wage workers from 60 different industries. (Only a small percentage of them are coming from the entertainment industry.) Five hundred attorneys have volunteered their services to these women, who are everything from farm workers to hotel employees and food service workers.'
The organization also meets monthly, 'with some 200-400 women showing up each time'.
The report added that smaller groups had been created within the organisation to deal with specific issues, 'and those groups get together more frequently as required'.
Rhimes told the media, 'There is no invitation process to Time's Up. People just started showing up. Hollywood is a place that breeds a feeling of exclusion for people, and this is very counter to that. For a lot of people there is a feeling that this must be something you are invited to because everything else in this town is built with the idea of you with your nose pressed to the glass. I don't care who you are; there is always something you are excluded from. This just doesn't work that way, and that's one of the reasons why I find it so refreshing.'
The stake holders in the Time's Up organisation also noted that their work would go beyond tackling sexual harassment to the issue of 'lack of parity in the workplace'.
Vanity Fair quoted Tina Tchen, the attorney spearheading the legal defense fund, as saying. 'Sexual harassment is the issue that's gotten all the coverage, but if we are really going to solve sexual harassment, the core issues are building equitable workplaces. And that's all these issues: equitable pay, it's paid leave, it's diversity inclusion, it's fair promotion policies. You have to address all of those. You run the risk, if you just focus on harassment, of not really solving the core problem.'
Time's Up has also partnered with StoryCorps, a non-profit oral-history project that records individual stories for preservation at the Library of Congress, Washington, DC. Ashley Judd, one of the first actresses to speak up against Weinstein has already recorded her experience. As part of the project, they will record women's stories covering a range of issues.
Katie McGrath, co-CEO, Bad Robot, and a Time's Up thought leader told the media, 'We want to make sure that as we move forward, we are being as strategic and thoughtful and authentic in our activations, and in our rollout.'