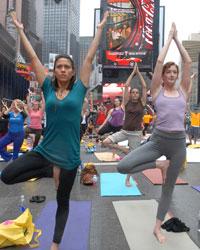 What's cool and what's not changes every couple of generations. A change has come upon us, says Shwetal Rai, as she witnesses a phenomenon of ancient spritual practices creep silently into the lifestyles of the young and the restless.
It all began with an eyesore...the cubicled atmosphere of plush air-conditioned offices, the 'I am busy' look my colleagues wore whenever they looked up from their work stations, the back-to-back meetings and incessant IMs...
That's when I knew I needed a vacation; a vacation from the mobile phone, from Outlook, from IM, from work, from fun, from Facebook, Twitter, blogging -- from the noisy, task-laden vuvuzela that has become my life.
While I mulled over the perfect vacation destination, an e-mail caught my fancy -- a four-day meditation course promised me not just stress relief, but a deeper understanding of life and beyond. Bracing myself for the company of the silver-haired, I headed to the Art of Living International Centre in Bangalore to attend the meditation programme. What I saw there was bewildering and far removed from what I expected.
A sprawling 20-something acre ashram with a magnanimous meditation hall, flanked by pristine, well-maintained landscapes greeted me. A sense of calm and peace pervaded the air despite the tremendous amount of activity taking place around me and people of all ages were checking in for various stress-busting programmes. "Welcome home," said a volunteer at one of the registration desks as he handed me my name tag. Almost everyone I ran into had a lovely smile on their face. It was infectious -- I couldn't help but smile.
The meditation hall was full; over 700 people were taking the same course that I had signed up for, most of them first-timers. I looked around and noticed that most of the participants were youth. People in their twenties and late thirties -- young! I sighed. I wasn't the only one who was stressed and admitted it!
I got chatting with a couple of people (those who were repeating the programme) and was amazed at the cool they oozed and the joy they radiated. Most of them believed in meditating twice a day for 20 minutes at a time. "It's the easiest way to live a healthy lifestyle, and it doesn't hurt that it's become 'cool' to do so. A decade ago, practicing yoga and meditation would have been considered archaic and old-fashioned, but not anymore," says Suman, an HR professional working with an MNC.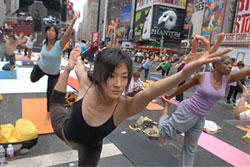 The course did indeed focus heavily on a healthy lifestyle, with added emphasis on meditation. The yoga sessions began at 6 am and were followed by a light and healthy breakfast. This was followed by seva, an act of service. Even something as simple as chopping vegetables suddenly seemed so pleasurable. The rest of the day was filled with meditation and pearls of wisdom from the spiritual master, incredible stuff that we so often miss out on in the hustle and bustle of life. The evenings were nothing short of party time, with thousands of people singing and dancing to bhajans. A very different kind of nightlife I got to see!
Speaking of health, 28-year-old Amit from Chandigarh told me about his life and drug dependence problem. He said that practicing meditation and the sudarshan kriya regularly have helped him overcome the addiction. "Spirituality comes as a breath of fresh air in an age where alcohol and drugs are so common. I experience a better high during meditation, that too without hangovers, so overcoming the addiction was almost a natural consequence," he explained. I couldn't help but gape. That's when I remembered a very interesting quote by spiritual master Osho, "Meditation has only one meaning, and that is going beyond the mind and becoming a witness. In your witnessing is the miracle -- the whole mystery of life." And so many young people here were part of that miracle.
"It is not about wearing a Shiva tee-shirt or a rudraksh mala as a fashion statement anymore," says Pooja, a doctor from Bihar. "Today, spirituality has revived and those who aren't meditating are the ones who are uncool." Adding weight to Pooja's opinion is the fact that numerous celebrities are climbing onto the yoga and meditation bandwagon. Even spirituality is now studded with glamour -- Shilpa Shetty's yoga videos are available at every music store, Clint Eastwood has acknowledged practicing transcendental meditation (TM) and Pullela Gopichand has vouched for Sudarshan Kriya. Even pragmatic and high-flying corporate honchos such as Venugopal Dhoot and Yash Birla meditate religiously everyday. It's not rocket science figuring out that the effect trickles down to those working under them.
While youngsters were getting a spiritual high out of the breathing exercises, I also spoke to a few older people who swore by meditation and other spiritual practices. "For a lot of youth, it starts as fad but when they really go through it sincerely, they realise its significance and practical applications, like how to handle the mind and emotion," says Manoj, a businessman from Pune. "It is great to see so many young people come and sing, pray, meditate and understand spirituality," adds 70-year-old Uma Devi. "They are also attracted to spirituality because it is interesting to know more about the unknown."
Four days of silence and nights of satsang (song and dance) later, when I emerged from the course, I felt truly refreshed. Meditation does have a calming effect on the mind and is truly soothing to the soul. Yet it baffled me, the sheer number of people adopting this way of life.
What perhaps lends added credibility to meditation is the considerable amount of research conducted on its effects. From the times of Maharishi Mahesh Yogi, science has taken the claims of those who practice it seriously. Research on the benefits of meditation and its impact has shown a marked change in lifestyle, health and mental wellness and productivity of longtime meditators.
Spiritual guru and founder of The Art of Living, His Holiness Sri Sri Ravi Shankar says, "That which is useful to people, they will take. Take for example mobile phones; they have become such a common thing. Similarly, a technology, an art which brings some soothing benefit to people, they will go for." That rings true!
Photographs: Paresh Gandhi