The job of a prompt engineer does not necessarily require candidates to be trained in "hardcore" computer engineering skills.
'This is one of those rare jobs that opens the sector to the layman.'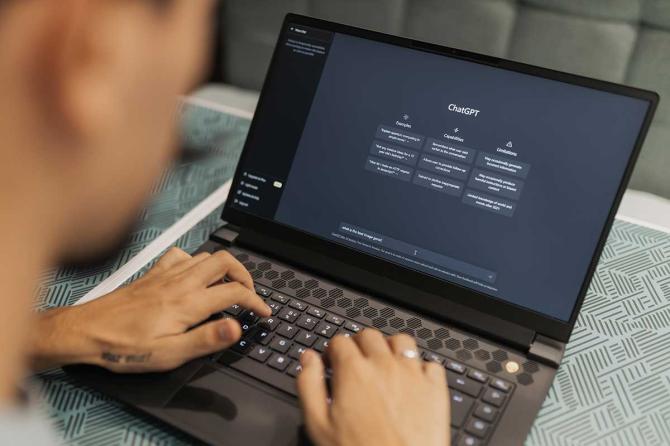 A search on LinkedIn with the keywords 'Prompt Engineer' reveals an interesting trend among Indian job-seekers.
A number of users have added 'aspiring prompt engineer' (or a variation of this) to their profile headlines.
Several content creators, especially those with experience in creating short, focused content for social media consumption, are updating their profiles with such headlines.
While definitions are yet to be formalised, a prompt engineer trains the emerging crop of large language model (LLM) artificial intelligence (AI) tools like ChatGPT, DALL-E, and Bing AI to deliver more accurate and relevant responses to the questions people are likely to ask.
While these jobs have been around for a couple of years at least, an evolving debate around the threat generative AI tools like ChatGPT might pose to traditional job profiles has brought prompt engineering into the spotlight.
Several media reports about Google-backed California-based AI company Anthropic's lucrative salary offers of up to $335,000 for the role have also generated a buzz amongst job-seekers in India as well.
A search on LinkedIn, Naukri.com and other job aggregator sites reveals that companies in India, too, are offering jobs to 'prompt engineers'.
For instance, Mumbai-based digital marketing agency Mirum India is hiring a prompt engineer to 'generate code suggestions, identify coding errors and bugs, and improve code performance', and so on.
Hyderabad-based software development firm TheAlpha.Dev is also hiring prompt engineers to 'design and develop prompts for ChatGPT', and 'troubleshoot and debug prompts as needed'.
Some of these jobs required five to 10 years of professional experience.
A few in India have already clinched the much-desired role.
Rohan Sahni (name changed on request), a social media content writer at a leading PR firm, left his job for a 'prompt engineer and precision reader' role in a Bengaluru-based firm that works with natural language processing (NLP) and machine learning (ML) technologies.
"The job's ad had stressed creativity and precision with language. As someone whose daily job involves generating catchy and focused tweets for clients, I thought I had a good shot at it. Thankfully, they thought so too," Sahni says.
While most companies do not disclose their salaries for the role in their ads, Sahni says his salary has jumped 60 per cent with the move.
Debashis Guha, director-Masters of AI in Business and chair-Centre for Research on Technology in Business at S P Jain School of Global Management, Mumbai, agrees that the job of a prompt engineer does not necessarily require candidates to be trained in "hardcore" computer engineering skills.
"This is one of those rare jobs that opens the sector to the layman."
According to Guha, candidates from the humanities stream, with English or history as their majors, will be better able to use these natural language tools.
Suchetna Kalra, who joined a Noida-based design services start-up as a prompt engineer, has no training in tech.
Her PhD in art history explored Indian pop art like film posters, comics and wall graffiti.
Before joining her current role, she had worked as a guest faculty across several leading colleges in Delhi for more than a year.
"To have a humanities background in this field seems to me like a triumph, especially since we are working to imitate human thought, and that too in a specific cultural context," Kalra says.
She was offered a package nearly double her previous salary.
However, basic training in AI and ML remains crucial.
Some experts like Bhuvan Desai, vice president-Client Operations at Uplers, a talent management firm, insist that "experience with one or more programming languages, an understanding of different AI models and the ability to review and interpret the code well, as well as a deep knowledge of natural language processing" is necessary for becoming a prompt engineer.
Sandeep Sharma, senior research manager at the International Data Center, insists that the tech skills must be coupled with an ability to understand user personas, needs and behaviours, as well as superior English language skills.
No wonder then that freshers like Sahni and Kalra are required to complete courses in AI/ML/NLP within the first nine months.
They also receive on-job training in generating and perfecting prompts during their six-month probation period.
"We have been asked to enrol in one of the company-recommended online classes in prompt engineering. The enrolment cost will be covered in the package offered," says Sahni.
The rise in demand for prompt engineers can be seen reflected in such courses on offer from online learning platforms like Udemy, upGrad etc. Mayank Kumar, co-founder and MD at ed-tech platform upGrad, says the company has seen a 30 per cent increase in enrolment for its AI programmes in Q4FY23 compared to the previous quarter.
upGrad trains students with popular AI tools such as ChatGPT, Midjourney and Stable Diffusion.
Practice makes a prompt engineer perfect, says Guha.
"People trained in mathematics and computers are often too literal. You can't be too literal. You can't be too fuzzy. You need to be somewhere in between," he says.
"Most importantly, it's mainly an exercise in precise thinking through trial and error. One must be at the ChatGPT terminal for hours and figure out what prompt gets what response."