Mahindra Kabira Festival returns to celebrate the poet-saint's legacy. Manavi Kapur reports.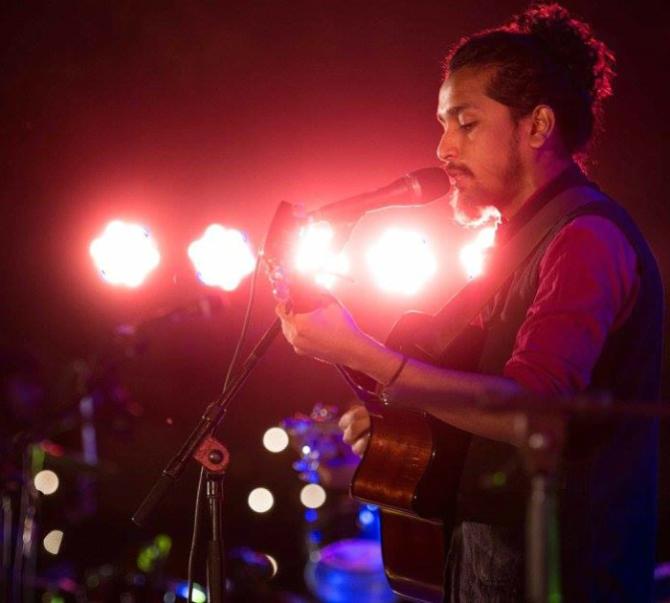 Though it may be difficult to structure several editions of a festival around one historical figure, it is a challenge the organisers of Mahindra Kabira Festival find exciting.
Photograph: @MahindraKabiraFestival/Facebook.
If there is just one thing one fondly remembers from Hindi lessons in school, it has to be the dohas of Kabir. In poorly structured textbooks that were often incomprehensible for their doggedly purist Hindi, the poet-saint's couplets were a breath of refreshing air.
But beyond banal student concerns, Kabir occupies pride of place in the vibrant universe of the 15th-century Bhakti Movement. In its second edition, the Mahindra Kabira Festival will try to celebrate this very vibrant legacy.
The festival, to be held on the ghats of Varanasi -- the city where Kabir was born, spent most of his life and found a guru in Swami Ramananda -- will feature musical performances, heritage walks as well as panel discussions on the poet-saint's literary legacy.
Kailash Kher and Shubha Mudgal will be headliners for the festival, but the programme will feature a range of upcoming artistes from classical and folk genres.
"Each musical style has a distinctive take on Kabir. We are committed to presenting the poet in surprising and innovative formats and in doing so we are assured of many more editions of the festival," says Jay Shah, vice-president and head -- cultural outreach, Mahindra & Mahindra.
Though it may be difficult to structure several editions of a festival around one historical figure, it is a challenge the organisers find exciting.
"Kabir's philosophy permeates all thought and poetry. It lends itself to diverse performance styles and this has made the journey exciting. His work can be represented by divergent performing styles -- from Mukhtiar Ai to Kabir Café," says Sanjoy Roy, managing editor, Teamwork Arts, which has conceptualised the festival with Mahindra & Mahindra.
For instance, Harpreet Singh is a particularly interesting part of the lineup, considering how his compositions have been influenced by poets such as Bulleh Shah, Avtar Singh "Pash" and Suryakant Tripathi "Nirala".
The Bhakti Movement, while it began in peninisular India, spread its wings across the length and breadth of the country. While each poet's spiritual message was unique, there was a distinct organic quality that Singh's music will seek to bring forth.
Kabir and his legacy speak to different people in different ways, says Hindustani exponent Shubha Mudgal.
"But personally, it is his fearless, forthright message of peace, love, equality and communal harmony that moves me immensely. Many mysteries and truths are revealed to me through his verses, often through the most simple couplets and songs," she says.
Like most school children, Mudgal first encountered Kabir's couplets while in school in Allahabad.
"But it was the singing of Kabir's poetry by path-breaking vocalist Kumar Gandharva that actually drew my attention to Kabir's message. Hearing him sing Kabir was an experience that I cherish, and it triggered a desire not just to sing his verses, but also to study Kabir's poetry and obtain a better understanding of his deeper philosophical messages," she adds.
For Vinayak Sapre, the author of Dohanomics: Timeless Lessons for Investors from Sant Kabir and Rahim, Kabir was a familiar presence while he was growing up in Varanasi. It is the poet's "lucid" and accessible writings that make him still relevant, says Sapre.
Perhaps in the least poetic and most surprising manner, Sapre talks about the lessons that Kabir has in store for an Indian investor.
"Kabir emphasises behavioural aspects like discipline, patience, controlling emotions, the importance of a guru and so on. These behavioural aspects play the most significant role in successful investing," he says.
Sapre will moderate the literature session that, like all other events, will be held by the banks of the Ganga.
The two-day festival will begin with morning music at the Darbhanga Ghat, walks and literature sessions during the day, and evening music at Assi Ghat.
Heritage and food walks will explore the legacy of the weaving communities of Varanasi, especially relevant to Kabir because historians believe he was born into a family of weavers. There couldn't be a better time to celebrate a poet born into a Muslim family, influenced by a Hindu guru and who wrote about the enduring necessity of communal harmony.
The Mahindra Kabira Festival will be held in Varanasi on November 11 and 12.
Entry to most events is free, with registration. Delegate packages, which include accommodation, meals and special events such as a curated boat tour, are priced between ₹4,000 and ₹25,000.
For complete schedule, visit mahindrakabira.com