A specially abled Sai Kaustuv Dasgupta tells Tista Sengupta that he wants to make his life a message to all wheelchair warriors.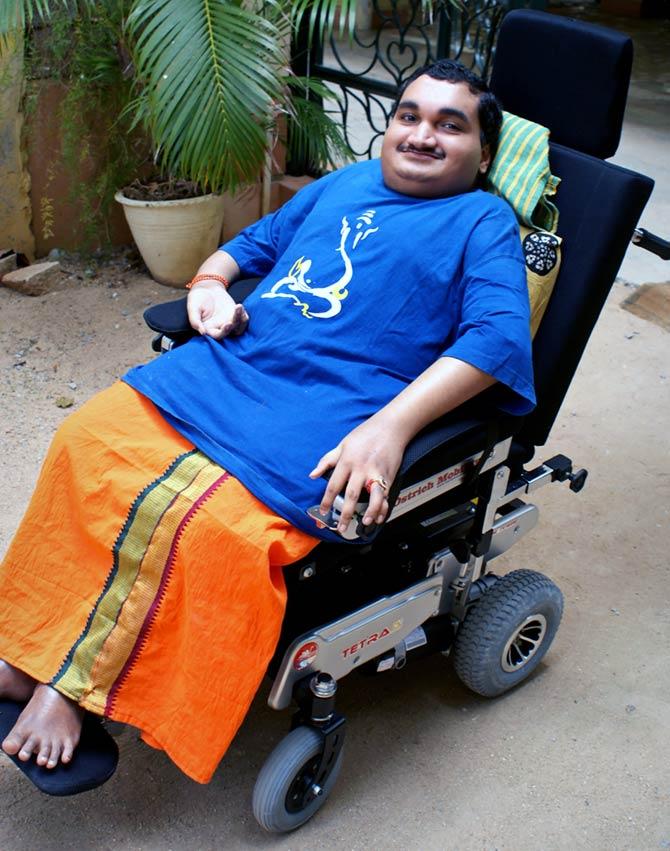 IMAGE: Meet the wheelchair warrior and India's first #WheelchairWanderlust Competition winner Sai Kaustuv Dasgupta.
All photographs: Kind courtesy Sai Kaustuv Dasgupta
He is 26. And has survived 50 fractures.
He might be in a wheelchair. But he lives life king-size.
A self-taught graphic designer, who hails from Puttaparthi, Andhra Pradesh, Sai Kaustuv Dasgupta doesn't dwell on life's obstacles and believes in soaring on the wings of faith and self confidence.
After he moved to Andhra Pradesh from West Bengal as a child -- based on numerology and the belief that Sai is a powerful name -- his parents decided to prefix Sai before his name.
He excels in music.
He also recently won the first-of-its-kind All India #WheelchairWanderlust Competition this year. This a competition, organised for the first time in India last year by UMOJA -- an online travel portal for persons with disabilities, that has US and Australia chapters, and works towards making travel accessible to the wheelcahir bound.
Tista Sengupta chats with Sai Kaustuv, who hopes to make his life a message for all 'wheelchair warriors'.
Congratulations on winning the 'All India #WheelchairWanderlust Competition 2016'. How did it happen?
Applicants had to write an essay on: What travelling in a wheelchair in India means to you. And also record a video and post it online.
There were around 27,000 participants. The winner (was decided by) the number of viewers (for your) video and also by a panel of judges who are physically challenged.
One of the judges was Paralympic (shot put) champion Deepa Malik, and I know her personally now.
(The winner) gets a sponsored three-day trip to the place of their choice.
I won the contest and chose to go to Goa.
Why Goa?
Always been my dream to visit Goa. (Ever) since I saw (it) in the movies, I always found it very beautiful.
I also knew I would never be able to go to the seashore in a wheelchair.
The organisers booked a three-day stay at the Goa Marriott Resort & Spa for me and my family. They also got us flight tickets.
Unfortunately, I was unable to take the flight. I use a motorised wheelchair and I can't sit in a flight seat.
I requested them to find some other way for me to travel. They arranged for a wheelchair accessible car that had a ramp in the rear.
It took us 19 hours, but I made it to Goa.
I was given a go-pro camera which I used to shoot a documentary.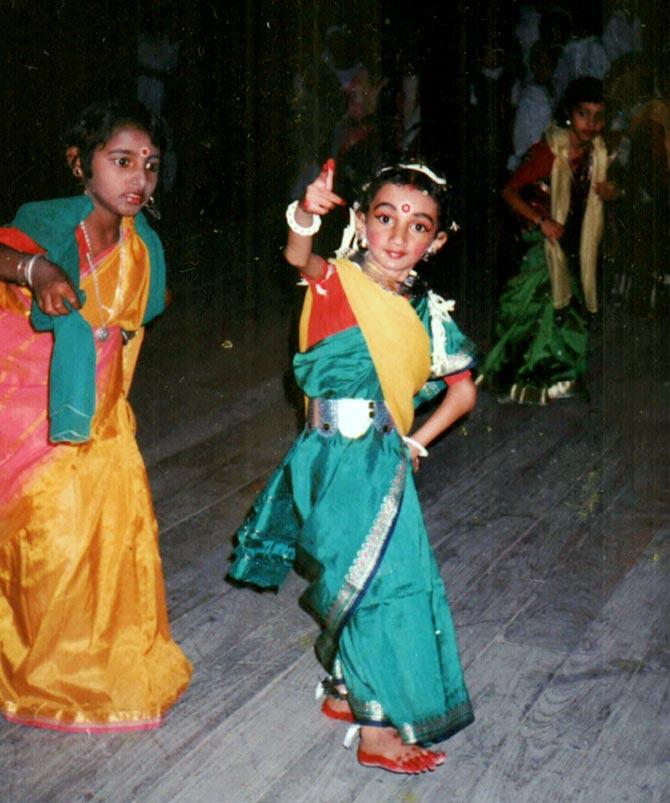 IMAGE: How cute! Sai Kaustuv, right, loved to dance when he was little. He suffered from brittle bone disease and had to let go of his passion.
Tell us about your childhood.
I was just three-and-a-half months when I had my first fracture in my right arm between my elbow and shoulder. It happened when my mother was just shifting me from one lap to another.
The doctor was surprised to see a tiny baby get a fracture. He plastered it, of course, but couldn't figure out the reason.
In just a year, I got another fracture in my thigh. (After that) I started to get fractures in every joint in the body, wrists, hips, collar bones, ankles, etc.
My parents took me to Kolkata for treatment. As I had already suffered three fractures doctors suggested a few blood tests.
The reports (indicated) I was suffering from osteogenesis imperfecta , also called brittle bone disease.
In India, it's a very rare medical problem, unlike in the United States. (Here) out of 20,000 people, only one person suffers. It is due to deficiency of calcium in the body.
When did you discover your interest in dance and music?
I was very fond of dance since a child. I imitated dance steps from television.
My parents, Kaushik and Shila Dasgupta, wanted me to experience some joy in life. They enrolled me in dance classes. I trained in Kathak.
When I had to perform in a group it proved to be very dangerous for me. I got a fracture. My bones are like feathers.
I gradually realised dance wasn't really meant for me. I understood I had to be away from people. Not go down to the playground or even go for my dance classes.
Also, a very few people (could) understand my medical problem. At times, my mother tried to stop me from dancing.
One day, she sat me down and said, "You can do something else. Something that you can do by sitting in one place."
And that's how music happened!
While I studied at Satirtha Vidyamandir, Siliguri (West Bengal). I also took music classes at Nritya Manzil (also in Siliguri). My mother -- who was a trained classical singer -- was my first guru. I took classes from her too.
Frankly speaking, I was surprised to (discover) that I could sing. My mother always encouraged me and said I could be a good singer.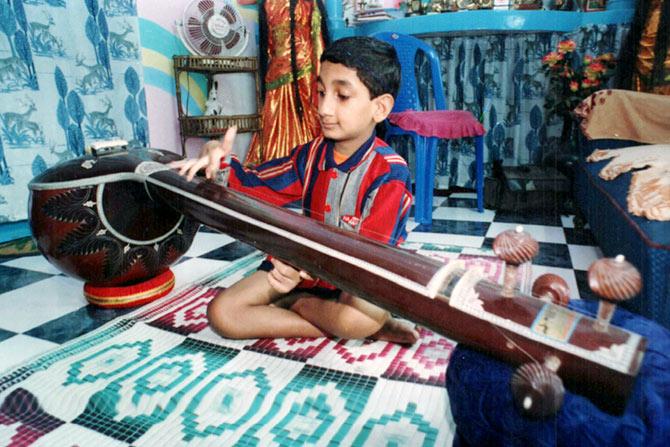 IMAGE: Young Sai Kaustuv tries his hand at playing the sitar.
Why did you and your family move to Puttaparthi, Andhra Pradesh?
I have always been a very spiritual person. I like listening to devotional songs since childhood and am attracted to gods and goddesses.
We are devotees of Sri Sathya Sai Baba; I always knew that I had to worship him. To me, he was someone like Lord Krishna or Lord Rama.
In 2001, Dr Sai Kiran, an eye specialist, came to Siliguri. We went to meet him too. He suggested they move me to Puttaparthi (where the) Sri Sathya Sai Super Speciality Hospital, known for its specialised treatment in orthopaedics, (is located).
My parents put me as their first priority. They never hesitated to sacrifice their jobs for me. (Father was a photojournalist with some 16 newspapers in north Bengal, and mother was a music and science teacher).
Was settling in Puttaparthi difficult?
Yes, initially we did face a lot of difficulties.
Before we moved permanently to Puttaparthi in 2004, my father visited (to look) for a job. None of the companies could give him...
We sold our house and everything else in Siliguri, and bought a small flat in Puttaparthi.
My father didn't have a fixed income anymore. He and my mother started a catering business that served Bengali and north Indian food.
The food became a big hit. My mother cooked without any help, and my father delivered the food.
Did you get back to your studies in Puttaparthi?
I (started) distance education from Sri Krishnadevaraya University, Anantapuram (Andhra Pradesh). I studied the whole year. (The venue for) my final exams was very far away.
My shoulder had frozen. My hip joints weren't working. I couldn't sit in a car. My health started deteriorating. I couldn't write the exams.
In 2009, I stopped using a wheelchair (because) I could not sit in a wheelchair for long. I was fully confined to (my) room.
I never saw the sun, moon, or anything that was happening outside. I wasn't in a position to shift from one place to another.
I was bed-ridden and could only sit up for a while with a backrest.
I never let myself feel discouraged. I never complained.
Suffering grew with me since childhood. I always told myself that what I can do, many people can't.
When I started using a wheelchair in 2000, I always thought myself to be a wheelchair warrior.
During this phase, I thought of trying my hand at something new... I decided to give graphic designing a try.
First I had to (learn) how to operate a computer. There was no computer science course in the distance education curriculum.
After Class 11, my right hand had also stopped working or moving. It was bent, but I still tried drawing with my bent right hand. It was painful.
Although my left hand wasn't in its best shape, I still managed to do everything with it.
I had to abruptly discontinue my studies.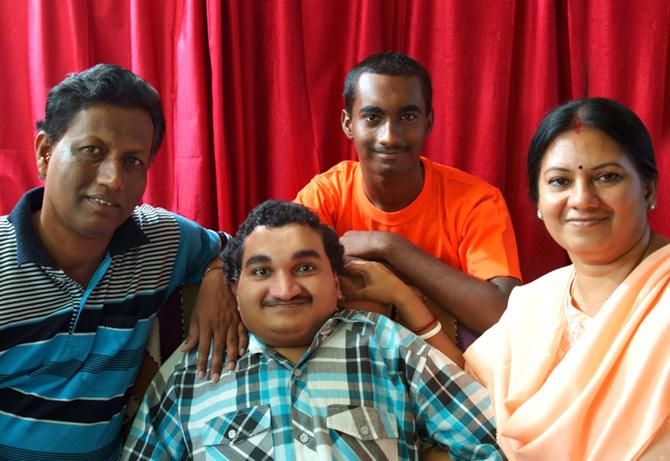 IMAGE: Sai Kaustuv with his father Kaushik Dasgupta, left, mother Shila Dasgupta, and younger brother Kushal, behind him.
What did you do next?
I started looking for someone who could teach me at home. I heard of a teacher good at designing. I approached him...
I (started) tuition with him. Surprisingly on the seventh day he told me, "Kaustuv, you already know the ABCs of graphic designing. So please give me my fees and I shall go."
I fell from the sky. I had only learnt a few tools. He hadn't taught me much about designing. I didn't know how to learn. I was totally clueless.
Thankfully, my self-confidence helped me gather courage. I took online tutorials from YouTube. Every day I learned something new. You can, perhaps, call me a self-taught graphic designer.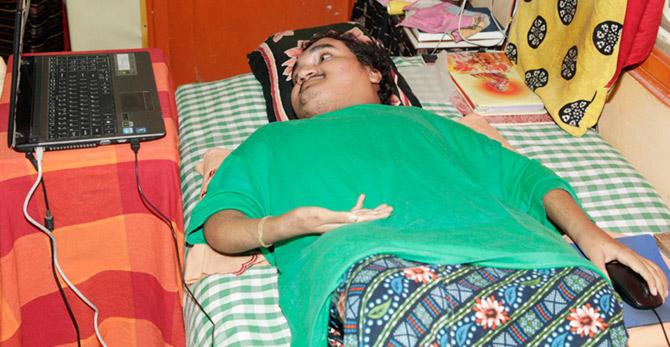 IMAGE: And that's how a determined Sai Kaustuv spends his time making artwork on his laptop.
Your right hand doesn't work properly. How do you type or sketch?
My hand doesn't reach the keyboard anymore. There are virtual keyboards in all computers these days. Very few actually use it.
When I started using the virtual keyboard, it took me two minutes to type a sentence. Now I have good speed.
For sketching, I operate the mouse with my left hand and only use two of my fingers.
I work as a freelance graphic designer. I create artworks for many international companies. I earn around Rs 10,000 every month.
Along with this, I also give motivational speeches to PhD students in different parts of the country, and also across the globe through Skype for free.
I have also written My Life, My Love, My Dear Swami. It has been translated into Malayalam, Oriya, Tamil, Telugu, Gujarati and Hindi (and shortly will appear in Spanish).
The book reflects upon my life, the difficulties I have faced and my learnings.
IMAGE: Sai Kaustuv (seen on television) pose with his students while he gives them a motivational speech over Skype.
Your message to those who are differently abled.
All those who travel in a wheelchair must have a strong determination and a clear idea of their goals.
Celebrate every moment and value your life. You should have a positive outlook towards life.
Never underestimate yourself. Always feel and believe that you are specially-abled.
No matter who you are, be positive. Embrace your life and love the way you are.
You should be happy and satisfied with whatever you are blessed with.
I think my life is a living inspiration and through my life, I have inspired millions, who want to be happy and stress free.
Did you ever feel you were discriminated against because of your disability?
I, sometimes, feel that the disabled are discriminated in the society. People look at us with a different attitude.
It's my inner power that has made me what I am today.
I am 80 per cent disabled, but the government hasn't helped me yet. I haven't got any scholarship.
My life is like a miracle. I don't think many people would have the courage to fight the issues people like us have.
I always try to inspire other people and help them.
When someone's going through depression, I tell them good things try to make them happy.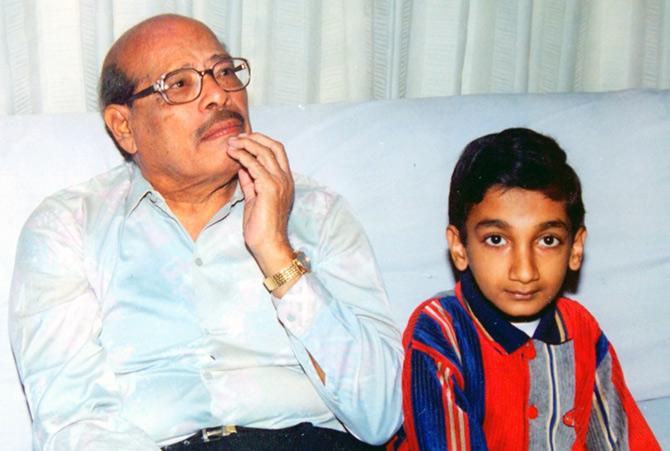 IMAGE: A young Sai Kaustuv, right, with the late legendary singer Manna De.
Tell us about your other achievements.
I might be a graphic designer by profession, but music is in my blood.
I have composed around 130 songs which are available on my YouTube page.
I have also won several awards for my singing talent. At events where singers like Ustad Rashid Khan, Anup Jalota, Manna De, to name a few performed, I sung before them to kickstart the event.