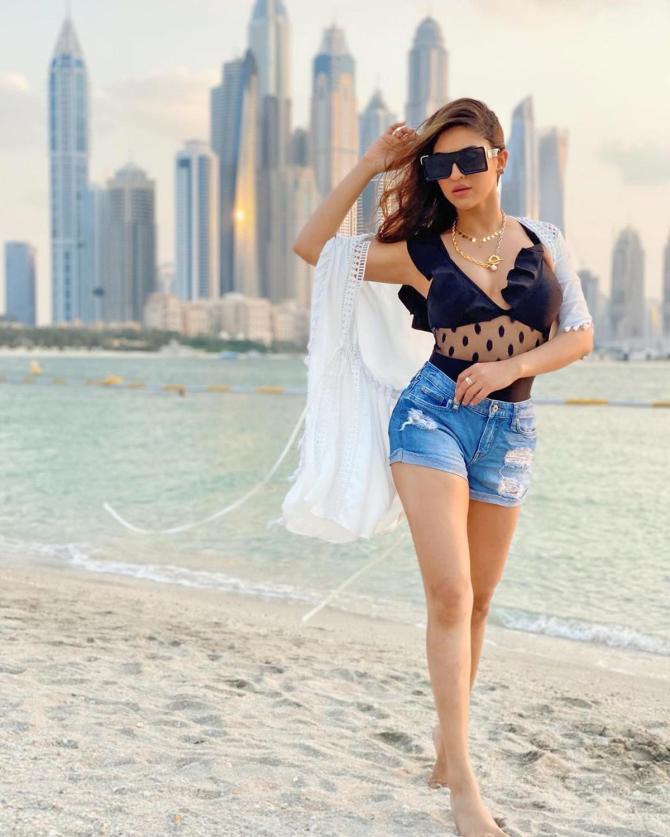 Television actor Krystle D'Souza recently made her Bollywood debut with Chehre.
The young actor who has 6.9 million followers on Instagram loves to travel, eat good food and have a healthy lifestyle.
"My motivation to go to the gym comes from the fact that I want to have that slice of cake at the end of the day," Krystle tells Rediff Contributor Prateek Sur.
How did you stay busy in the lockdown? What did you miss the most?
This pandemic has hit every one of us mentally. As much as people say it hasn't, it has hit all of us in some way or the other.
Everyone has gone through a little mental situation. People who're living alone and even people who are staying with families as well.
Sometimes too much of family is also not good, and sometimes too much of living alone is also not good. A proper balance has to be there because there is nowhere to go.
Obviously, I was a little upset and depressed.
There are a lot of days where you don't feel like moving out of your bed, but you have to pep-talk yourself. You have to be your own hero.
I have done that so many times.
I have woken up and actually had a conversation with myself in the mirror just saying that 'You know what, we can go through this day. We can do it.'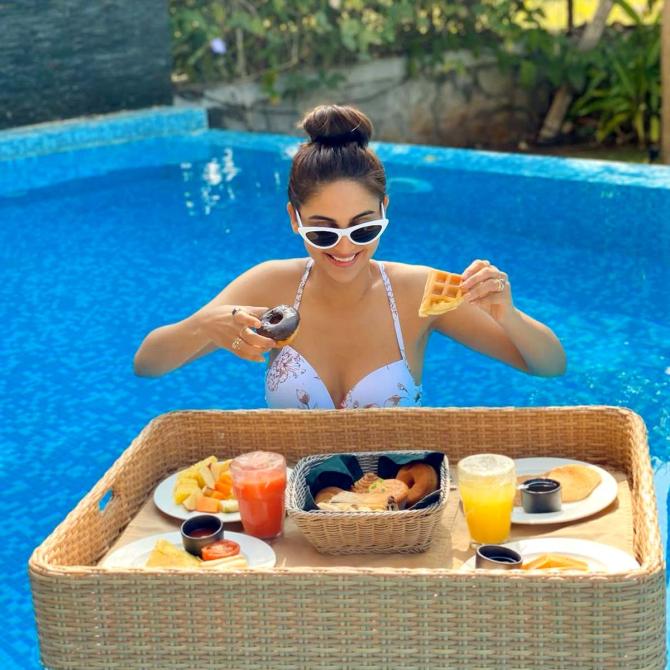 How did you stay fit during the lockdown?
A Zumba video or a Zumba exercise and dance really makes my mind get refreshed. (Thanks to dance) I feel like I can do this.
(During the lockdown) I used to start the day like that, and automatically things started to fall in place.
Thanks to Zoom calls and a lot of FaceTime with a lot of friends there was a good coping mechanism as well.
You feel closer to people if you could see them otherwise it was very very difficult especially in the peak when you were living alone.
I don't know what people would do if there was no video chat.
We were not allowed to leave our building. So where do you go and how?
Plus I stay in a standalone building. So, there are not too many families. So where do you go (laughs)?
Therefore, I used to be doing Zumba videos. I'd work out a little, cook something fun.
I used to eat a lot (laughs). That is how I coped.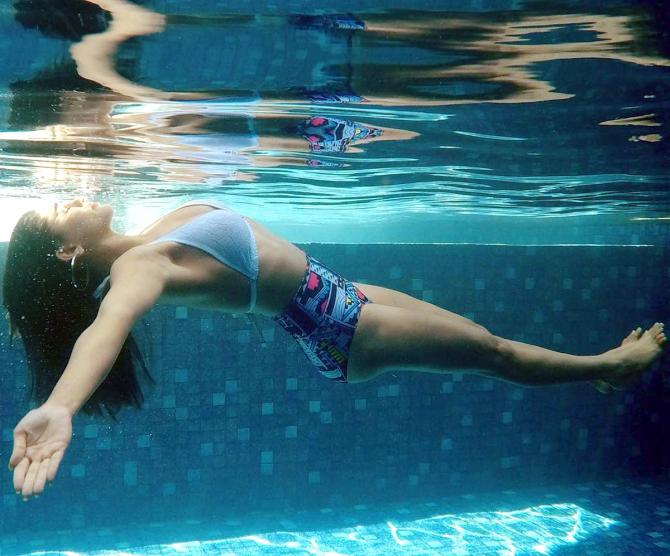 Do you have a favourite home workout?
I used to work out a lot but thanks to the pandemic where all the gyms and everything was shut down, I ate a lot. That was the only thing to do.
But, I am getting back into my routine.
I used to go swimming, but the swimming pools are yet to get open. So, that is usually what I used to do before.
I used to do around 100 laps. That was something that I loved doing a lot. But I cannot do it anymore now.
I love dancing and many times we book a studio with one or two friends and learn some dance steps.
I love going to the gym as well, but I don't do very heavy weights.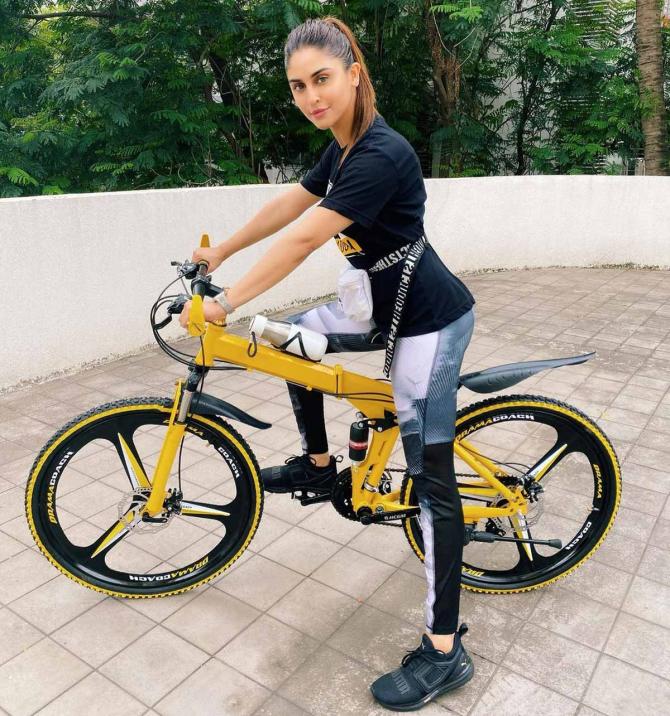 What's your daily diet like?
I eat everything. I love eating. I think maintaining a balance is very important.
If you are eating everything, then you must work out.
On the days I am not working out, I control my diet. It is that simple.
My motivation to go to the gym comes from the fact that I want to have that slice of cake at the end of the day.
I don't have a specific diet as such. I eat whatever makes me happy because I feel that food can really make people happy.
Just do what makes you happy, and then work toward your body.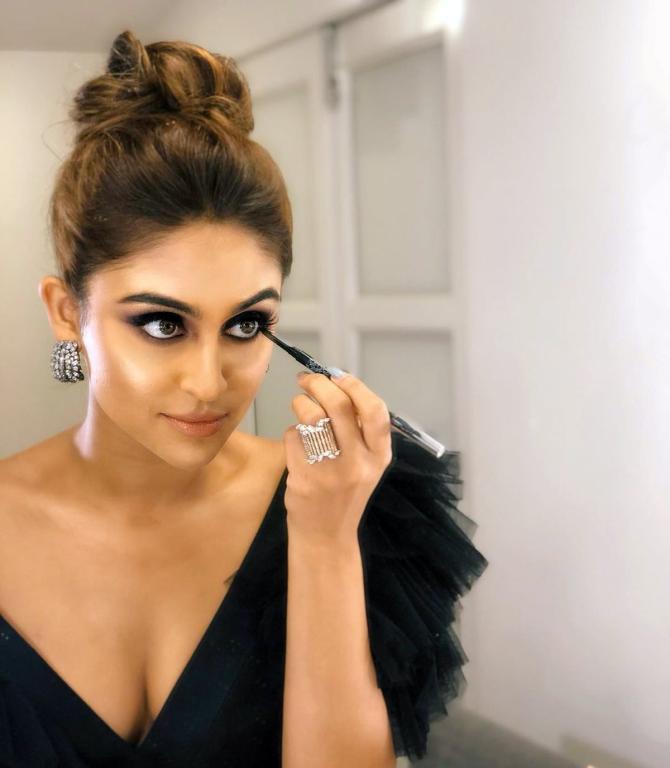 Do you miss travelling?
Travel has always been my first love. Whenever I have even four days free in a month, I will plan it. I will book a flight, and I'll go.
What are some of your favourite travel destinations?
Goa is the quickest place that you can go to. That is one place, that we usually go to.&
I really wanted to go to Kashmir when it was snowing, but I didn't want to take the risk of going on a holiday during this pandemic.
I am waiting for that to open up. In this pandemic, I have realised one thing that people are travelling a lot in India and are posting a lot about India. It's like let's explore our own country first. I am loving places like Leh, Ladakh and Kashmir.
I think I have done my fair bit of Dubai, London, New York a lot. Now I plan to travel a lot more in India.