Heavy monsoon rain is no longer welcome in Mumbai.
A day of endless, pounding rain, during the working week, means more than half the city may get home hours late. Or not at all.
And the fight to get home, through mucky water and hopelessly knotted traffic, can be terribly tedious, numbing.
And sometimes terrifying.
Divya Nair/Rediff.com spent eight hours getting home on a rainy recent day.
Her story is not any more unusual than that of so many other Mumbaikars.
Why should anyone have to spend eight hours getting home on a rainy day in Mumbai?
Why?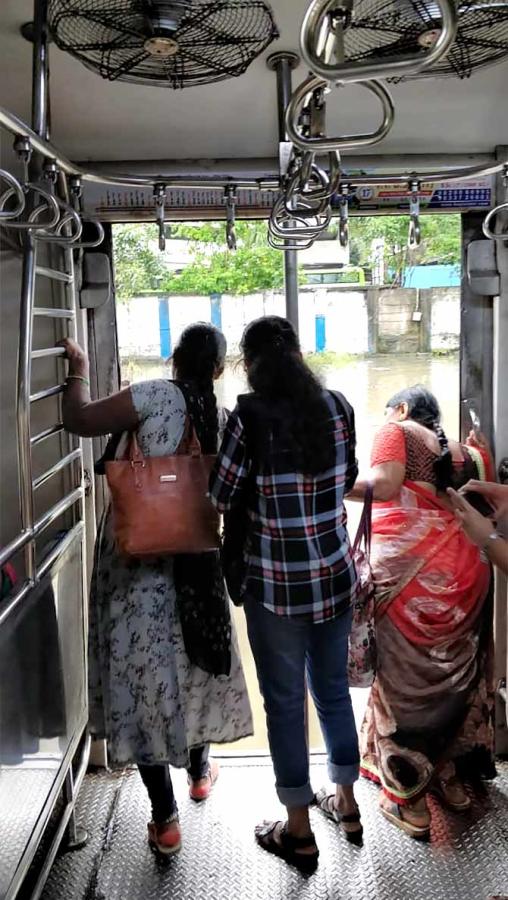 It's been nearly a week since Mumbai saw one of its worst rainy days of the last two decades.
A week too since I made an eight-hour, nightmarish journey home in the relentless rain.
I'm not saying the worst.
I can never forget another, much more terrifying journey home of 14 years ago on July 26.
I remember, in 2005, leaving S K Somaiya college, Vidyavihar, north east Mumbai, at 10.30 am, after collecting my report card. I reached my home in Kalyan, a township north of Mumbai, nearly 12 hours later at 10 at night.
Even today I shudder when I recall July 26, 2005. Walking first through knee-high water followed then by neck-deep water (I am 5 ft 3 inches tall and I don't know how to swim). Treading past helpless dogs, sinking rickshaws and cars, floating mattresses for three hours, or more, to cover a distance of just 1.5 km.
It was one of the scariest, near-death experiences I've ever had.
There was no electricity or any kind of light along the way home. While wading home we had to be careful not to be swept towards the 15 ft deep nullah (ditch) running parallel to our path, which was flowing in full force.
I was lucky. I was with my younger brother and neighbour, who knew how to swim. They both held onto me.
There was something common between July 26, 2005 and Wednesday, September 4, 2019.
On both days, when I headed home, I wasn't prepared for the journey that lay ahead of me. I could never have dreamed it would be so bad.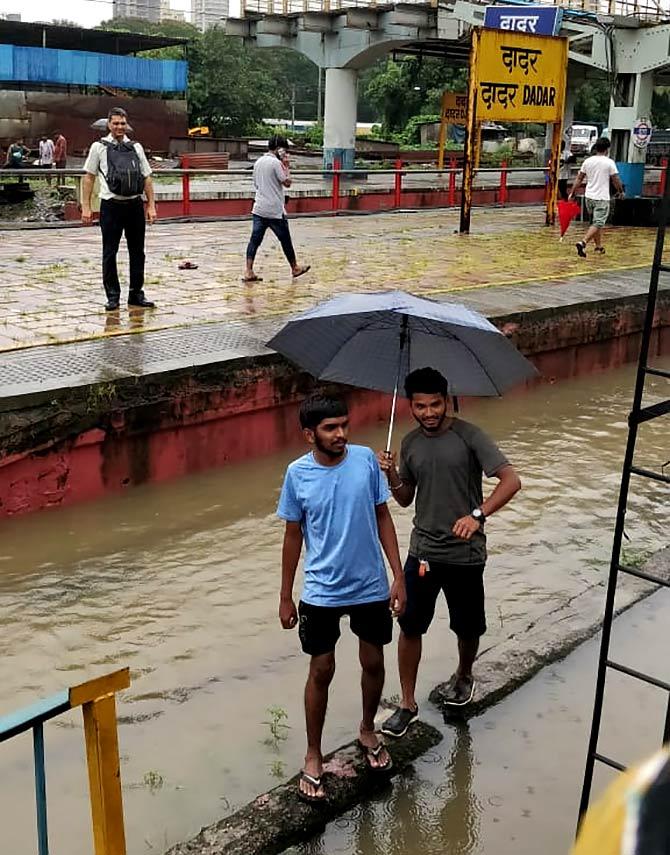 On September 4, when I left my office in Mahim, north central Mumbai, at 4 pm, I knew would get home late. I hoped to reach maybe within a few hours because my two year old was waiting for me in Kalyan.
Usually, on days when I am lucky, I get into a fast train from Dadar, north central Mumbai, and reach home in approximately an hour and half.
Last Wednesday, even though the local train services were already on the blink, I opted first to try to take a train home. Maybe my loyalty to our local trains, which are after all Mumbai's lifeline, contributed to that ill-fated decision.
When I reached Dadar station, from Mahim on the Western line, the station was sitting in a sea of water.
Trains on the Central line, that would take me to Kalyan, had come to a standstill because the Central line tracks were flooded.
I sat for two hours in a compartment in a Kalyan-bound train hoping it would start but nope, no go. The only option was to get off the train, wade out to the road, reach the highway and catch some sort of road transport home.
Just when I was struggling to decide whether I should risk this uncertain journey home, now by road, I bumped into a dear family friend and neighbour, who was also headed to Kalyan too, to surprise his wife on their wedding anniversary.
He wouldn't take NO for an answer!
So off we went looking for a bus that could take us to Thane, a township, north of Mumbai and then a train from Thane to Kalyan.
I spent an additional six hours getting home -- including three hours in unknown, less popular lanes of Wadala, central Mumbai -- constantly negotiating with our private bus driver to not abandon us midway, while he navigated the insane, unruly traffic.
Traffic cops were invisible.
The stubborn rain, that battered down, only added to our existing woes.
I wouldn't like to get into further details of how I reached home that night. My story wouldn't be any more unusual or different from anyone else's that Wednesday evening.
Most of us who did reach home, I believe, took this risk to do so, not because we wanted to. They were, like me, just helpless, worried and maybe without a better alternative.
They took the risk knowing that most roads were either flooded, dug up, closed or congested.
Knowing that most public restrooms along the way, especially the ones at the railway station, could kill you with their stench. Forget going anywhere close to them.
The men could easily relieve themselves anywhere they wanted to, but what about the women? Imagine, not drinking water for six to eight hours fearing you'd have to use a public toilet.
But here's what I also saw and learned that day:
There were people, especially young girls and women who were sitting in the stationary train at Dadar since noon.
Some of them hadn't eaten, moved or attempted any other alternative to get home. They were all hopeful that the train would eventually move at some point and they'd reach home.
It is during these situations that I realise, despite how much we despise the train commute, it is THE most reliable modes of transport in the city and is rightly called Mumbai's lifeline. And it had failed us that Wednesday.
There were other realisations too: As the private bus, I was travelling in, passed a small Ganpati pandal somewhere in Wadala, a few kind young boys got into our bus, They passed out cups of warm milk and three packets of biscuits. The food, of course, instantly vanished, succour for a few hungry bus passengers.
A few minutes later, we inched by one of the richest pandals in the area. There was not a single human in sight -- so no thought of helping or offering anything to stranded city dwellers. Maybe the organisers were too busy with directing the queues of devotees inside the pandal or counting their offerings.
The BEST bus drivers and conductors -- many of their buses had broken down/were stranded and were blocking the road -- were out on the road helping divert traffic. It wasn't really their job. But they really stepped up to the occasion.
Some of the outstation travellers on our bus, who had come to Mumbai for Ganpati Puja, offered to let us use their smartphones and power banks so we could guide the bus driver on GPS to choose the fastest route to get home.
After patiently waiting for an hour for our bus driver to show his skills (or lack of it), my elderly Kalyan friend and neighbour plonked his bag down on the seat next to me and walked straight up to the front of the bus. I could see him speaking to the driver. A few minutes later he was gone and the bus was moving.
My friend was out on the road, in the driving rain, doing what you'd normally expect the traffic cops to do. Soon, he was joined by another young boy. Both were diverting traffic to make way for our bus and other traffic behind us to pass through.
At one point, my Kalyan friend clambered onto the bonnet of a car to direct traffic, ticking off errant rickshaw drivers or pleading with BEST bus drivers and that's how, bit by bit, we crawled ahead, hour after hour.
At 10.30 pm, when we halted at a petrol pump, a middle-aged, grumpy-looking uncle on the bus, who barely spoke or even vented his frustration at the suffocating traffic, offered to buy everyone vada pav because he felt god had united us all that day for a common cause.
At midnight, when I finally took the train home to Kalyan from Thane, I was forced to travel in the general compartment. The cop assigned for our safety was snoring away in the ladies first class compartment. I wanted to take a picture of him and tweet how irresponsible this was, but something held me back.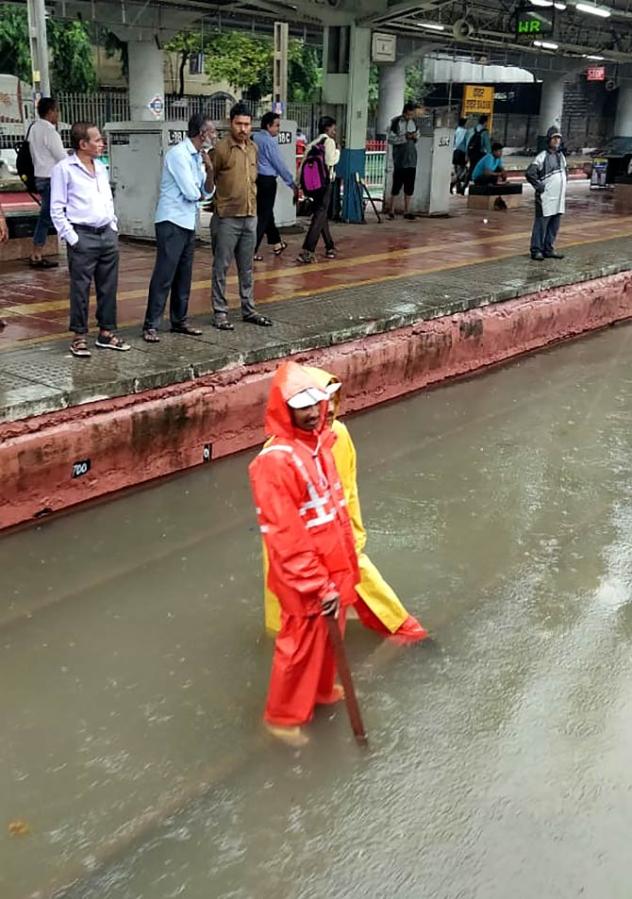 There were plenty of horror stories from that day too:
A railway employee pal, who is usually the first one to bail me out in such situations, was stuck at Chhatrapati Shivaji Maharaj Terminus, south Mumbai, from 2 pm. He told me later that the first train from CST started at only 3.10 am on September 5, almost 15 hours later. But he still finished his shift and got home to Kalyan at 11.30 am.
A dear friend who had left office, and took another route home, was almost crushed to death trying to get in the train, first at Andheri station, north west Mumbai, then at Ghatkopar, north east Mumbai, on the Central line. When she eventually got into a train, it wasn't the best experience either.
One of my uncles spent nearly four hours at Kurla station waiting for a train. When he got one, he travelled for an hour, near the entry door, on just one foot.
We passed an overflowing truck that was ferrying stranded people home. I wondered how the women on it, who were standing furthest inside, could even breathe.
This time, on this eight-hour journey home, I was lucky enough to wade through only knee-deep water! And I at least had a place to sit on the bus to Thane.
So I had been lucky, even if my journey took four times what it should take.
Nor could I forget all the good people I encountered that day -- the people, who had in some way, ensured I reached safely, at 12.42 am, home to the arms of my sleepy little son.
It was 18 hours since I had left home in the morning, 11 hours since I had my lunch, nearly 9 hours since I drank water or used a restroom.
Nothing mattered at the moment. My weariness simply melted away in those warm, eager arms.