When you schedule team meetings, keep the meetings short, understand that everyone has a different schedule and life style, advises Indira Ramachandra, chief human resources officer, AscentHR.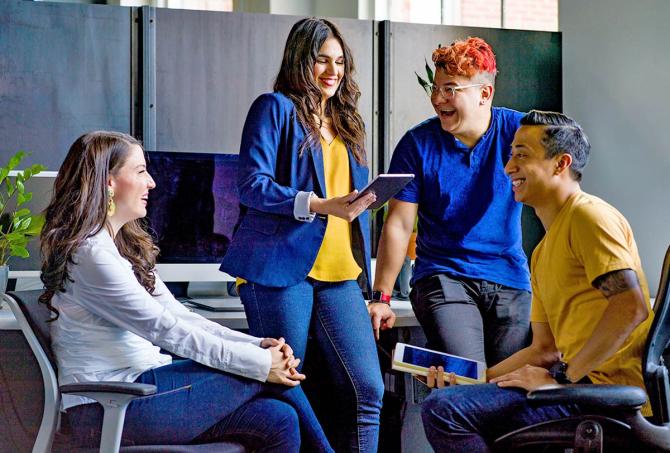 A manager's role is challenging. And now, the role is more challenging than ever before as the business landscape has changed significantly.
Work is performed remotely.
New work models are emerging.
Hiring has become a non-contact activity.
The skill gap is widening.
And finally, communication has become more asynchronous -- communication doesn't happen in real-time or instantly like it used to happen in an office set-up.
With all these challenges, it has become imperative for leaders to step up and motivate co-workers to deliver their best.
Here are 10 tips for leaders to effectively manage their teams while WFH:
1. Hire right. Choose your team wisely
Hiring in these times is different than hiring during the previous crisis times.
Managers should realign their hiring strategies according to the prevailing post-Covid scenario.
These strategies could be related to hiring remotely and calibrating the candidate assessment process to ensure a fair and malpractice-free hiring process.
The calibrations can include leveraging appropriate technologies, or recording the interview process, browser monitoring, validating identity of the candidate through an authentication process, etc.
For example, the recorded interview process may help the manager to share the interview process with other panel members to validate the feedback on the candidate. Bringing in multiple reviewers will enhance the chances of hiring the right talent.
2. Encourage upskilling and reskilling
The new normal ways of working has impacted the job roles and skill requirements for both the organisations (to remain resilient) and employees (to remain competitive and employable).
Managers must utilise these circumstances to build operational resilience by encouraging team members to upskilling (learning new skills) and reskilling (learning new skills to perform different tasks outside their routine tasks and assignments).
By encouraging these effective strategies, managers can demonstrate that they care for their team members's career growth and professional development.
3. Use the right communication technology tools
Choosing the right communication channels such as phone calls and video calls to make tone of voice, body language, and facial expressions visible can help overcome common communication challenges that occur due to technological limitations.
Although these communication channels may not produce the same result as in-person meetings, they are far better than other communication channels such as instant messaging apps and email as these communications are devoid of body language and tonal cues.
4. Engage in team building activities
Employee birthdays, ice breaker sessions, and other team building activities are not just meant for conducting in an office set-up.
Managers can find ways to organise and conduct these activities virtually as well.
These team building activities can give an opportunity for candor and facilitate conversations among employees as they get to know each other's' interests, talent, and personalities.
5. Have more regular, intentional meet-ups
Having regular one-on-one meetings and daily stand-up meetings can increase communication and accountability in the team.
These intentional and regular meetings are a great tool not only for technology teams but also for any kind of teams.
They help to keep the team aligned, synchronise project activities, and plan for the course of the day.
Basically, these meetings help to keep everyone on the same page.
However, there are three things to keep in mind while scheduling these meetings.
Keep the meetings short
Understand that everyone has a different schedule
Understand that everyone has a different life style
The first one is obvious; the meetings need to be of short. The industry standard of a typical stand-up meeting is 10-15 minutes at the beginning of the work day.
The next two aspects are equally important.
Everyone has different schedules and different life styles. For instance, a team member may need to drop off their kid to school, or a day care, or may have other personal activities.
In other cases, the stand-up meeting timing may conflict with a team member's other activities.
The team member may be commuting to office when the meeting is ongoing. So, the manager needs to factor in all these aspects while deciding on the timing of these meetings.
The idea is to ensure maximum attendance and participation without making it much harder on the team.
There will be instances of inconvenience, but as a leader, you can ensure to limit it wherever you can.
6. Take feedback and improvise your leadership style
Taking feedback from team members is as important as giving feedback to team members.
Making a course correction upon receiving the feedback sends a signal to the team that you are listening to their needs and concerns.
7. Be flexible with your communication style
The remote work is here to stay permanent. This has impacted not only the frequency of the communication but also how it is sent and received.
Depending on the circumstances, managers may need to be extremely flexible to change their communication style with ease.
For instance, they should be able to make action items more effective by being succinct and using fewer words as possible.
Sometimes, they may need to be detailed oriented to elaborate project scope with added explanations, links to resources and relevant documents, or email threads while kicking off the project.
For instance, in remote working set up, sending out an instant message saying 'Hey, call me on this later. Let's discuss' may actually result in loss of time.
If the team member is working on a different time zone, the reply could be delayed even further. In these cases, sending out a detailed email may make sense.
8. Influence rather than command
This can be done by delegating the tasks and empowering them by giving autonomy and flexibility to complete the tasks.
At the same time, managers should set expectations, make them accountable for team members'S goals, and make it clear to them as to how their performance will be measured.
These are some appropriate strategies while granting autonomy and flexibility.
This type of delegation of work can also build trust between managers and team members.
9. Make a personal connection
Get to know your team members in terms of their interests and hobbies, or what they do outside their professional world.
Even simple acts like showing interest to know them beyond work (without digging deeper) and showing empathy and genuine concern towards team members can help managers build a good rapport.
Likewise, managers can open up and be transparent themselves.
They can share their interests and life stories with the team members.
These efforts can make team members feel at ease and help create an environment that shows managers care about team members as people.
10. Be a guide, coach, or a mentor
Managers play a crucial role in shaping the team members' cognitive, emotional, and resilience and adaptability skills.
Based on the context, managers can wear different hats to enable team members' success at work.
With their technical skills, they can be a coach.
With their interpersonal skills, they can be a guide or a mentor.
With many different roles to play, managers can inspire and motivate the team in any situation, help them to see a bigger picture, help them find their footing when the team is transitioning from a remote work model to a hybrid work model.
For instance, when there's a miscommunication or a conflict in the team, as a guide, a manager can resolve the issue by changing the fixed perspective of a team member and helping him or her gain a new perspective.