'Goa is about community living, but blending in takes time.'
Veer Arjun Singh meets Indians from other states who have made the beach state their home.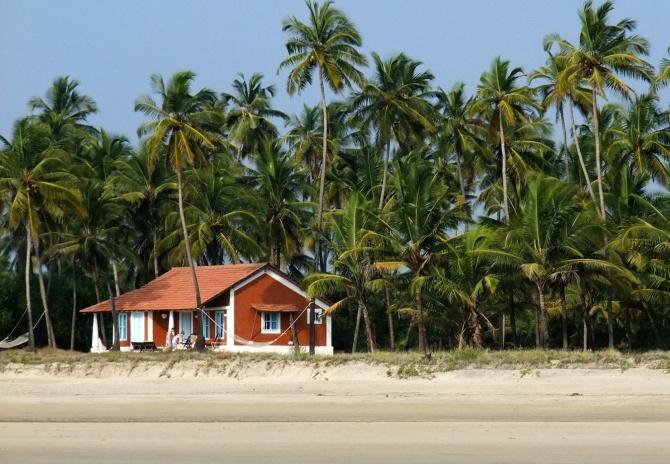 It's mid-August in Goa. The sand is damp beneath my feet as I walk along Candolim beach. The skies are grey and empty. And so is the land.
I finally spot one gentleman at a distance. He's armed with a stick and seems to be persuading strays to move along. He glares at me as I draw closer.
"Private beach area, sir," he says.
He proves to be the guard at the Taj Holiday Village and Spa resort, a touristy extravagance that brings thousands to Goa every year.
Once he loosens up, I ask about the empty beach and he says simply, "Off-season." I'm not convinced.
Where are the tourists, the backpackers and hippies, who legendarily swarm around Goa's beaches all year long?
A day later I meet someone who may be among the last of that generation. French-born Leo Cecil Michaud came to Goa as an 18 year old in 1992. "There weren't any famous bars back then," says Michaud. "The city was tripping on something entirely different." He decided to stay.
In 2006, he opened a restaurant called Baba au Rhum, named after the French dessert, which retains a certain hippie charm. But Michaud says that almost 80 per cent of his guests are Indians, many of them recent immigrants to Goa from Delhi, Mumbai and Bengaluru.
Before I leave the restaurant, I try a new beer, the Susegado. A Goan cliche, the word is still a fitting name for a seasonal brew. The word has come to mean many things Goa.
Like the waters of the Arabian Sea, Indians have been hitting the shores of Goa regularly for years -- most holidayed and left; some returned to build holiday homes; and a handful stayed on to live and work and build a new life.
To the first wave of Indians who had come looking for a new home, susegado meant restfulness; a reprieve from India's rapidly expanding cities. These cities have now grown to bursting point.
After living in New Delhi for more than 10 years, artist Nityan Unnikrishnan decided he'd had enough. He moved to gentler Goa in April 2017, and waited for his wife, Rukminee Guha Thakurta, to overcome her apprehensiveness and make the move too.
"As a freelance design consultant, my work is entirely dependent on the Internet and staying connected," says Guha Thakurta. "I told Nityan my living in Goa would depend on the Internet connectivity!" She finally joined him in October 2017.
Nearly a year later, not only is Guha Thakurta still in Goa, she's as busy as ever. "The Internet here is better than in Delhi," she laughs.
In her spare time -- and there's considerably more since she spends fewer hours on the road -- she's become a fond tender of fruit and vegetable plants on the multiple balconies of their sprawling first-floor apartment in Porvorim, sometimes gleefully sending pictures of dewy melons and dusky chillies to her city friends.
Guha Thakurta and Unnikrishnan are now looking for land where they hope to build a modest home of their dreams.
Noted photojournalist Prashant Panjiar and co-founder of the Nazar Foundation recently managed that particular feat, having built a 300 sq m modernistic house in Moira. He loves the fact that he can wear shorts almost everywhere. He says he's nowhere close to retiring.
"I am doing the same amount of work as I was in Delhi," says Panjiar, echoing Guha Thakurta. "But I don't feel anxious."
Caught in the frantic pace of city life, he says, people often feel like they are running out of time. "Maybe I am relaxed because now I can see all the trees I want to see from my balcony."
Not all fed-up city-dwellers have the luxury of taking the radical decision of moving cities, of course. Crucial is choice of profession -- no one with "mainstream" jobs can make the shift seamlessly, given that tourism and mining remain the mainstays of Goa's economy.
Being an artist, writer or freelancer of some description helps. Over the past few decades, the move was also more easily made by single people or couples without children, since Goa did not have many schools that offered "quality" education.
Even 15-odd years ago, though, some disagreed. "More options in a city like Mumbai is an illusion," says Karan Manral. Distance and cost, he says, make many inaccessible. Manral himself grew up as a navy kid in South Bombay. But by the late '90s, the population explosion and traffic snarls had made him restless.
By 2002, he had quit his job as editor of Digit and Chip magazines and moved to Goa. "The city I loved when I was growing up was moving too fast," says Manral. He met his future wife Yogita Mehra in Goa.
Their daughter Tara, 6, attends the Shiksha Niketan primary school in Saligao. Manral, who went to school in Mumbai, claims there aren't more than five schools in that metro that can match the quality of education his daughter receives. "This is what we need for her foundation," he says.
Things have changed since Manral moved. Not only are there mainstream schools such as the Delhi-affiliated Ardee School, unconventional schools are gaining popularity.
Paradise School in Aldona is just two years old, and it's filling up with children of erstwhile Delhiites and Mumbaikars. Its Internet-based, alternative teaching method, SOLE (Self Organised Learning Environment), and International Cambridge Board is attracting expats, too.
Lisa Chowgule moved to Goa in 1989 from Mumbai. Since 1992, she's been running the Keshar Academy of Learning in Tiswadi, another alternative school, which follows the Waldorf teaching approach, and is also affiliated to the IGCSE or Cambridge board.
"There are no periods, no bells, no restriction of movement and no exams," says Chowgule.
For many who have made the move, Goa has also been about starting afresh. "Goa is an opportunity to choose an alternative career," says Puja Mitra, who started Terra Conscious last year, an enterprise that promotes marine conservation and eco-sensitive tourism.
While Mitra arranges for boat-rides to discover the biodiversity of the Indian Ocean (especially the Indian humpback dolphins), her husband and co-founder Roshan Gonsalves gives scuba diving lessons. They have been living in Goa happily since 2012.
Manral and Mehra too built a new "career". In 2008, the couple started Green Essentials. They help people set up their own organic kitchen gardens, conduct workshops on sustainability and sell organic supplies at their store in Porvorim.
The drive to find a new vocation for all of these immigrants has in turn fed a cosmopolitan, alternative-thinking and culturally vibrant ecosystem.
Photograph: Kind courtesy Bhagyashree Patwardhan/Facebook
Bhagyashree Patwardhan's Paper Boat Collective is a significant metaphor for the change wrought by newcomers. She too moved from Mumbai in 2012. "Moving to Goa means a life spent less on the road and more at work."
Now, her immaculately curated lifestyle store in Sangolda features clothes by revivalist designers such as Santanu Das, ceramics from Bengaluru emigre-turned-Goa resident Thomas Louis and a range of crafts. Paper Boat draws everyone with a taste for the chic and the ethically produced.
Designers Orijit Sen and Gurpreet Sidhu belong to the earlier wave of naturalised Goans. Circumstances took them back to Delhi for some years, but now their People Tree boutique, inside a beautiful old Portuguese villa, combines with the Gunpowder restaurant to bring a taste of big-city sophistication to a quiet, leafy village. The unit is named for the address -- simply, 6 Assagao.
The intermingling of old and new immigrants with locals happens at places like House No 248 in Sangolda, often over curated meals and jazz performances, or at annual multidisciplinary events like the Serendipity Arts Festival. Both Sen and Panjiar exhibited different aspects of Goa at last year's event.
For every person or family that hesitated before taking the plunge, Goa's lower cost of living has often been a decisive factor. Thanks to the wealthy Indians who built or bought second and third homes, about one in every five houses in Goa is vacant, according to the directorate of census operations.
Real estate prices are still climbing, especially at gated communities -- Sun Estates Developers's Solidago villas by the Nerul river start at Rs 40 million -- but rentals are low.
Manral and Mehra run Green Essentials out of an old, Portuguese villa, which is surrounded by enough land for their organic farming. The rent is Rs 20,000. They pay Rs 16,000 for their two-bedroom apartment nearby.
Anushya Sharma, a painter who moved to Goa from Assam in 2002, also lives in an old, Portuguese villa in Arpora, which she and her husband Jochem Vanderzwan, who works in restoration, rent for Rs 25,000.
Children from the neighbourhood often wander into their house to learn a thing or two about painting. "Goa is about community living," says Sharma. "But blending in takes time," she warns.
"I seem to meet someone I know who has moved here virtually every week," says Shrayragi Israni, who works with environmental action groups. But the sense of community bonding is so strong it can border on the oppressive for those who fled the big city in search of peace. "This like-minded-people thing, well..." sighs the reclusive artist Unnikrishnan.
Goans have been largely accepting of city folks, but there is some resentment. Goan lifestyle is not flamboyant, and gated colonies with luxury villas and swimming pools are viewed with suspicion.
Israni says the problem with the new settlers is that they continue to be urban customers who demand prompt services. "Not all are aware of the kind of pressure they are putting on Goa's people and resources," she says.
Veteran Goan architect Dean D'Cruz feels that government neglect of essentials such as the Mapusa or Panjim bus stands and new focus on the proposed Mopa airport is breeding anger. But, says D'Cruz, "A majority of settlers who are taking up old homes in villages are sensitive to the issues of the local people and the environment."
Conservationist Joanna Pyres, who has a Goan pedigree but was born and raised in the UK, uses her engagement platform, Circlewallas, to bring together locals, Indian migrants and expats to find solutions.
"The know-how of a local, or the exposure of a settler, could be the missing piece to the jigsaw puzzle for a lasting solution," says Pyre, who has been in Goa for over ten years.
Journalist Vivek Menezes says that there are adjustment issues between locals and migrants the world over, but Goans are more tolerant.
"Despite the challenges, Goa is among the few places in the country where an outsider can become a local," he says.
It's an inviting idea. And many are accepting the invitation.