Do you have parents who have turned 60? You may want to forward Sarbajeet K Sen's suggestions to them.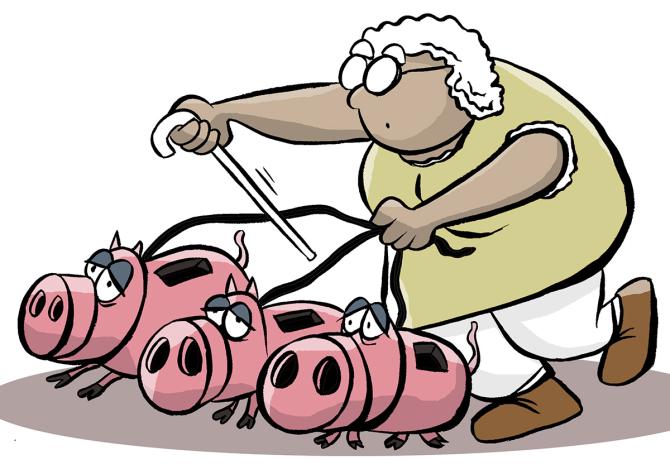 Turning 60 and joining the ranks of senior citizens comes with a number of perks.
The basic exemption limit for taxation goes up, new tax deductions become available, and you can invest in instruments designed for retirees.
But crossing this threshold also calls for a major reorientation of the investment portfolio.
In the past, your portfolio would have been largely growth-oriented.
Now, a part of it must generate a regular cash flow to substitute for the income that may have stopped or diminished.
The other part must be invested in a manner so that it keeps growing, counters inflation, and helps you maintain your lifestyle.
Use this World Senior Citizen's Day as a trigger to perform this task.
It is crucial to be conservative. Says Anil Rego, founder and chief executive officer, Right Horizons, "Proper money management becomes extremely important in this phase."
If your corpus takes a hit due to any reason, recovery will prove difficult.
Don't dispense with equities entirely
Lifespans are increasing. To counter inflation effectively over the next few decades, a part of your portfolio must remain in equity-based instruments.
"At 60, you may have around 40 per cent of your portfolio in equities," says Kartik Jhaveri, director-investment services, Transcend Capital.
A simple portfolio comprising an index fund for large-cap exposure and an actively managed flexi-cap fund should suffice for most investors.
"Mutual funds should be preferred as they offer diversified exposure and are tax-efficient," says Amol Joshi, founder, PlanRupee Investment Services.
Debt for income generation
This portion of the portfolio will provide you with a regular income and provide stability.
If you have a Public Provident Fund (7.1 per cent tax-free) and it completes 15 years around this time, keep extending it.
If you go for the default option -- extension with no contribution -- you will be able to withdraw any amount less than the full corpus once every financial year.
If you opt for extension with contribution, you will be able to withdraw (in a financial year) up to 60 per cent of the account balance at the time of extension.
Senior Citizens Savings Scheme and Pradhan Mantri Vaya Vandana Yojana are meant primarily for senior citizens.
"They offer an assured 7.4 per cent per annum (taxable) payable at regular intervals, which is better than what bank fixed deposits are offering currently," says Joshi.
According to Rego, "Debt funds, fixed deposits and bonds can also be used to build a diversified debt portfolio."
A systematic withdrawal plan in a lower-duration debt fund can be a tax-efficient option for income generation once the fund completes three years.
A part of the income-generation corpus (30-40 per cent) should be invested in immediate annuities for a regular pension and to combat interest-rate risk.
To get better rates, buy the 'without return of purchase price' option. Annuity rates improve with age, so stagger your purchases.
Stay liquid
While it was always advisable for senior citizens to maintain a liquid corpus, the pandemic has made it imperative to do so.
"Senior citizens should be careful about locking up money for long periods," says Jhaveri.
Asset-rich but cash-poor is a common plight among retirees.
Around 10-20 per cent of the retirement corpus should be kept in liquid instruments, including cash at home, savings account, fixed deposits (online), and liquid funds.
Supplement these with credit cards to augment spending power in a health emergency.
Time to consolidate
Senior citizens should consolidate their finances. Reduce the number of bank accounts and dispose of far-flung properties.
"All your finances should be accessible online," says Jhaveri.
Finally, write a Will if you have not done so yet. Bank accounts, demat accounts, etc, must all have nominees.
These steps will ensure smooth wealth transfer to the next generation.
Feature Presentation: Aslam Hunani/Rediff.com