The biggest challenge with public sector banks is the processing time, which is why starting early helps, says Tinesh Bhasin.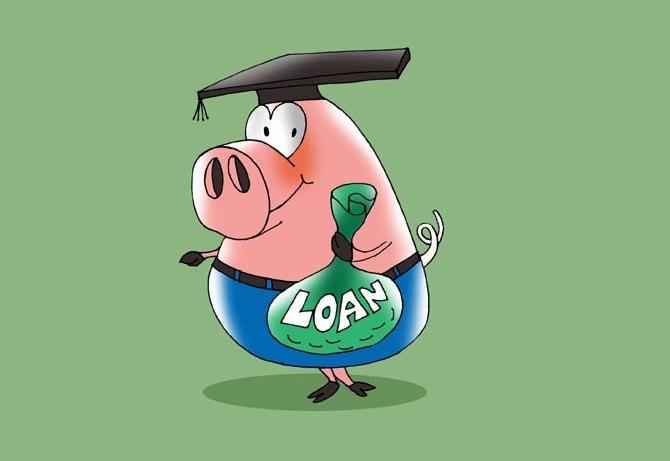 It's that time of the year when students joining international courses for the Fall 2020 semester starting in August will be actively seeking education loans, especially if they have got acceptance letters from universities.
Starting early will also help them get better deals and give them time to arrange the documents required for the loan.
"There can be delays during June -- the peak time for seeking education loans -- for various reasons, especially if the lender required collateral. The lawyers can take time, a lender can ask for additional papers for the property, and so on," says Ankit Mehra, co-founder and CEO of GyanDhan, a market place for education loans.
Before selecting a loan, it's extremely important to look at the way the loan has been structured.
With some lenders, a student doesn't need to pay any money until six months of completion of the course.
Then, there are some who charge some interest during the course period while some may require the student to start paying the interest charges immediately. The structure can impact the total outgo.
Before finalising a lender, look at the total interest that you would end up paying and then take a call.
On rates, advantage public sector banks. If you look at the interest rates of public sector banks, they charge much lower rates than private banks and non-banking financial companies. But each type of lender has its own set of advantages.
While the loan will be cheaper from a PSB, it will ask for collateral for a loan amount above Rs 7.5 lakh.
Private lenders can give education loans without any collateral for up to Rs 35 lakh to Rs 40 lakh.
Most PSBs also don't charge any money until six months or one year after the completion of the course.
The processing fee for PSBs is also much lower.
Consultants say while the loan rates for PSBs are around 10% to 10.5%, most private lenders give loans for above 12.5% interest rate.
A difference of 250 basis points can impact your total outgo significantly.
But the biggest challenge with public sector banks is the processing time, which is why starting early helps.
"Even if you have all the documents in place, it can take over three weeks for loan approval. There are many processes involved in loan sanctioning, especially for loans with collaterals. The lawyer, the valuer or any of the stakeholders can take time," says Arjun Krishna, co-founder, WeMakeScholars.com, an online loan and scholarship consultant.
Private lenders score on flexibility: PSBs are more focussed on the course, college and university.
Their key criterion for evaluation is the value of collateral for loans above Rs 7.5 lakh. Getting a loan for a US-based course is much easier from PSBs than, say, a course in Germany.
Also, within the US, PSBs prefer courses focussed on science, technology, engineering and mathematics (STEM).
"Students are now going to different countries for further studies and also opting for specialised courses. Private lenders are more willing to lend to such students than PSBs," says Rohit Sethi, director, ESS Global.
Private lenders are also keeping pace with the changing trends in the overseas education space.
"Apart from conventional parameters of evaluating an application like the course and parents' income, we also look at the student's academic record and earning potential. We do have a model where we look at the potential cash flow of a student post the course," says Amit Gainda, CEO, Avanse Financial Services.
Similarly, HDFC Credila, the biggest NBFC for education loans, too, looks at multiple factors.
"The state of the economy of the given country forms one of the important components of HDFC Credila's credit assessment framework, especially for big-ticket loans. Trends related to growth or lack thereof, of the employment generating industries in the given country are very important to evaluate," says Ajay Bohora, Co-founder & CEO, HDFC Credila.
Use start-up consultants: It can be difficult for a student to understand which lender would suit him the best.
Start-ups such as WeMakeScholars and GyanDhan help to get more suitable loans and guide through the process and even help to expedite the loans.
If applicants are strong financially, they can even get better terms from lenders.
WeMakeScholars focuses on helping students get better rates and also on convincing lenders to process the application in case they have any doubts about the course or university.
GyanDhan works with multiple lenders and based on the student's profile and other factors the company recommends a more suitable bank or NBFC.
Do the math: Before approaching the lender, first, do your calculation of the money that you may need, including travel and living expenses.
Typically, lenders give 15% to 20% of the tuition fee for other expenses.
If your course fee is Rs 40 lakh, lenders will give an additional Rs 8 lakh. Many universities provide a break-up of costs a student can incur when studying there.
Use this information to calculate the additional expenses you would incur.
All lenders provide loans in parts based on the requirement of the student.
Tuition fees are paid directly to the university. Expenses can be released monthly or quarterly.
"Most students take up part-time job along with the course," says Gainda. "For us, on an average, a student uses 65% to 70% of the loan sanctioned as they take care of other expenses with part-time work."