Looking forward to some baking over the weekend?
Try Deeba Rajpal's recipe for 2-Minute Microwave Chocolate Chip Cookies. They are wholegrain, eggless and can be baked in a snap of a finger in the microwave.
The intriguing layered Ombre Zuccotto, which is a wonderful combination of coffee and chocolate, requires more patience, time and effort.
The special element of this dessert is that 'one needs a bowl to hand-whisk the batter in, then the same bowl to set the dessert in.'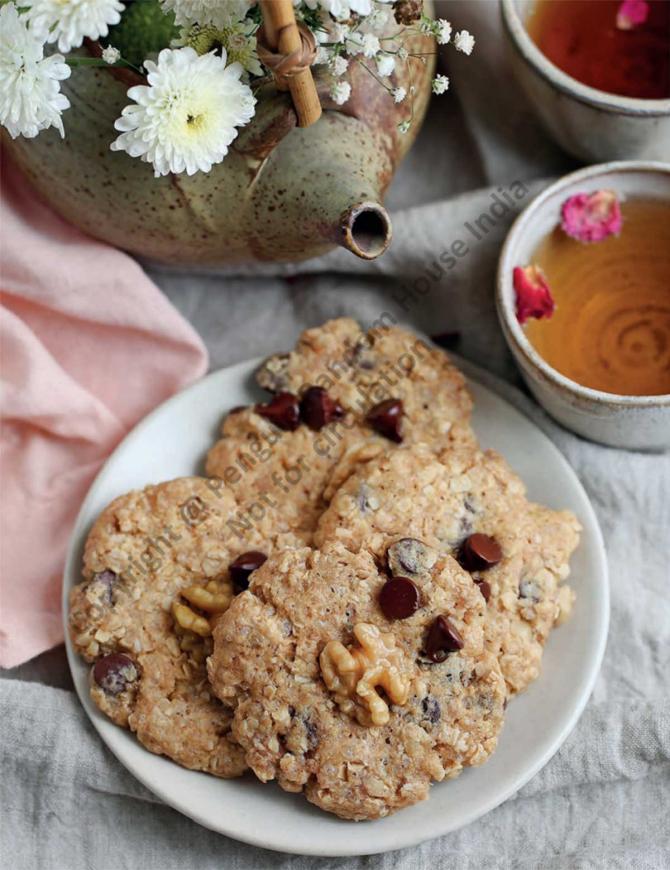 Two-Minute Microwave Wholegrain Chocolate Chip Cookies, Without Eggs
'Credit for these go to the daughter who took my cookie-for-one stovetop recipe and baked them quite easily in the microwave', says Deeba Rajpal.
'Not a very keen microwave baker until then, I wasted no time and began experimenting almost immediately!'
Servings: 4 cookies
Ingredients
For the dry mix
3 tbsp aata or whole wheat flour
3 tbsp quick-cooking oats
1 tbsp brown sugar
1 tbsp vanilla sugar or plain sugar
1⁄ 4 tsp baking powder
1⁄8 tsp baking soda
Pinch salt
1-2 tbsp dark chocolate chips
For the wet mix
2½ tbsp clarified butter/ghee, melted, cooled
1 chia egg (1 tbsp chia seeds + 3 tbsp water)
1 tbsp roughly chopped toasted almonds/walnuts/pistachios
Method
Whisk together the dry ingredients in a small bowl.
Reserve.
In a large bowl, stir together the water and chia seeds.
Leave to stand for 5 minutes to gel, then whisk in the clarified butter/ghee.
Add the reserved dry mix to the wet mix and using your fingers, bring together to form a cookie dough.
Divide into four portions, shape into firm balls, press down with the fingertips, then flatten with the base of a glass.
Bake on a sheet of parchment paper for 1½ minutes on full microwave power.
Check if firm, else bake for a further 30 seconds.
Repeat if required.
Cool completely on a cooling rack.
Note: If you want to personalise the flavour, experiment with cinnamon powder, coffee, orange zest, etc.
Frozen berries will also be lovely!
Vegans can substitute the butter/ghee with cashew butter, available online or make your own (external link).
---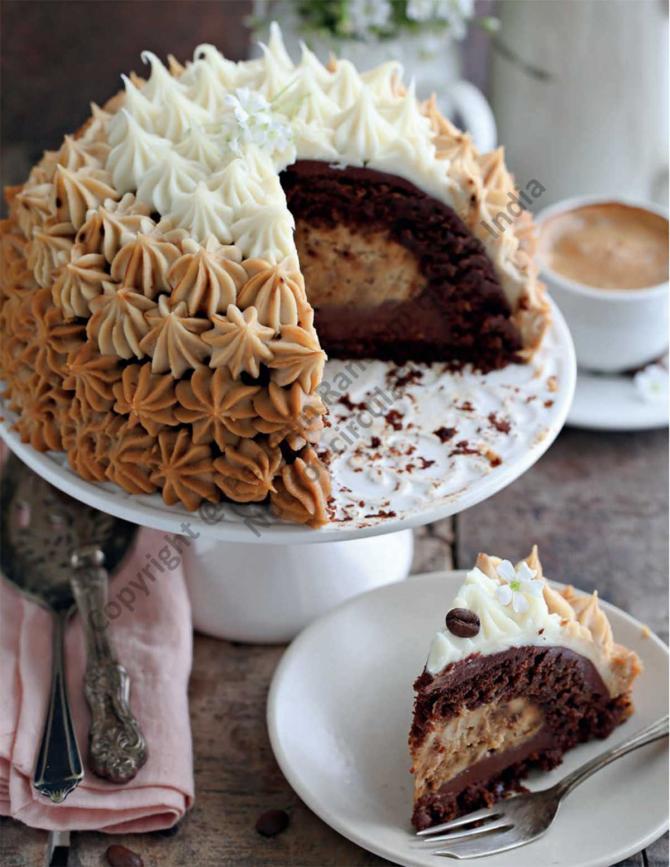 Chocolate and Coffee Ombre Zuccotto, Without Eggs
This zuccotto is an old favourite first had in Milan way back in 1990.
'A dessert cake is said to be inspired by the cathedral domes of Italy -- it's a simple dessert that basically needs a bowl, a whisk and an oven,' she shares.
'My version is a coffee and chocolate one; a rather interesting baking project to undertake. A real fun one!'
Servings: One 8-inch torte
Ingredients
For the coffee sponge
60 ml strongly brewed coffee, warm
65 gm buttermilk
35 gm ghee, melted
1 chia seed egg (1 tbsp chia seeds + 3 tbsp water)
130 gm jaggery powder
¼ tsp salt
½ tsp baking powder
½ tsp baking soda
120 gm maida or all-purpose flour
For the coffee mascarpone
200 gm mascarpone
1 tbsp instant coffee powder
25 gm icing sugar
For the chocolate ganache filling and frosting
175 gm chocolate, chopped fine
275 ml cream
For the mascarpone frosting
600 gm mascarpone, chilled
75 gm icing sugar
1 tbsp instant coffee powder
2 tbsp instant coffee powder
Method
Preheat the oven to 180°C.
Line an 8-inch loose-bottomed cake pan and a 6-inch loose-bottomed cake pan with parchment paper.
In a large bowl, add the freshly brewed coffee, melted warm ghee, buttermilk, chia seed egg, jaggery powder.
Whisk well until the jaggery powder mixes in.
Add the remaining ingredients -- the salt, baking powder, baking soda, flour -- and fold in.
Divide the batter between the cake pans, 300 gm in the 8-inch pan and 150 gm in the 6-inch pan.
Bake for 20 minutes.
Take out of the oven and set aside to cool.
For the coffee mascarpone
Whisk all ingredients in a bowl gently until smooth.
Keep aside.
For the chocolate ganache filling and frosting
Place the chocolate in a large bowl.
Heat the cream and pour over.
Let it stand for 10-15 minutes until the chocolate is soft.
Stir until smooth.
Keep aside.
To assemble
Line the same large bowl with clingfilm.
Place the larger 8-inch sponge in the bowl, pressing gently into place to form a dome.
Add the coffee mascarpone filling, followed by half the chocolate filling.
Reserve the rest of the chocolate filling for the frosting.
Seal the cake with the 6-inch sponge, pushing it gently into place.
Cover with clingwrap, place a small platter with a weight on top to make it compact and leave to set overnight in the fridge for the flavours to mature.
Turn onto a serving platter, remove the clingwrap and frost the cake.
In a bowl, gently whisk the mascarpone and sugar until just smooth.
Divide into three portions.
Leave one as is, add 1 tbsp coffee powder to the second and mix it in.
Add 2 tbsp coffee powder to the third portion.
These are the three different shades for the frosting!
Gently heat the reserved ganache over a double boiler to a spreadable consistency.
Spread over the top of the cake using an offset spatula (a special long, flat, metal spatula used for icing).
Pipe over with the three different-coloured mascarpone for the ombre effect.
Excerpted from Passionate About Baking by Deeba Rajpal with kind permission from the publishers Penguin Random House India.