'When I was young, I used to look around the village we lived in.'
'There was a lack of resources -- no proper health centres and schools.'
'I felt that becoming an IAS officer would help solve those issues.'
IMAGE: Nandini K R topped the Union Public Service Commission examination on May 31.
All photographs: PTI
For the third year in a row, a woman topped the Union Public Service Commission examination -- Tina Dabi cracked it in 2016 and Ira Singhal in 2015.
Nandini K R, 26, a native of Kembodi village in Kolar, Karnataka, is this year's topper.
After the results were declared, a swarm of reporters have kept her busy -- first in Faridabad, Haryana, where she was posted for training, then at her home in Kolar the following day.
Her phone hasn't stopped ringing. When she is giving interviews, her parents step in and attend calls. Many callers congratulate her, others like this reporter press for an interview.
After postponing the interaction twice, Nandini finally answers the phone and speaks in a firm, tireless voice. "Your time is 7.35 (pm) to 8."
At 7.35 pm, she excuses herself to quickly wrap up an interview with a news channel and answers my first question: "How have the last few hours been for you?"
"I am happy that a lot of people are celebrating and finding happiness in my success. But I also have a new responsibility. I want to fulfill my dream of serving the nation."
Nandini studied at a Kannada medium school and scored 96.8 in her Class 10 examination.
She has a civil engineering degree from the M S Ramaiah Institute of Technology, Bengaluru (with a CGPA of 9.8).
She was undergoing training as an Indian Revenue Officer at the National Academy of Customs, Excise and Narcotics in Faridabad before she topped the UPSC and a sure IAS berth at her fourth attempt.
Her father Ramesh teaches at a government school in Mudiwadi, her mother Vimala is a homemaker. Her brother Thorun is pursuing his post graduation at the Indian Agriculture Research Institute in New Delhi.
Nandini tells Rediff.com's Divya Nair how she chased her IAS dream for four years without giving up.
This is your fourth attempt. What were your expectations?
There have been a lot of ups and downs in the last four years. I was on IRS training and had taken a break to appear for the IAS this year. I had a lot of expectations.
On May 31, around 7.30 pm, when I logged into my computer and checked the results, I could not believe that my name was right on top.
I was in Faridabad and some of my friends were also in my room checking the results. They were all so happy and started congratulating me.
Soon I started getting calls from friends, family. I had no time to think about anything. My four years of hard work has paid off.
Did you prepare differently this time?
In my first attempt in 2013, I had only prepared my studies.
When I sat for the exam, I realised that I had not practiced writing at all. There were so many questions whose answers I knew, but I could not write or finish.
In my future attempts, and this time too, I focused on improving my writing speed.
Did you take coaching?
This time, I'd signed up with a study circle called Insights in Bangalore.
The test series helped me grade my performance and guided me to learn from my mistakes, and not repeat them.
You were already with the IRS. Why did you appear for the UPSC again?
I had always wanted to clear the IAS. I felt the IAS had more authoritative functions and would help fulfill my dream to serve society better.
I am glad I finally cleared it this time.
You studied civil engineering, but chose IAS. Why?
Even when I was young, I used to look around the village we lived in.
There was lack of resources -- no proper health centres and schools.
I saw a lot of potential in the village and felt that becoming an IAS officer would help solve those issues.
I wasn't very sure how to go about it. So I took up engineering.
After graduation, I worked in the Karnataka public works department for two years.
I could see how the government functions at the rural level and realised there was so much more I could do if I could clear the IAS.
That's when I got more serious and committed about my dream of pursuing the IAS.
Even after three attempts, I wasn't ready to give up.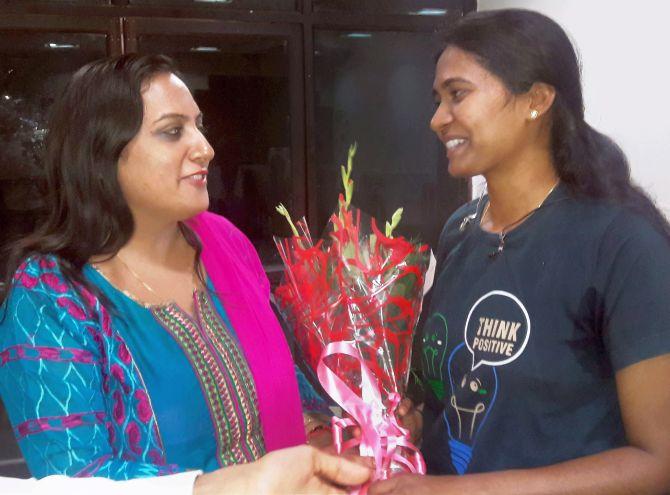 IMAGE: Nandini, right, is congratulated by Municipal Commissioner of Faridabad Commissioner Sonal Goel (IAS, 2008) at the National Academy of Customs, Excise and Narcotics, Faridabad, May 31, after the UPSC results were announced.
How do you plan to make use of your IAS opportunity?
I don't know where I will be posted, but I really want to pay attention to multiple rural issues -- health, education, employment and safe environment.
What questions were you asked in the personal interview round and how did you respond?
There were no specific questions. The panelists first asked me to comment on whether civil engineering was a male dominated industry. They tested my knowledge on the international transport corridor, my interest in volleyball etc.
The interaction was cordial and smooth.
What are the qualities required to crack the UPSC exam?
Consistency and patience.
Which part of the exam was most challenging for you?
After failing the first two attempts, I felt very low.
There was no pressure, but I had to compete with myself and convince myself to get up and try again. That was not easy.
The last four years have tested my patience and taught me the importance of learning from failure. I learned not to give up.
Who inspires you?
Every person I meet inspires me in some way or the other. We all have something to learn from and teach others.
What are the greatest values you learned from your family?
My parents taught me the importance of equality; they never treated me any different from my brother.
They gave me the freedom to choose the profession I want and gave me the time and support to achieve it.
And lastly, my parents taught me to respect the decisions I made as part of my life and career.
What books do you read?
I follow Kannada literature, but have recently taken interest in Hindi and English literature. I don't have any favourite authors or genres. I like to read all kinds of books.
How do you unwind?
I play volleyball, read books, talk to people.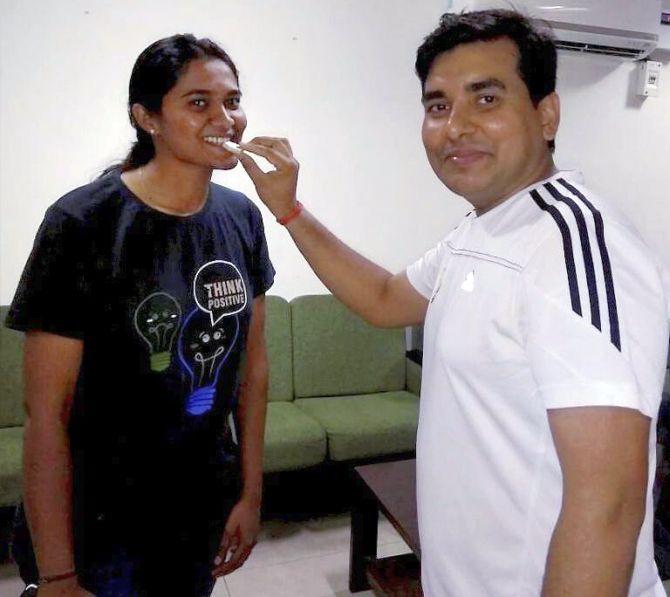 IMAGE: After the results were announced, Nandini is offered sweets by a colleague in Faridabad.
A number of recent surveys suggest that Indian engineers are not fit for employment. What reasons do you attribute for this trend?
The reasons are multifarious. First, students are not taking engineering by choice.
Second, they don't go to good colleges, don't get quality education.
Third, they don't have the skills the industry needs.
In your opinion, how can these issues be addressed?
They have to be addressed from a micro and macro level.
There should be industry linked courses so there is no mismatch between the skills taught in colleges and skills sought by recruiters.
Government initiatives like Startup India should be encouraged in smaller towns to create more jobs.
We don't just need engineers and graduates, we need people who can create jobs as well.
How can young Indians be inspired to take part in governance and contribute to society?
The youth has a lot of potential. India is a young nation.
The simplest thing youngsters can do is to find your passion and give it your best.
If you are good at what you do, and you enjoy your job, you are already serving society.
Your message to young readers
Find a career/job that will become your way of life.
Don't get disheartened by failure.
Don't get lost.
Look up and try again till you get what you desire.