'There are 25 million farmers in India with at least 2 to 3 cows each.'
'If all them use biogas to cook, millions of LPG units and firewood can be saved.'
Shobha Warrier/Rediff.com finds out more.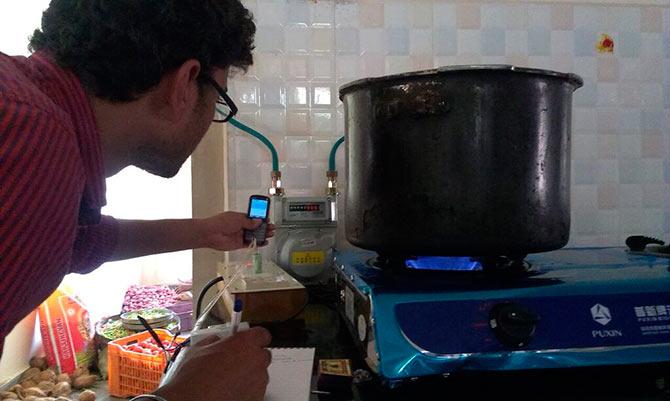 While most youngsters would prefer to start their career with a lucrative job at a multinational, Koushik Yanamandram, Piyush Sohani and Shankar Ramakrishnan had cow dung in mind.
Specifically, the biogas that could be produced from it.
The trio wanted to provide eco-friendly fuel to rural households.
SustainEarth Energy Solutions was born in September 2013.
Today, the young team includes three field staff, two consultants and two advisors.
While 28-year-old Koushik works as the director-field operations, 28-year-old Piyush is the CEO and in charge of finance and technology. Shankar, unfortunately, had to leave SustainEarth in January 2015.
Koushik shares the story behind their adventurous foray into the biogas business: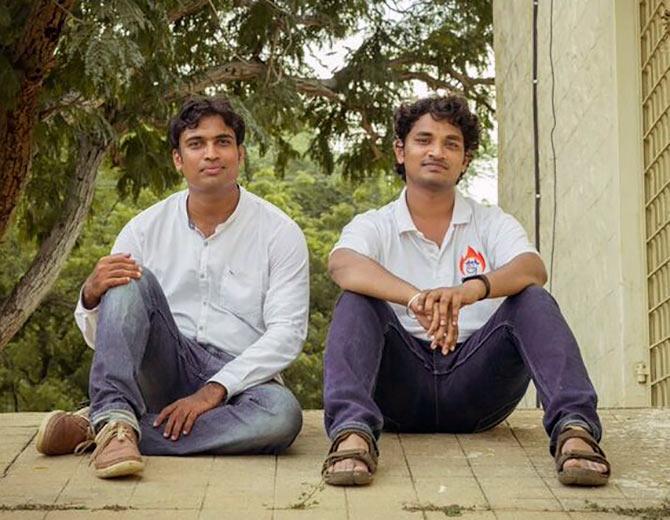 IMAGE: Founders Kaushik Yanamandram and Piyush Sohani. All photographs: Kind courtesy SustainEarth
My father was a banker. My family has no background in agriculture or farming or rural India. My initiation into agriculture happened by sheer accident.
I got admission for a degree in agricultural engineering at the Agricultural University in Hyderabad.
The four years I spent there changed my perspective. I realised agriculture was India's most important, most essential and, unfortunately, most neglected industry.
It motivated me to work for rural development. I felt there were a lot of problems we had to solve. I decided to specialise in renewable energy.
I joined Delhi University to do my MTech in renewable energy engineering and management. That's where I met Piyush and Shankar.
Piyush, who had studied engineering in biotechnology, was from an agricultural family in Madhya Pradesh.
There was no power in his village till he completed Class 10 and he had to walk miles to get to school. He dreamt of using technology to improve the lives of people living in rural areas.
Like me, Shankar was raised in a city, but is an ardent environmentalist who loves eco-friendly products.

We were classmates and roommates. Naturally, we bonded over a subject we were passionate about -- rural development.
One day, Shankar and I went for a day trek to a rural area just outside Delhi. It was organised by an NGO and our first visit was to a village called Sirohi.
To our shock, we found that 90 per cent of the households used a chula to cook food using cow dung as fuel; almost 70 per cent of households did not have any livelihood options.
Sirohi was just 35 km from Delhi, but the village was so impoverished and had no facilities while Delhi had roads, electricity, wifi, etc.
That is when we decided we would use whatever knowledge we had to improve their lives. We knew technology could alleviate poverty if used properly.

One of our teachers, Professor V V M Kishore, who had been in the bio energy field for a long time, helped us find answers to some of our questions.
Soon after the rural trek, we started our first initiative for rural India, REED (Renewable Energy for Rural Development).
Under this initiative, we would visit villages around Delhi on the weekends to conduct an energy assessment survey.
It was an exhaustive survey in which we went to each household and asked them about their energy status and power connections.

We then passed on the results of our survey to the CSR (Corporate Social Responsibility) wings of companies located near the villages so that they could utilise their CSR funds to provide power and power appliances to these houses.
We didn't have any knowledge about start-ups then, so we thought it was better to start an NGO after our studies instead of a company. We were under the impression that NGOs worked for people's betterment and companies worked for profit.
Our internship at TERI (The Energy and Resources Institute) was a huge educational experience. As I was interested in rural electrification, I went to Bihar.
I moved in the villages around Patna for two, three months to learn about rural electrification. It was an eye-opening experience. In 2013, energy was a big problem in rural areas.
That was when I met someone who became my inspiration -- Gyanesh Pandey of Husk Power Systems.
He had returned from America to bring light (electricity) to villages in Bihar using rice husk.
Today, Husk Power Systems supplies eight to 10 hours of power to 18,500 households in some of the off-grid villages where the state-run electricity board doesn't reach.
Over 1.5 lakh (150,000) rural Indians have benefited from Husk Power Systems and around 250 people have got employment.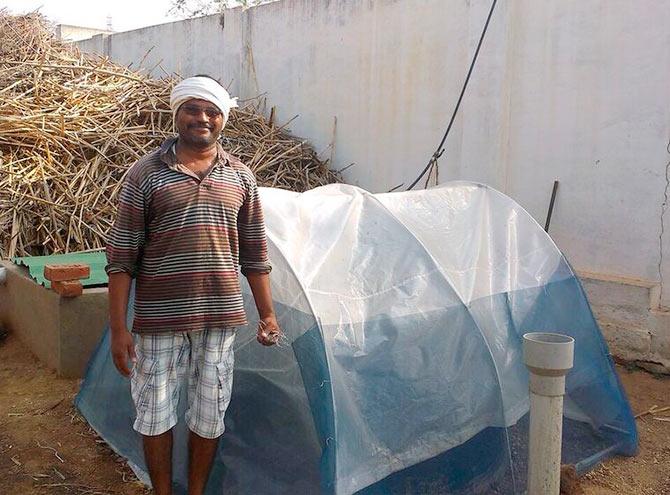 After we completed our MTech, we were confused about how to proceed with our idea of serving rural India.
Gnanesh Pandey, who was like my mentor, advised us to start a social enterprise that would create a social impact. He told us we could start a company and offer products and services that would impact the lives of people.
We chose a hybrid model where the technology would be developed by a company and the outreach programme will be spearheaded under a not-profit model.

Piyush and Shankar had their scholarship money of about Rs 2 lakhs (Rs 200,000); it provided part of the capital we needed to start our idea. But it was not enough.
That is when we stumbled on the Villgro programme.
Villgro Innovation Foundation, based out of the IIT Madras Research Park, provides incubation funds and mentoring to social entrepreneurs.
We went to them with our initial plan for a not-profit NGO model.
At the interview for the Villgro Entrepreneur Residents programme, they asked us whether we would continue with our idea if Villgro did not support us. We told them we would.
They understood our commitment and we were selected for a stipend of Rs 25,000 per month and a capital of Rs 3 lakh (Rs 300,000) for product development.

They suggested we focus on a particular problem and use technology to find a solution.
We chose biogas as the problem as there were no private players to solve the issue. Villgro also asked us to go for a for-profit model which is more effective and efficient.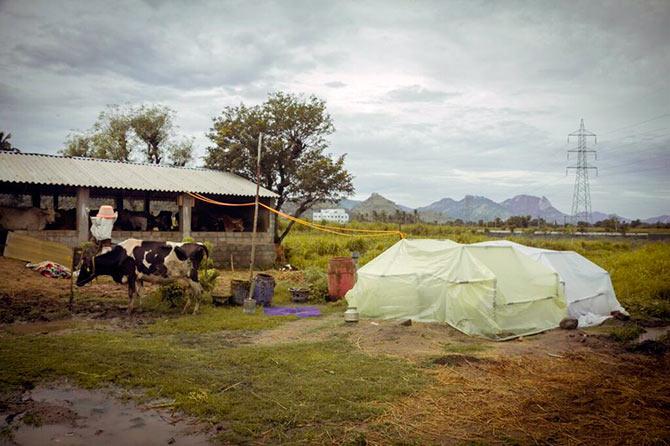 From our research, we found that India has the largest cattle population in the world, which can generate enough animal manure to produce methane as clean cooking gas through biogas technology.
Around 80 million families in rural India own cattle and at least 40 million families have sufficient space and animal manure to generate biogas as an affordable solution for their cooking needs.
About 144 million households do not have access to clean cooking fuel in India. About 86 per cent of the population use biomass like firewood, crop residue and dung cake as fuel; they emit hazardous smoke.
This has resulted in about one million deaths annually. Burning firewood also leads to deforestation and greenhouse gas emissions.
In September 2013, our start-up was born.
We wanted to name it REED Initiative but when we went to register the name, we found they would not accept acronyms.
So we used REED Initiative as our action plan and named our start-up SustainEarth Energy Solutions; after all, whatever we do is to sustain the earth.
Before developing the technology, we did an extensive survey in villages in 10 states that have a high cattle population -- Haryana, Rajasthan, Gujarat, Maharashtra, Karnataka, Andhra, West Bengal, Uttar Pradesh, Orissa and Madhya Pradesh.
It took us six, seven months to complete the survey.

The intention behind the study was to engage with the people involved in the biogas sector -- from NGOs to users to government officials -- to get an idea of what exactly the problem was and how it could be solved.
The information that we gathered from our survey formed the basis for our product development.
Initially, we thought we would invent new technology but soon learned the technology already exists. The problem lay in implementation as no one had indigenised the technology.
If we were to solve the problem across Indian villages, we had to design a product that could be mass manufactured and adopted easily by the people.

One example in this context is the solar home lighting system. Today, people can buy it at a store and easily install it themselves.
Unless we created technology that could be easily adopted, installed and used, villagers wouldn't opt for it. That is why, even when you have 25 million households in India which can use biogas, less than one per cent do so.
It takes at least 10 to 15 days to construct a traditional biogas plant. You need bricks, mortar, cement and other supplies. You also have to invest in the services of a mason. That is by no means an easy-to-install system.
If it stops working due to any crack/damage, it is very difficult to fix. That is why millions of biogas plants have failed in India.
In January 2015, when Shankar had to leave the team, Himanshu Mishra, a designer from IISC-Bangalore, joined us.
We designed a pre-fabricated flexible bag-like biogas plant, which can be installed without the help of a mason.
We tested the prototypes in villages instead of a lab.
Our first plant, named GauGas, was installed at the house of a farmer, Krishna Reddy, left, in a village near Tirupati around mid-2015.
He has 10 to 12 cows and, because it was our first plant, we asked him to use it for a few months and pay us if he was satisfied.
After six months, he paid us Rs 15,000. The plant is working very well.
He has now become our brand ambassador and talks to other villagers about our product. This has brought in more other buyers. We have seven orders from nearby villages.
So far, we have installed prototypes at the homes of nine farmers; two in Andhra Pradesh and the rest in Karnataka.
From our survey, we learnt that people are willing to pay Rs 12,000 for a biogas plant.
However, we have not been able to bring the price down to below Rs 25,000.

We procure most of the small components from Tirupati; a couple of others are imported from China.
Our manufacturers are located in Chennai and Nashik and it takes just two days to install the plant which we are sure will run for at least 10 years without a problem.
We have installed a device in each plant that sends a signal to our server in case there is a breakdown so we can send service personnel immediately.
A family that has 2 to 3 cows can cook every meal using our biogas plant.
There are 25 million farmers in India with at least 2 to 3 cows each. If all them use biogas to cook, millions of LPG units and firewood can be saved. Above all, it is eco-friendly and will not pollute the environment.

Other than biogas, there is an important by-product from the biogas plants -- bio-fertiliser.
Our plan is to help the farmer commoditise the bio-fertiliser and use it to earn additional income. We want to form self-help groups of women in villages and give them the ownership of the plants.

Our GauGas plants are reliable and can provide a family with enough gas for cooking throughout the year. The conventional plants don't work during rainy days.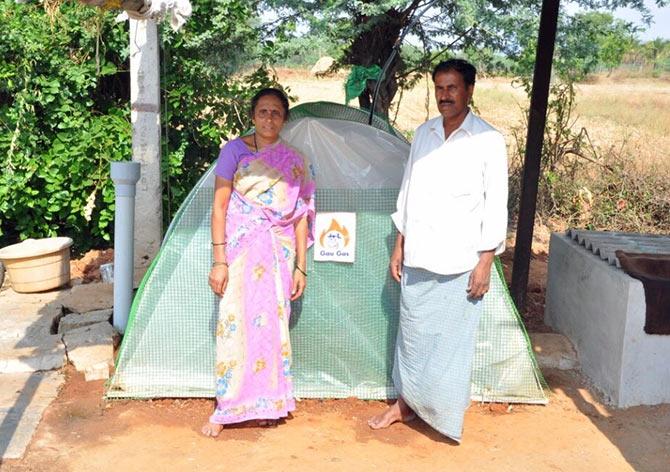 Our target is to install one plant a week and 100 to 150 plants in one village.
We want to install at least 500 units in the next financial year and 5,000 units in the next two, three years. We are contacting the CSR units of many companies that work in villages to help us reach the villagers.
There are 166 million households in rural India out of which 80 million own cattle. We can provide biogas to 25 to 30 million households. That is the kind of potential we have.
We do not want villagers to follow the unsustainable path followed by the urban population. Through biogas, a village can become self sufficient in energy.
Photographs: Kind courtesy SustainEarth