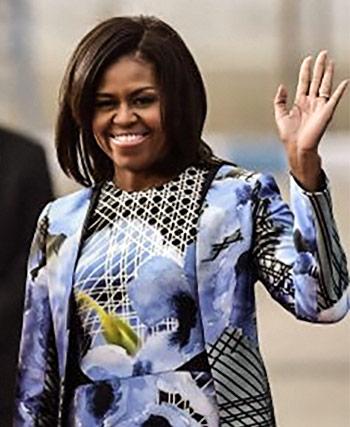 Michelle Obama will cease to be America's First Lady on the morning of January 20.
Anita Aikara traces some of her noteworthy fashion choices.
Michelle Obama likes to experiment with fashion.
As First Lady, she isn't afraid to afraid to flaunt her best asset, those well-toned arms.
She has even -- like the pretty Duchess of Cambridge -- recycled some of her outfits, striking a chord with us middle-class folk.
Through the years, she's experimented with asymmetrical necks, flared skirts, sparkly Hollywood-inspired gowns, pretty frocks, vivid prints, bold colours and some fancy hairstyles too!
Her style choices have redefined the old-school idea of how a First Lady should dress, spiralling a new fashion revolution of sorts in the White House.
Take a look!
1. She's dared to wear what no FLOTUS had worn before!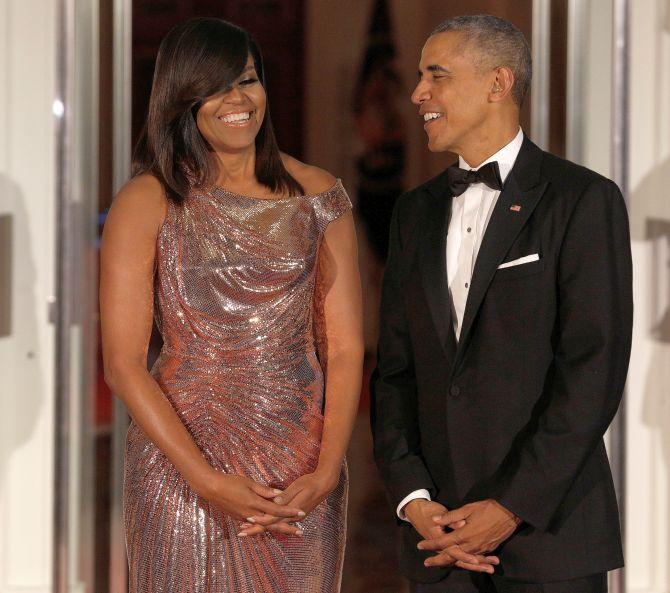 IMAGE: Michelle proves it pays to take a 'fashion risk' at her final State dinner as First Lady.
The rose gold sparkly gown by Italian label Atelier Versace was quite a departure from the subtle gowns she has worn in the past.
Flaunting those toned arms in this form-fitting gown with an asymmetric off-shoulder neckline, Michelle completed the look with side-swept bangs.
Clearly, she has marked a new style era for First Ladies to follow.
Photograph: Joshua Roberts/Reuters
2. Designers loved to dress her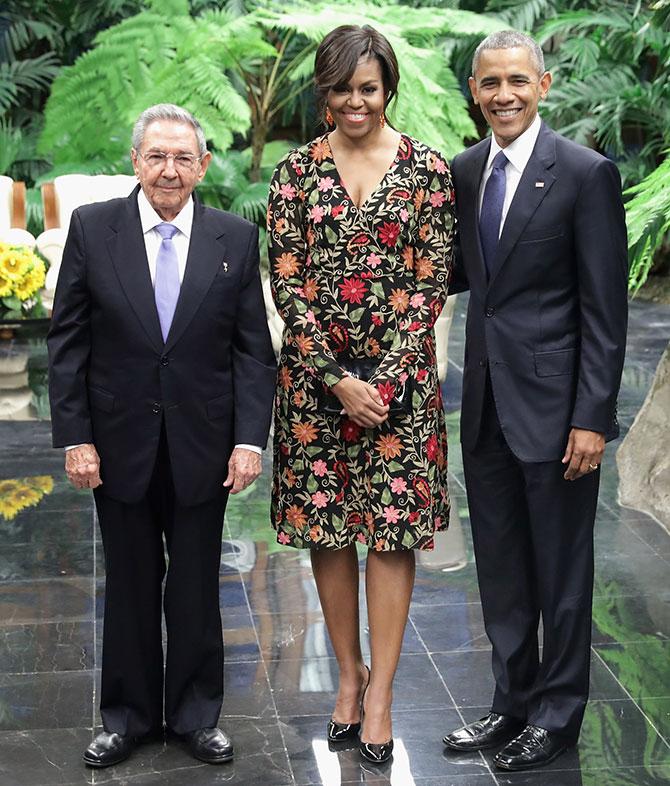 IMAGE: She has her favourites -- including Tom Ford, Jason Wu and Ralph Lauren.
But Michelle has always encouraged talented designers, including Indian-American designer Naeem Khan.
She made a fashion statement in a Naeem Khan Kashmiri embroidered creation with Indian floral motifs at a meeting with Cuban President Raul Castro last year.
Photograph: Chip Somodevilla/Getty Images
3. She's a favourite among Indian designers too!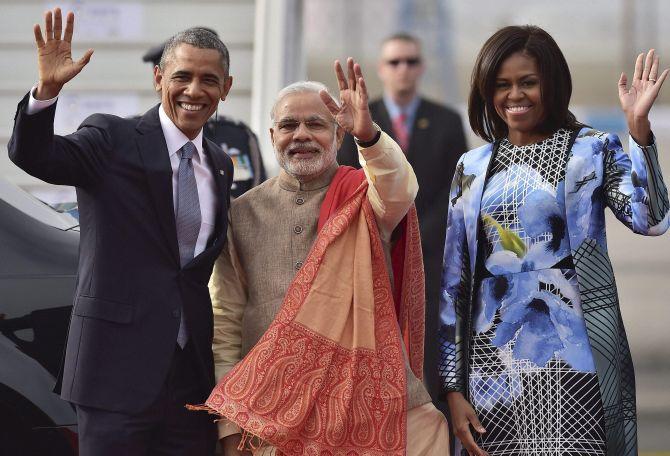 IMAGE: Michelle kicked off her three-day visit to India in January 2015 on a stylish note, in a crepe dress and silk and wool jacket by Indian-American designer Bibhu Mohapatra.
Earlier in 2014, she wore a graphic black and white dress by Mohapatra for the annual Phoenix Awards dinner.
Photograph: PTI
4. She took casual dressing to another level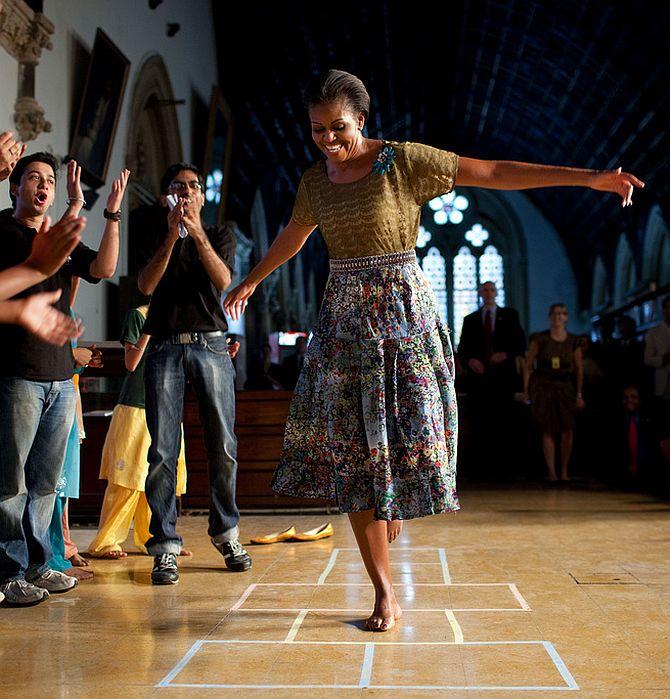 IMAGE: Even when dressed casually -- here, she opts for an olive blouse and flowered skirt -- she looks gorgeous.
Kicking off her shoes, she flashed those pearly whites while playing hopscotch in Mumbai.
Photograph: Chuck Kennedy/White House
5. She flaunted her arms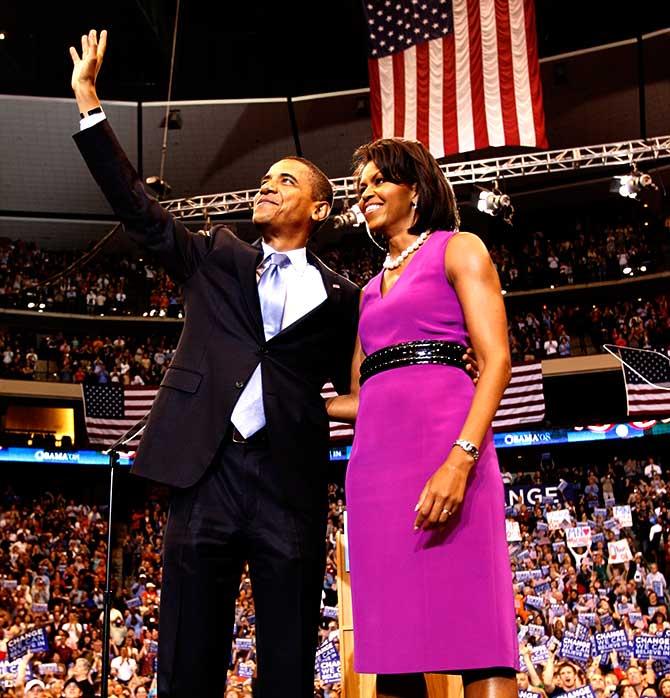 IMAGE: Back in 2008, Michelle took to the stage with her husband in a purple shift dress with a black leather belt and oversized pearls.
This particular outfit drew criticism for being inspired by Sarah Jessica Parker's look in Sex And The City.
Refusing to be bothered by criticism, Michelle repeated this outfit at another event, choosing to team it with a black cardigan.
For those of you who didn't know, Michelle is a huge fan of upcycling outfits.
Photograph: Jason Reed/Reuters
6. And painted the dance floor red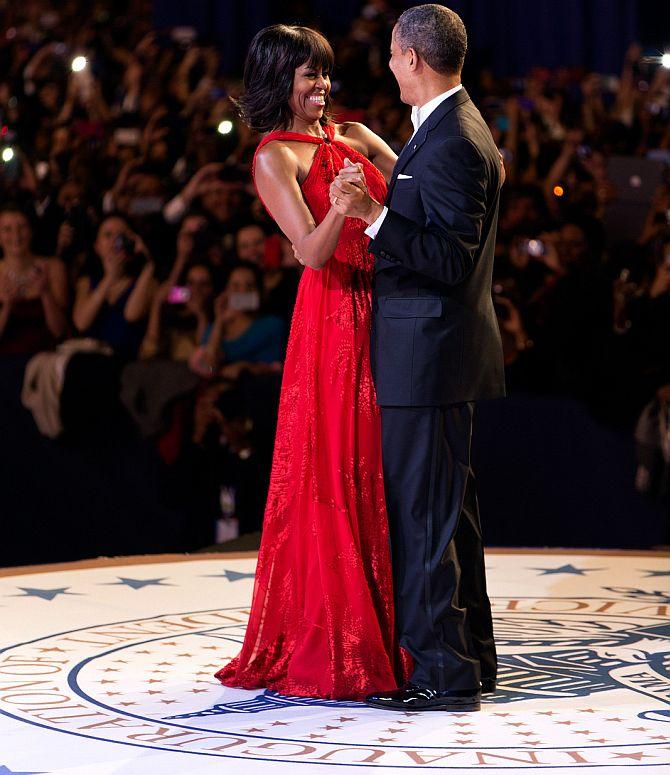 IMAGE: When Barack and Michelle danced during the inaugural ball at the Walter E Washington Convention Centre in Washington, DC, 2013, she wore a red Jason Wu halter-neck, floor-sweeping gown.
She gave it her own surprising spin with rocking bangs and a white gold ring with diamonds at her collarbone.
She completed the look with red satin Jimmy Choo shoes.
During the 2009 inauguration ball, Michelle had donned a Jason Wu gown.
Photograph: Pete Souza/White House
7. She refused to play it safe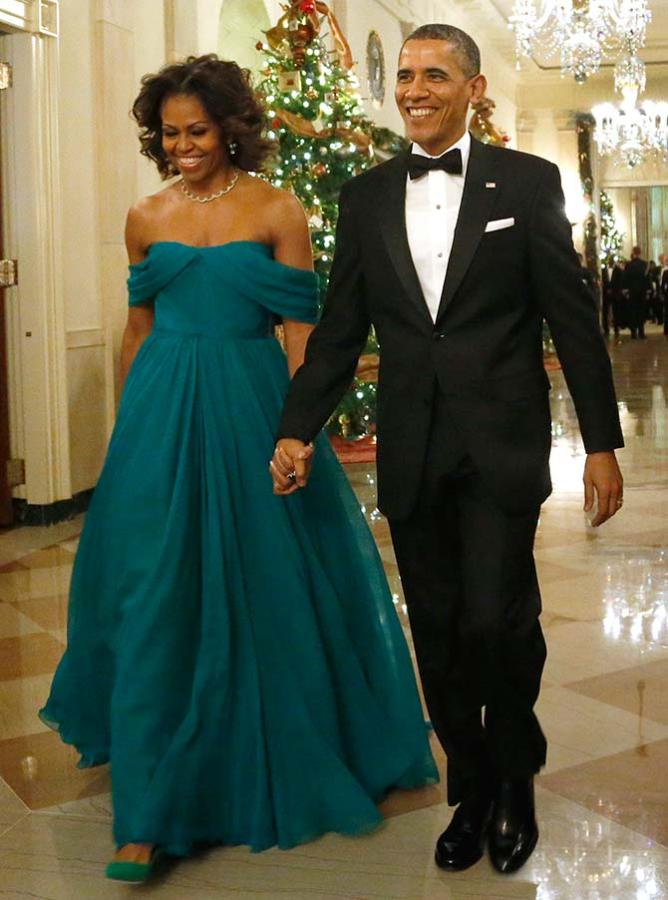 IMAGE: Michelle looked stunning in an emerald off-shoulder Marchesa silk chiffon Grecian gown as she arrived with Barack at a reception for the 2013 Kennedy Centre Honours recipients at the White House.
The hand-draped gown was matched with a pair of green heels and sparkly diamond accessories.
Photograph: Jonathan Ernst/Reuters
8. Comfort before style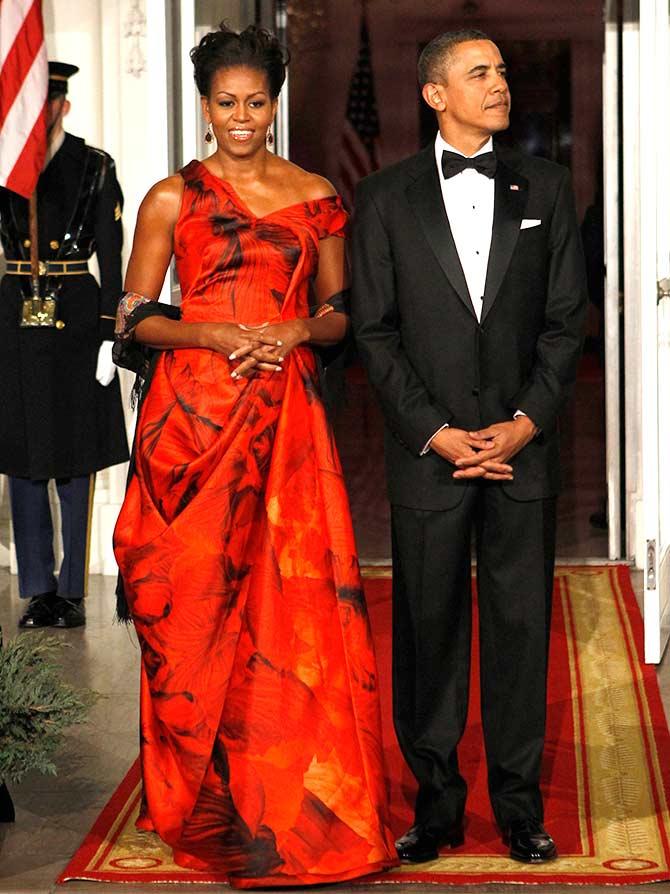 IMAGE: Michelle wore a red printed silk organza McQueen at the White House State dinner honouring then Chinese president Hu Jintao.
The original dress was made with short sleeves, but Michelle customised the dress to flaunt one of her prized assets, her arms.
Her choice of a British designer angered US homegrown designers, but Michelle defended her choice of dress, urging women to wear what made them feel comfortable.
Photograph: Jim Young/Reuters
9. Since black is boring, she added red :)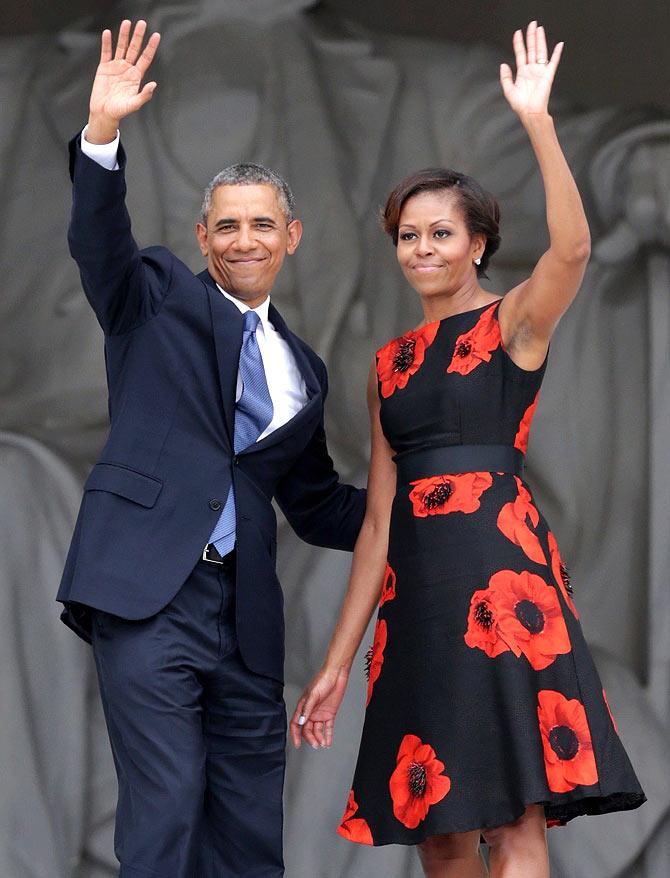 IMAGE: First Ladies have favoured black suits; Michelle was probably the first among them to wear a black dress with bright red floral motifs.
She wowed the audience in a black flared frock with red scarlet flower detailing by Tracy Reese at an event commemorating Dr Martin Luther King's life.
It was a risk that paid off brilliantly.
Photograph: Alex Wong/Getty Images
10. She surprised us with bold colours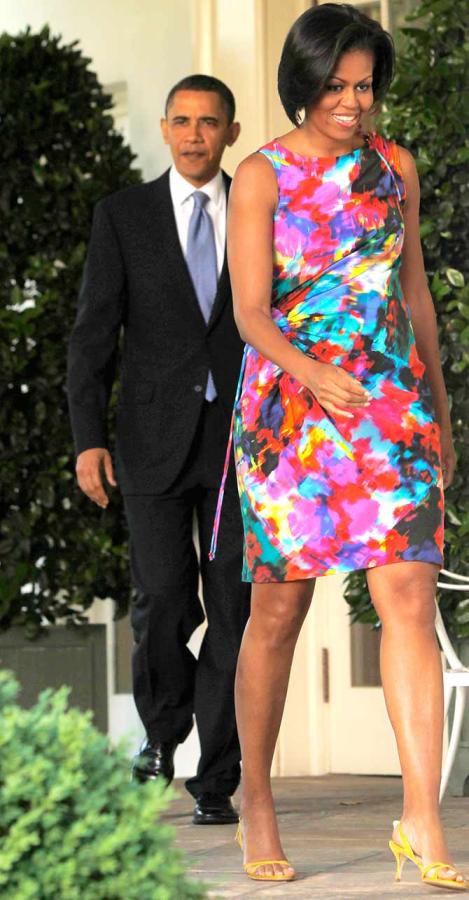 IMAGE: She opted for a vivid printed floral dress by Thai-American designer Thakoon Panchigul at an event celebrating Cinco de Mayo (when Mexico defeated France at the Battle of Puebla) in the Rose Garden at the White House.
She surely knows how to pull off patterns and prints.
With this outfit, she used fashion to make a statement by supporting an Asian -American designer.
Photograph: Jason Reed/Reuters
11. Her elegant wedding gown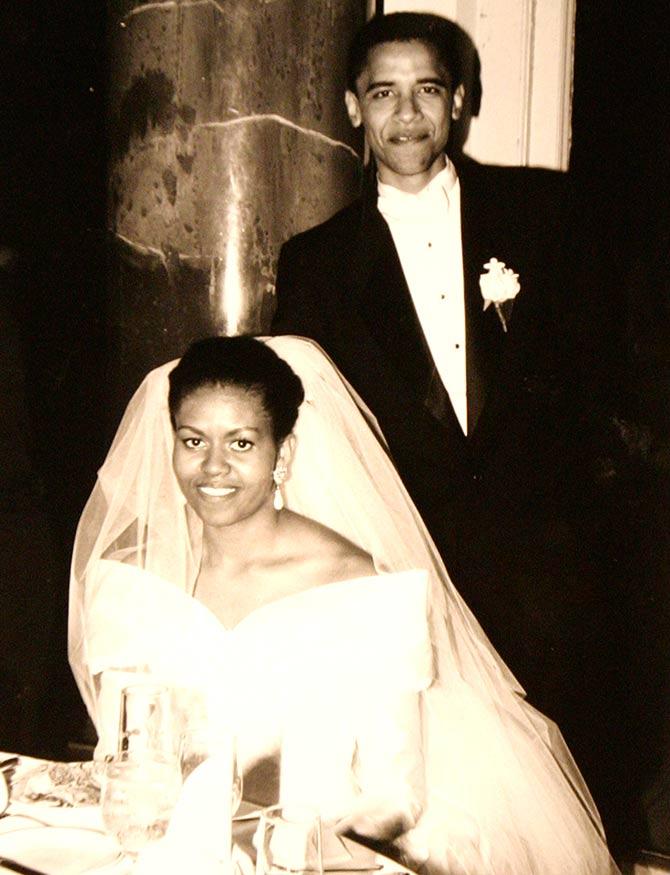 IMAGE: At her wedding on October 3, 1992, Michelle kept up with the trend, wearing an off-shoulder wedding gown with long sleeves.
She paired the gown with a long veil and accessorised it with diamond drop-earrings.
The final look was simple, yet elegant.
Photograph: Reuters
12. She loved to experiment
IMAGE: A yellow cardigan, orange pumps and a red belt!
When did you last see a First Lady make such daring fashion choices?
Michelle loves experimenting with impressive silhouettes, prints and colours.
This outfit by Duro Olowu, a Nigerian-born fashion designer, is a riot of colours, yet Michelle pulls off the look beautifully.
Photograph: Kevin Lamarque/Reuters