It's been a huge draw for Indian tourists this year.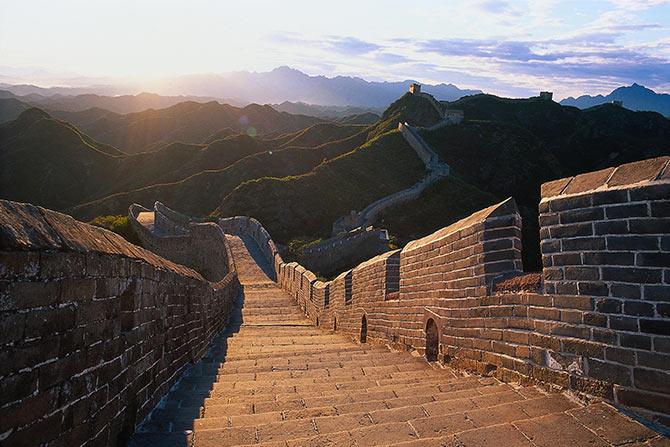 The Great Wall of China emerged as the most popular destination for Indian travellers exploring the 'new 7 wonders of the world', thanks to easy accessibility and fairly affordable pricing of air tickets this summer, according to a survey.
According to data from Paytm, the air ticket prices on the India-Beijing sector averaged at ₹ 19,459 this summer (between January and June 15, 2018), boosting outbound travel from the country to the Northern neighbour.
Among the domestic hot spots, Agra continued to maintain its glory as one of the most favoured destinations for Indian tourists.
While the airfare to Agra from most cities was around ₹ 4,396, people from Varanasi, Delhi and Vijayawada made maximum train bookings to the city of the Taj Mahal at 40 per cent, 28 per cent and 7 per cent, respectively.
The next most affordable destinations abroad were Petra in Jordan with an average airfare of ₹ 20,873, and the Great Pyramid in Egypt with an average fare of ₹ 20,940, show the data.
Peru's majestic Incan Citadel of Machu Picchu scored the lowest in terms of popularity given its distance from India and the fact that the air tickets were very expensive at an average price of ₹ 75,203.
Interestingly, the Great Wall of China was ranked as the most popular destination by Delhiites, who made up 54 per cent of the traffic going to China.
Mumbaiites and people from Hyderabad chose the Colosseum of Rome, accounting for 10 per cent and 13 per cent respectively of the total travellers to Italy, it added.
Kochiners heading out picked the Great Pyramid of Giza in Egypt, while Bangaloreans made up the most enthusiastic set of tourists flocking to the Christ the Redeemer statue in Brazil.
Meanwhile, the data reveal that while 91 per cent of travellers to the Great Wall and 85 per cent Indian tourists going to the Colosseum were men, the Great Pyramid of Giza saw a fair balance with 43 per cent being women.
This was perhaps because Egypt and Petra were the top choices for couples, while the Great Wall of China, the Colosseum, Christ the Redeemer statue and Chichen Itza in Mexico were top favourites of solo male travelers, as per the data.
© Copyright 2023 PTI. All rights reserved. Republication or redistribution of PTI content, including by framing or similar means, is expressly prohibited without the prior written consent.