Headphone parties herald a silent dance revolution after strict noise pollution laws threatened to stifle Goa's legendary party scene.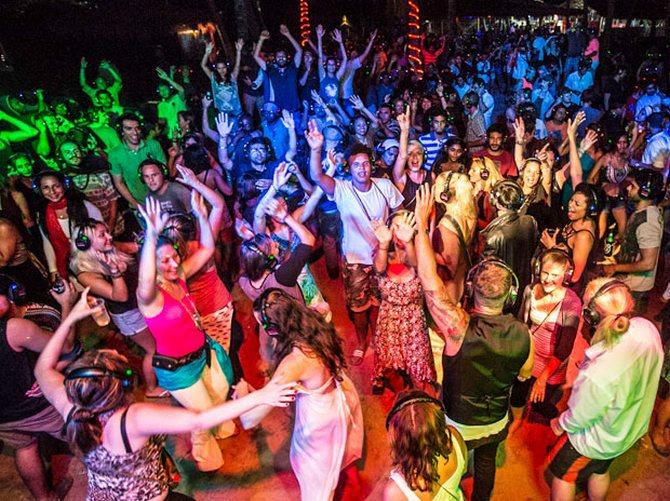 It's a surreal scene: hundreds of party-goers, dressed to the nines, swaying and grooving on the dance floor.
But wait, where's the music? Before you decide you want to get your hands on the special something they've definitely been smoking to be a part of this hallucinatory experience, the headphones suddenly catch your eye.
This is Silent Noise, started by Londoner DJ Justin Mason and now in its eighth season of organising headphone parties in a corner of Palolem beach in south Goa, a beautiful little cove where the hills merge into the sea.
Here, revellers dance the night away to music channelled through wireless headphones rather than over loud speakers, and the only noise is the sound of feet on the sand and the waves crashing in the distance.
Silent discos have been around for a long time, having originated in Europe as a novelty feature around a decade ago. However, they became very popular in Goa as an effective way of bypassing the strict noise pollution laws that the government clamped on open-air music parties after 10 pm.
In north Goa, police routinely crack down on parties to curb drug-fuelled raves. At Curlies, one of the most popular bars at Anjuna beach, there is a special UV dance hall on the second floor and too far away inside.
There are the indoors trance music parties as well. But within the confines of a dance room, the beach experience is completely lost. Enter, headphone parties.
Janie O'Connor, Mason's partner, has been hosting the Silent Noise parties at Palolem, keeping Mason's legacy alive as he battles memory loss in London after a bike accident on the streets of Goa two years ago.
"In the past couple of years there have been several copycats, and last year we had to switch venues due to this. But I guess it's a compliment," says a sporting O'Connor about the growing trend.
The Laughing Buddha Bar and Alpha Bar are the two other venues that have begun hosting headphone parties on Tuesdays and Thursdays, respectively.
But they are harder to find as it isn't easy tracking down a disco when you cannot hear the music!
Silent Noise, on the other hand, hosts its parties at On the Rocks, near Neptune Point, on alternate Saturdays, with its party symbol (a neon pink cow head with headphones) glowing and intriguing passersby.
It also incorporates a lot of visuals, such as aerial performers, circus acts, LED and fire shows — making silent disco into a unique audio-visual experience.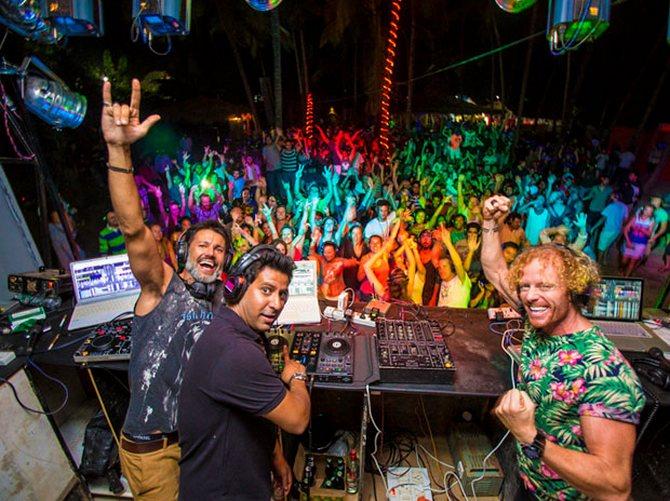 At Neptune Point, there are three DJs who play simultaneously and you can switch between channels on the headphones; at Alpha Bar and Laughing Buddha there are only two.
Each DJ plays a different genre of music.
For instance, Channel 1 lights up the headphones in blue and plays house music, Channel 2 is red and meant for electronic and progressive music, while Channel 3 is green with a mixed bag of funk and alternative tunes right from A-ha to Oasis to Arctic Monkeys to Daft Punk.
While it may seem strange at first, you get used to the headphone-feeling really quickly because the competing DJs do not let up on any opportunity to keep you hooked to their channels.
Funnily enough, since it isn't all that easy to gauge how loud you're speaking or singing when wearing headphones, people end up shouting in wild abandon.
While we're told that top-rated DJs have been flown in for Channels 1 and 2, more often than not we end up tuning in to Channel 3 just to be able to jump and sing along.
Yours truly had to be shushed every time a classic 1980s hit came on -- so much for the silence. (Nostalgic favourites playing in a faraway land will do that to you too.)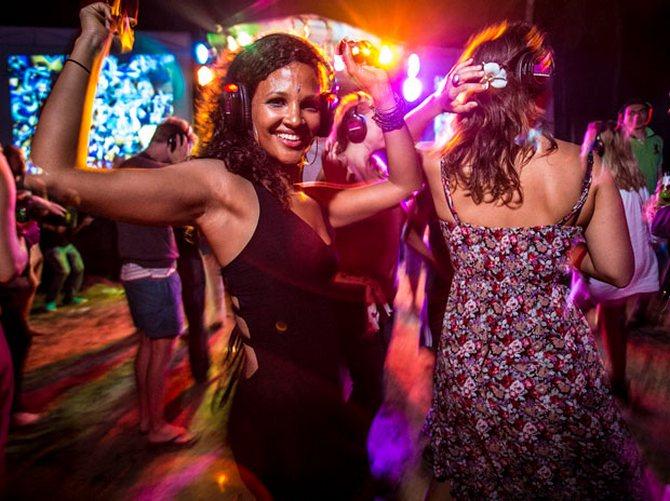 While the music was fantastic, it was still pretty nice to have the freedom to switch off every now and then, to have a drink or two (or five or seven) and strike up a conversation with friends and fellow partygoers alike.
Though everyone danced to his own beats, in the haze of red, blue and green, you are caught up with your own little clique and match their steps.
There was even one party animal who decided he was just too cool for this scene and preferred his own music -- dancing away to his iPod.
Some grooved to trance, others were doing The Robot, and one was trying to moonwalk across the sand.
Different tracks can totally wreck your synchronised dance moves, but hardly anybody seemed bothered by that, immersing themselves in the total experience.
O'Connor tells me that "at the moment, due to police restrictions we can only do two parties a month, but this has made us more exclusive and given us extra time to tour."
Silent Noise has held events at nearly every major city across India and in Europe, and even hosts headphone parties at weddings.
As O'Connor says, "It's the perfect solution to decide what music to play on the special day!"