Wine trails make for excellent short breaks. Alok Chandra takes us within sniffing distance of three.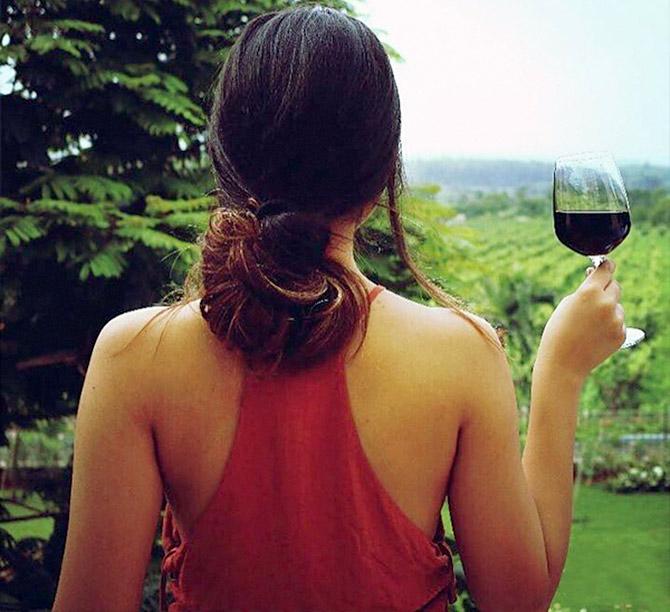 Photograph: @Sula.Vineyards/Facebook
Vineyards and wineries have been taking root in India since 1986, but it's only in the last few years that clusters of wineries that facilitate visiting more than one unit have emerged.
The Indian wine industry is growing at 15-20 per cent annually and quality is improving all the time. But while there are currently some 75-odd wineries dotted around India, only 15 are worthy of note, and most consumers are aware of only three -- Sula, Grover and perhaps Fratelli.
For the wine aficionado, wine trails make for an instructive and, quite literally, refreshingly different break.
Sula-York-Soma Vine Village
These three wineries are located on a single 3.5-km stretch of road on the banks of the picturesque Gangapur Lake outside Nashik city in northern Maharashtra.
Sula is the first one encounters (180 km from Mumbai on the Mumbai-Nashik highway), followed by York (1.5 km down the road) and finally the Soma Vine Village (previously known as Somanda, another 2 km down the same road).
Sula Vineyards
While Sula is the third-oldest winery in India (1999), it's the market leader today by a long shot -- wine sales in 2017 were an estimated 1 million cases against that of the next-largest company, Fratelli (about 110,000 cases) and its distinctive 'mustachioed sun' logo is ubiquitous and widely recognised.
Sula has a comprehensive programme for visitors, which runs through the year.
The 2,000 sq ft Tasting Deck on the first floor has an excellent view of Gangapur Lake and is open daily from 11 am to 11 pm; it gets quite crowded on weekends when up to 500 people visit the winery. There's also an excellent shop selling wines at MRP, as well as a very good souvenir shop for mementoes and apparel. Both the tours and the Tasting Deck are open to walk-in visitors -- no prior bookings are required.
What does require advance booking, though, is Sulafest, an annual musical extravaganza, which is held in February. The 2016 event drew 15,000 people. Tents and hotel rooms in Nashik get sold out early, so it's advisable to book well in advance.
There are two restaurants (Little Italy and Soma) in the area next to the amphitheatre with a fairly extensive menu.
The luxury resort, The Source at Sula, opened in early 2017 where the original winery was located. It has 23 rooms and suites done in Tuscan style and also offers a swimming pool, spa and tennis courts (from ₹7,000).
See www.sulawines.com.
York Winery
Located on the shores of the Gangapur Lake, just 1.5 km down the road from Sula's winery and set amidst seven acres of vineyards, production here commenced in 2008.
The 30,000 sq ft winery is built on two levels, with crushing on the upper level.
The spacious and relatively uncrowded Tasting Room overlooks the Gangapur Lake and is open daily from 12 noon to 10 pm for visitors -- no need for reservations unless you are visiting in a large group. Charges include a vineyard/winery tour, and the last package starts at 5.30 pm. The Cellar Door restaurant here has good food.
Soma Vine Village
The property that started off as Somanda Vineyards is now called the Soma Vine Village and has become a popular destination for theme parties and weddings. It is located 3.5 km down the road from Sula and is adjacent to 25 acres of vineyards.
The winery is basically one big hall where crushing/fermentation/bottling as well as tasting for visitors is done.
The Soma Vineyard Resort nearby has 32 well-appointed rooms and a restaurant as well as facilities for conferences/meetings, set amidst well-landscaped surroundings and walking distance to two luxury seven-room cottages.
The winery is open to visitors between 11 am and 7 pm every day -- no prior appointment is required.
Rooms at the resort cost from ₹5,500.
Zampa-Vallonné
These two wineries are located off the Mumbai-Nashik highway: turn off NH 22 at Wadivare village, 22 km short of Nashik onto a fairly rutted track (it improves further on).
Zampa comes first, near Sanjegaon village, about 10 km from the turn, while Vallonné is another 12 bumpy km ahead. Google Maps works well for both wineries.
Zampa Vineyards
Originally called Vallée de Vin and set up in 2006 using some renowned international consultants, this company merged with Grover in 2015 to become Grover-Zampa, rationalising their supply chains for sales in states with high import taxes on wine from other states.
The winery's facade is stupendous, designed for maximum impact, and is a perfect setting for visitors to sample wines. The unit itself is set on the road, with 20 acres of vineyards climbing the hill behind. Their Zampa Chene is probably the highest-priced Indian wine -- and a must-try.
There are tours available for both the vineyards as well as the winery -- three tours daily starting at 10.30 am, 2.30 pm and 4 pm. The tour price (from ₹500 per person) includes tasting and dry snacks but no food, which has to be ordered in advance.
Vallonné Vineyards
The 20-acre estate is located on a promontory jutting out into the massive Mukhne reservoir, with the Sahyadri hills (10 km away across the lake) forming a picturesque backdrop. The vineyard was set up in 2008 and upgraded recently.
The winery is set amidst the recently-replanted vineyards and has excellent ambience.
In 2015, Vallonné added a restaurant, called Malaka Spice, and a boutique resort, Bankside at Vallonné, which offers four rooms (from ₹4,237) for overnight visitors. The facilities are very good indeed, and the ambience and view wonderful.
Visitors are welcome to the winery but you must call or email in advance. Wine tours are charged at ₹350 per person.
Grover–Bangalore Soma–SDU
North of Bengaluru, off NH 44 and the new airport, lies the area of Nandi Hills, the centrepiece a granite massiff rising 1,750 feet above the surrounding plains. Three wineries here (there are more) are worth visiting.
Grover Vineyards
The second-oldest winery in India, Grover Vineyards, was established near Bengaluru in 1988 by the Mumbai-based Grover family as research convinced old man Kanwal Grover that the region would produce grapes superior to those in Nashik. The single-winery company then merged with Vallee de Vin in 2013 and is now called Grover Zampa.
The vineyards that once surrounded the winery have been driven out by the rising value of land near Bengaluru -- Grover's closest vineyards are another 23 km away. The winery is 47 km and is near the town of Doddaballarpur -- either follow Google Maps for the shortest route, or go via Yelahanka or even off NH44 near Devanhalli.
Winery tours start at 10.30 am and 1.30 pm daily, and include lunch, winery visit and wine tasting (from ₹850 per person).
Bangalore Soma
This is a unique vineyard with an underground winery, 23 km from Grover's unit, located on the banks of the Makli lake and in the shadow of the 1,200-foot high Makli hill. This has to be India's most picturesque winery. Follow Google Maps to get there.
The 70-acre vineyards are unique in being the only property in the world with coconut trees set amidst the grapevines. The vineyards were set up by Darby Raju in 2003, but the winery is more recent and took its first crush only in April 2017 -- in the interim their Sauvignon Blanc and Shiraz grapes have formed the core of Grover's quality wine portfolio.
The estate has a cottage with three rooms and a kitchen, and a well-established tour and tasting programme (all were recently closed for upgrading and may now be open). Do call to check and make reservations in advance.
See www.bangaloresomavineyards.com
SDU Winery
The winery took its first crush in 2012, and is located another 50 km from Bangalore Soma, on the road to the town on Gauribiddanur.
The owners are reticent about their excellent pedigree, and while they have built a very modern winery and produce among the best wines in India, their visitor centre is not really open to the public. So, we'll just have to be content with mentioning their SDU Reserva Shiraz, whose 2014 vintage was adjudged 'The Best Indian Red Wine' by industry experts in 2015.
So there you have it: three wine trails in India, each of which could be covered in a day -- but if visiting, do ensure you travel with a designated (non-imbibing) driver as wine-tasting is a spirituously uplifting acitivity!
Recommended for you: Have you been to a spa party?