Siddharth Rajwade visited Japan and made sure that he got to experience its ancient traditions along with its modern wonders. Read on to find out what he did during his 15-day trip to the country, which is a world apart.
Japan as a country is rich in culture and history.
It is also the most developed Asian country with the warm, friendly people.
That is one of the many reason why the destination was chosen for our next 15-day family trip.
I looked forward to the trip as I always dreamed of Japan to be an exciting place, full of groves and trees, beautiful views, cherry blossom trees, and delicious sushi.
OSAKA
After a long flight via Singapore, I arrived at the Osaka Kansai International Airport.
The next day, after a peaceful night's sleep, I set out to explore Osaka, a large port city on the Honshu island.
My first stop was Universal Studios. When I was there, it was not the skyscraper roller coasters, but the patience of the Japanese people who wait in a line for hours without complaining, that amazed me.
Everyone waited for their turn patiently, without pushing or shoving one another.
Even in the trains, I didn't see a single person, who was reluctant to offer their seat to a someone who actually needed it.
My next stop was the Dontonbori shopping plaza and the Ebisubashi bridge.
At night, Dontonbori lights up giving a beautiful view of the canal.
HIROSHIMA
Hiroshima shows the scale of devastation caused during World War II.
I visited the Peace Memorial Museum, Sadako Monument and the flower garden.
The Sadako memorial is dedicated to Sadako Sasaki, a victim of the Hiroshima bombings, who made a thousand cranes during her stay at the Red Cross Hospital in Hiroshima.
The cranes symbolise freedom from war.
KYOTO
The next day, I took a Hikari bullet train for Kyoto, which is a quiet place with lots of traditions and natural beauty.
I went for the Sagano bamboo one-day tour. There were some shrines on the way to the bamboo grove.
The main religions of Japan are Buddhism and Shintoism.
There is a way of praying in a Japanese shrine. First, you put some money into a coin box, bow twice, clap twice, make a wish or prayer and bow once again. Before praying, one has to purify himself by washing his hands and rinsing his mouth.
I also went to a Maiko-Geiko show and tea ceremony at Gion district.
There is a traditional way of conduction the tea ceremony. First, a Japanese dessert made of sweet red bean paste or confectionery is given to eat as the green tea (called matcha) served afterwards is very bitter.
There is a small entrance to the tea room which is separated from the main house. It is said that inside the tea room, everyone is equal, no matter which class or community one belongs to.
The next in row was the Kinkakuji temple. It is covered in a layer of pure gold leaf and located in the middle of a lake surrounded with colourful flowers.
Just the sight of the temple fills your the mind with peace. There is also a bridge near it. On one end of the bridge is a 1000-year-old pine tree bark, which is still intact.
I then boarded a JR Shinkansen train bound for Tokyo.
TOKYO
We went straight to Shizuoka Prefecture to see Mount Fuji at Hakone.
Once there, you get to witness with splendid views of Fuji Yama ('yama' in Japanese stands for a 'mountain').
Too bad, I missed the Sakura (cherry blossom) season, which begins in the second half of March and ends mid-April.
Fuji Yama can be recognised easily due to its conical shape and icy peak.
My visit to Hakone was followed by a short trip to Owakudani, a volcanic region with sulphur billowing from the earth below.
Eggs treated with sulphur become black, and it is said that each egg you eat will add seven years to your life.
I reached Owakudani by the Hakone Ropeway.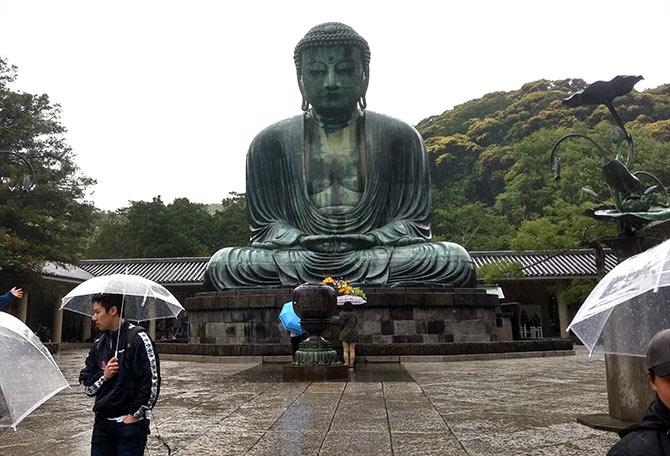 The next day, I headed to Kamakura.
Narrow roads, hot springs, shrines and scenic views make this a good tourist spot.
There is a flight of about 200 steps to the Tsurugaoka Hachimangu shrine.
There are millions of deities worshiped in Japan -- each for a different purpose like match-making, arts, studies, happiness, etc.
From there, I headed to Enoshima, below, to catch a breathtaking views of Kamakura.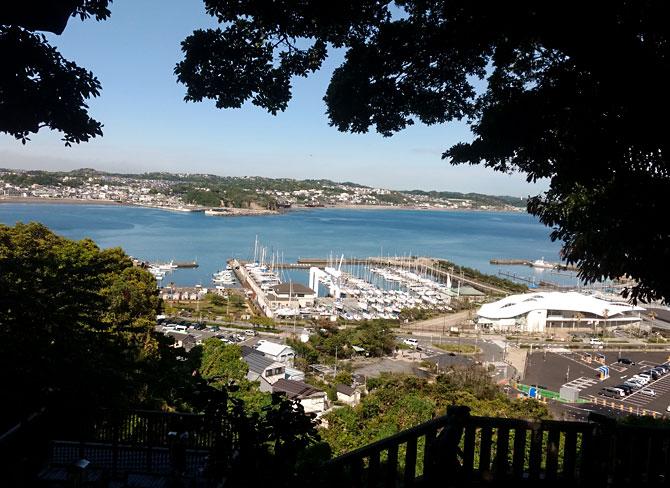 DISNEYLAND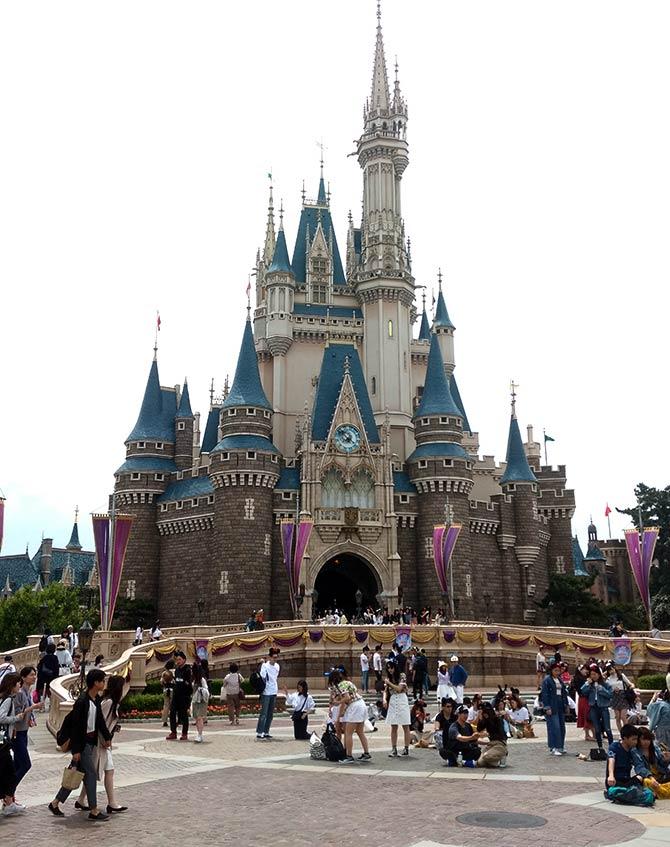 As I travelled by car from my Airbnb accommodation in Shinjuku to Tokyo Disneyland, what particularly caught my attention were the clean and smooth roads, and the driver's polite nature.
Not once did he complain about the traffic on the way, and the smile on his face never disappeared.
Visitors in Disneyland shared the same attitude as those at Universal Studios -- everyone waited patiently for their turn in the queue.
However, I could sit only on a few rides as the place was crowded. I wasn't disappointed as I had to leave something to be experienced for the next time too!
TSUKIJI
Tsukiji is a fish market, but when you are there, you can barely get the smell of the raw fish kept for sale. The credit goes to the level of hygiene maintained there.
Japanese people eat a lot of seafood since the waters that surround the country are a meeting place for cold and warm currents.
These currents are useful for the breeding of fish, as well as their food.
While I was there, I enjoyed grilled tuna garnished with salt and pepper and some fresh strawberries straight out of the farm.
IMPERIAL PALACE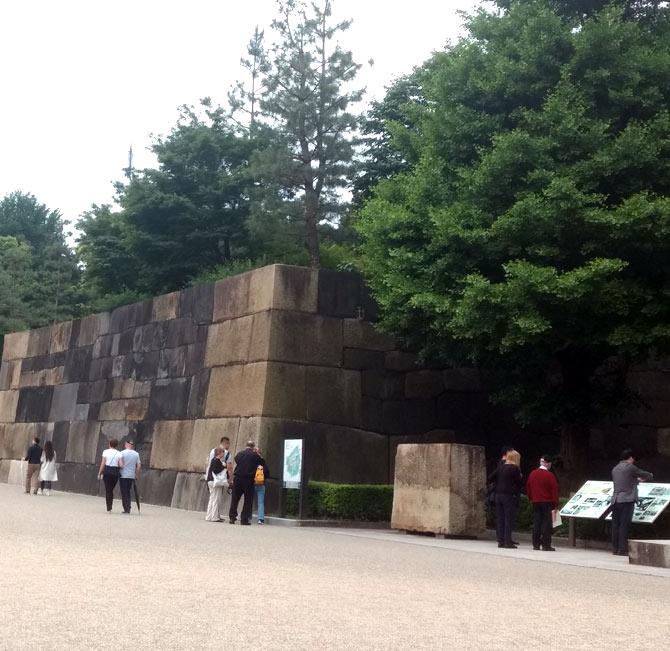 The walls of this castle were built by piling rocks together, without any binding agent. Enemies who entered the fort were trapped and then killed using arrows and hot oil.
The main part of the castle was burnt during a fire which destroyed half of Tokyo.
What remains is only the outer stone wall.
The castle area has a beautiful Japanese garden, a pond with fish in it, and a bridge.
SCIENCE MUSEUM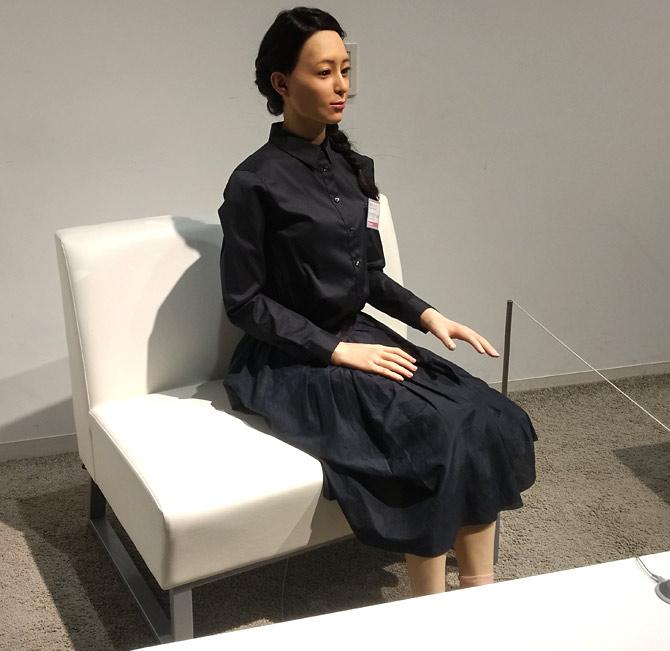 Japan is as much into robotics as it is into culture. The robots at the museum are programmed to interact with people and look human-like.