Be prepared for some overdose of all things Indian!
Dubai-based Pakistani food and lifestyle blogger Sarah Rizvi was in India for a wedding.
She spent nine days in the country but returned with memories worth a lifetime.
She started out by attending a typical Indian wedding, and then set out exploring the food and cultural scenes in the country.
Take a look at the pics she uploaded on Instagram.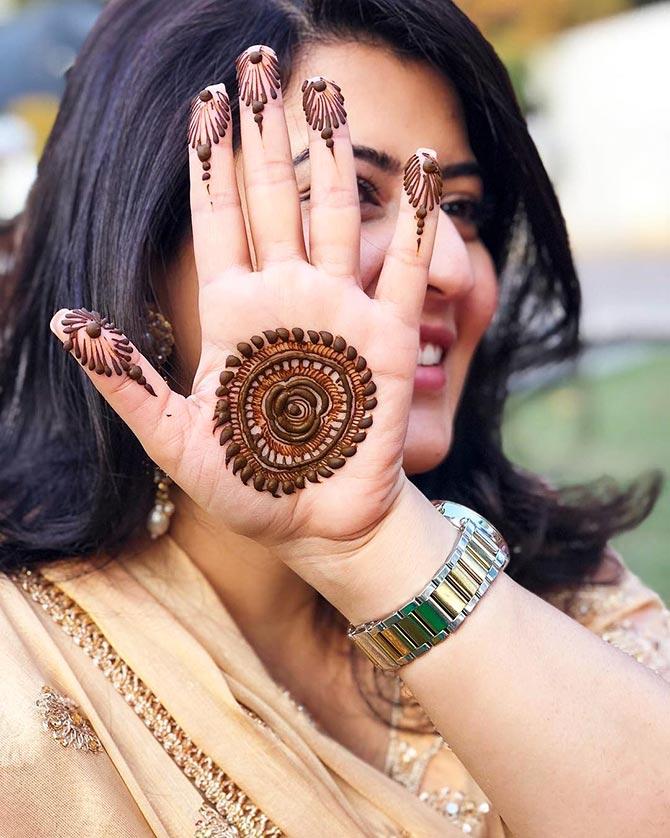 What's an Indian wedding without mehendi? Sarah opted for the classic gol tikki (round design). 'Now patiently waiting for the colour to come through,' she captioned this pic, which was taken in Gurgaon.
Photographs: Kind courtesy Sarah Rizvi/Instagram
'When in Delhi, just eat!! No jokes!' wrote Sarah along with this post.
This is a photo of her lunch at the mehendi event.
'All of us ended up taking multiple helpings as the food was so good!' she added.
Want to know what she ate? From Galouti kebabs to litchi masala, paneer kadai and mutton gosht, this blogger enjoyed the feast.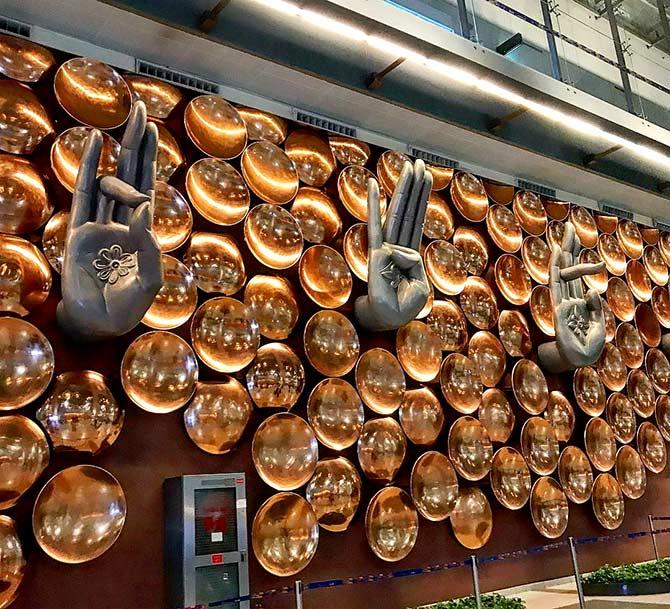 From Delhi, Sarah traveled to Mumbai.
'You know you have landed in #India when the airport speakers are playing #bollywood songs and the art installations are all about the local culture!'
'I took this particular photo while running between the domestic and international terminals.
'Out of complete curiosity, I did a quick research on what these gestures mean and found out that these hand sculptures are used in Hindu and Buddhist iconography, performing arts, and spiritual practice, including yoga, dance, drama, and tantra.
'I must say, this was quite cool!' she added.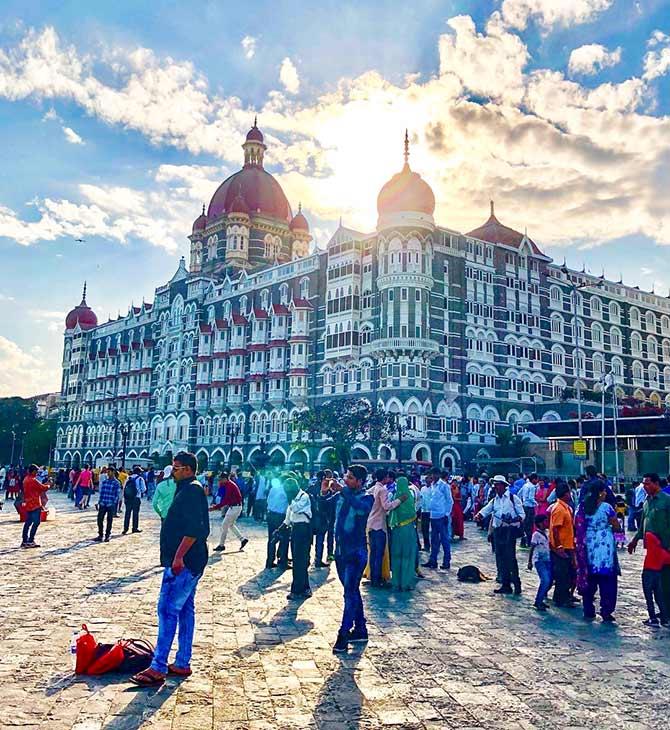 Sarah took this pic when she was in Mumbai.
That's her in front of Gateway of India.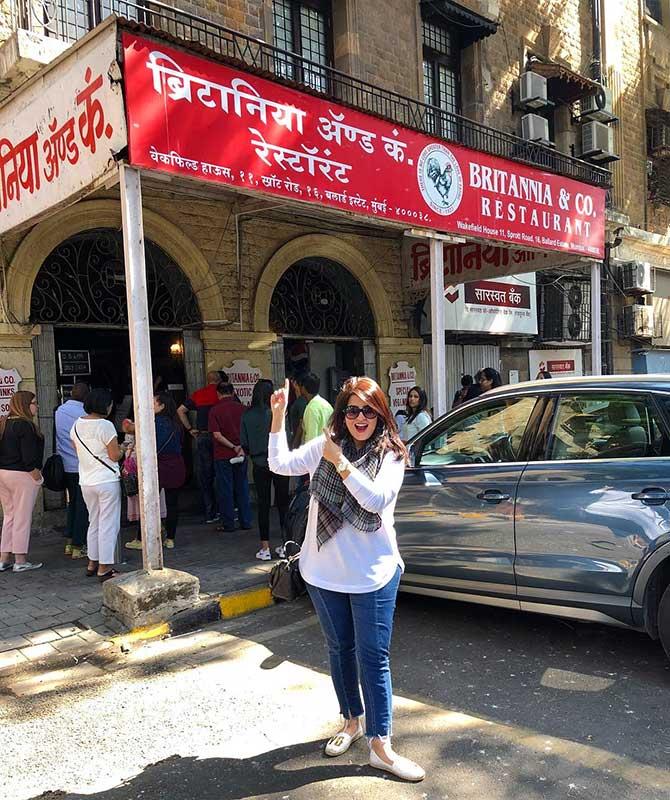 'I was told by pretty much everyone (friends, colleagues, random people who got to know about the my trip to #Bombay) to visit this place for lunch.
'So when I finally reached britannia_co on my second last day in the city, I had to wait for almost 45 minutes before I ended up getting a table!
'It's an old restaurant in south Bombay whipping up food influenced by the family's Iranian and Parsi roots.
'The restaurant feel is quite vintage (almost colonial) - it has been operating since the 19th century!
'Anyway, we knew exactly what to order so obviously we ended up trying their famous chicken berry pulao and sali boti with chapati! Everything was delicious!
'We also tried the caramel pudding (always a classic pick and this too was awesome)!

'I'm so happy I got to visit this restaurant because I have watched tons of documentaries and videos on Mumbai food and this was always encouraged by bloggers for trying. Thanks for the recommendations guys!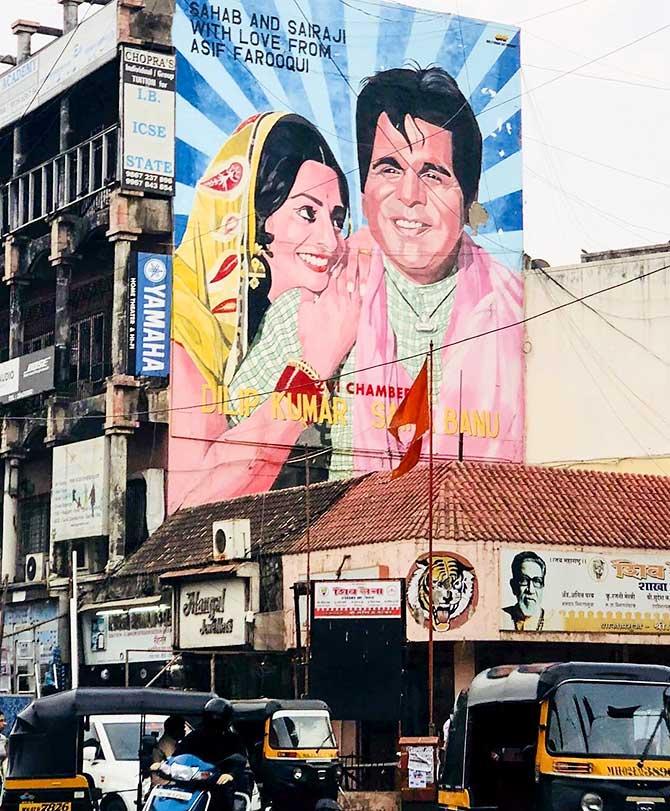 'I cannot believe that this trip has come an end. Leaving now so that I can come back (hopefully soon and not another thirty years). There's so much to see here and I definitely want to explore more. Anyway, #Mumbai you were wonderful... until next time!'