Its quiet, whitewashed elegance and colourful vibrancy make the erstwhile colonial town of Puducherry an ambler's delight.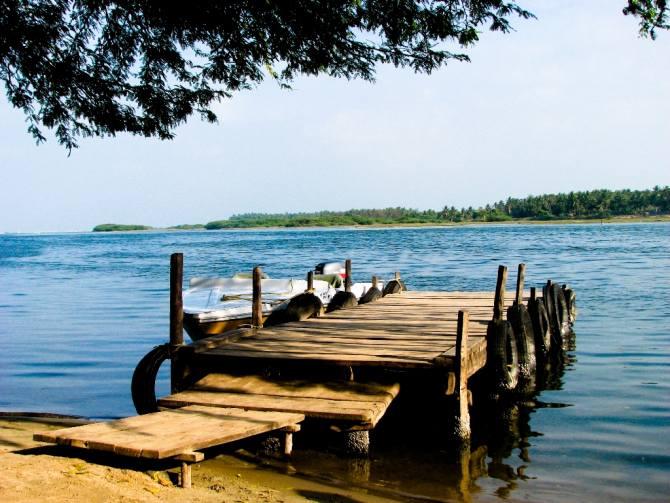 Photograph: Rahul Nair/Creative Commons
Some places one remembers for their unique geography, others for their vibrant culture and history. But Puducherry has lingered long in my memory as a place with diverse histories and cultures -- and a political geography often at odds with its imagined counterpart.
It's continuously churning melting pot throws out Indianised French onion soup, houses with thinnais (Tamil-style verandahs) under classic French colonnades, and most of all, people who look Tamil but want to be French, although it ceased to be a French colony in 1954.
Hailed as La Cote d'Azur de l'Est or French Riviera of the East, some think of Puducherry as the place where the twain between the East and West finally meets. But is it?
Puducherry's French Quarter is an amblers' delight, with broad promenades, whitewashed houses with gated courtyards and, most of all, the ubiquitous, almost blindingly bright bougainvillea that has, over time, crept all over balconies and terraces.
Neat lanes lead out to the beach front on Goubert Avenue, lined with pretty buildings that include the ever-popular Alliance Francaise and French Consulate General.
Beyond the 88-foot lighthouse, the first on the Coromandel Coast, lie the French War Memorial and a statue of French Governor Joseph Francis Dupleix at the southern end of the promenade. We walk at a leisurely pace, enjoying the views as well as the salty tang of the sea.
Ahead lies Le Cafe, undoubtedly the best-located cafe in Puducherry. On its terrace, it is as if one is in the middle of the sea. Thanks to its unhurried service, for the price of a filter coffee, one can sit for a happy hour, enjoying the sea breeze and the view.
In the shade, groups of men play petanque, another relic left behind by the French, a game played with large and rather unwieldy looking balls.
If it weren't for the Tamil locals who love to throng the seafront in the evenings, the old pineapple seller outside who liberally doused sweet chunks of fruit with red chilli before serving, and of course the multiple languages spoken all around (none of which sounded even vaguely like French), I muse Puducherry could truly pass off as a slice of France.
Cross the canal, and a different world opens up. Traditional Tamil houses with their capacious verandahs replace the French bungalows.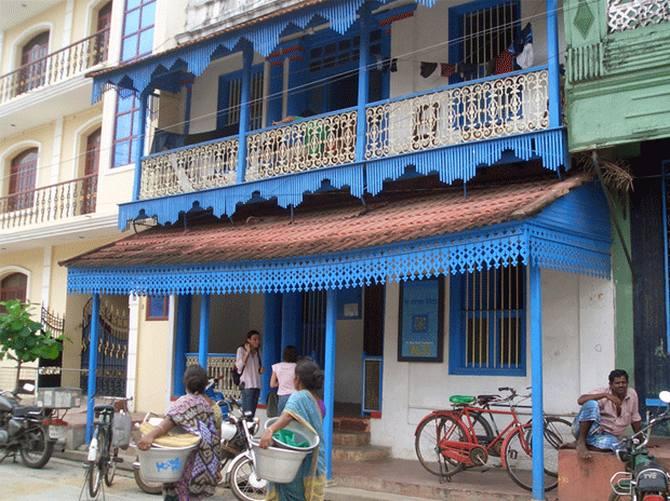 Temple bells sound at a distance, and girls in saris and bright orange flowers plaited through their hair pass us by. Ahead, in a crowded bazaar, a street procession of brightly masked performers walks through the unruly traffic in colourful chaos. As the procession goes by with its clanging bells and tambourines, I wonder at the schizophrenic nature of Puducherry culture, with quiet, whitewashed elegance and colourful vibrancy separated only by a narrow rivulet of stinky water.
Another day, we wind up at the peaceful Aurobindo Ashram for some respite from the blinding April sun.
This is the final resting place of the 'Mother', a Paris-born painter-musician and Sri Aurobindo's close companion from 1920 until his death in 1950. Together they envisaged an egalitarian society based on respectful coexistence, which culminated in the creation of Auroville.
As I sit under a shady tree in the Ashram, listening to some faraway chanting, images of broken Greek amphorae flit across my mind as I flash back to my morning spent in Arikamedu.
This second century Roman trading settlement, barely four kilometres from Puducherry, used to be a bustling centre of trade for Romans and the Greco-Romans.
Judging from the plethora of amphora shards, wine must have been the chief import. In fact, Tamil literature bears many references to the people of Arikamedu (a distinct ethic group known as Yavanas) and their fondness for wine.
Today, however, Arikamedu bears little semblance to the rollicking port I imagine it once must have been. Other than some crumbling ruins, and coconut and mango groves, little else remains.
A fresh contingent of noisy tourists brings me back to the present. The chanting has died down, replaced by the clamour of tired children disinterested in the Mother's memorial, and tourists diligently ticking off "points" on their sightseeing lists.
At the bookshop, as I peruse some of her writings, I realise that everything we make and everything we experience -- whether it's the wine-soaked revelry of the Yavanas or the spiritual serenity that the Mother exuded -- ultimately comes to an end.
To see some more of the hurly burly of daily life in Puducherry, we drive to a distant beach in the morning. As we amble as far as we can bring ourselves to amble in the blinding sun, we see a fleet of fishermen's boats come ashore bearing the day's catch.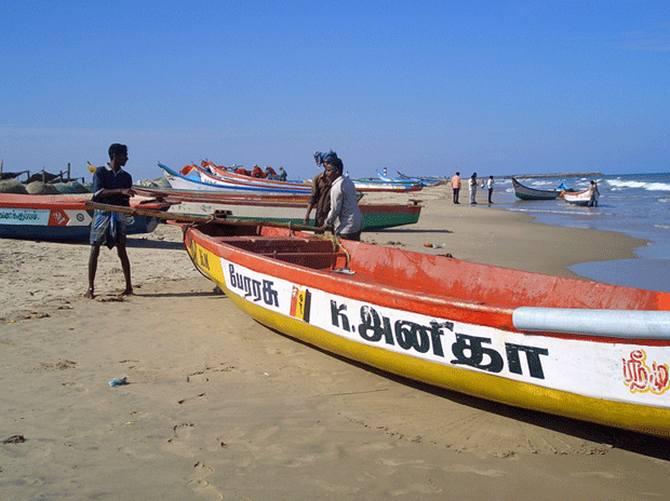 Many of the fishermen lost loved ones as well boats in the December 2004 tsunami, but have continued with their livelihood as this is the only way they know to earn one. A covered terrace is the site of the daily fish auction, and even though it is in rapid-fire Tamil and the air ripe with the stench of fish guts, I stop to watch.
Fisherwomen fill up baskets to carry by bus to places as far as Chennai, and smartly dressed hoteliers squat with the lungi-clad fishermen to pick up the catch of the day. France begins to seem very distant indeed.
The last evening, we chat with some French tourists at the bar, who wonder why people think Puducherry has a French flavour.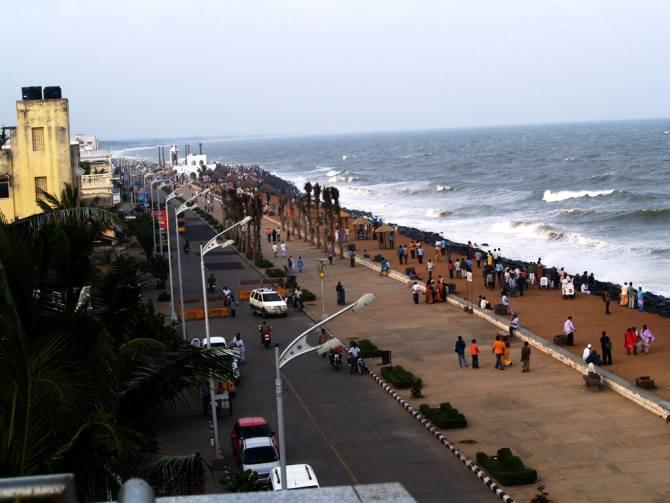 Photograph: Raj/Creative Commons
"We find it, how do you say, tres exotique..." they say. I watch the sun disappear into the Indian Ocean and muse that this is what makes Puducherry so special -- it's French one minute and Tamil the next, depending on who's looking and what they choose to see.