Chandratal is utterly mesmerizing, says Rediff reader Mridula Dwivedi. Here she shares these amazing pictures of her Himalayan adventure.
Chandratal is a high altitude lake in the Spiti region of Himachal Pradesh located at 4300 meters (14100 feet) above sea level. The nearest campsite where you will also find some dhabas is Batal.
You can also camp at Chandratal where you can rent a camp. At Batal you have to carry your own tent or stay at one of the dhabas. Chandratal is about 8 to 10 hours by road from Manali.
Here are some memorable moments of my trek, in pictures...
The Manali-Chhatru-Batal Road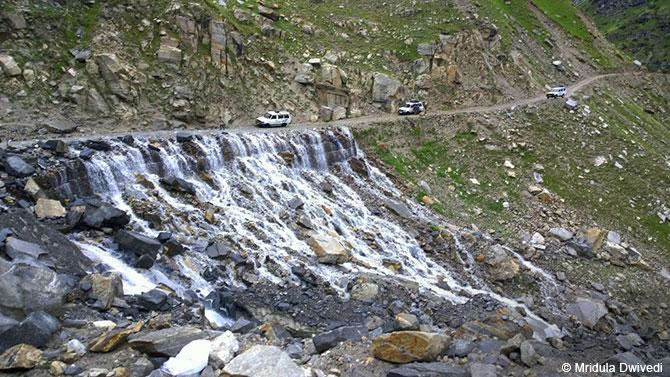 After you cross the Rohtang Pass, the road to Batal is more like a dirt track with water crossings at some places. Jeeps get stuck causing long traffic jams. We witnessed one such jam at what they call paagal nala (mad stream). Getting out of it was a mini-adventure in itself.
A Place Called Batal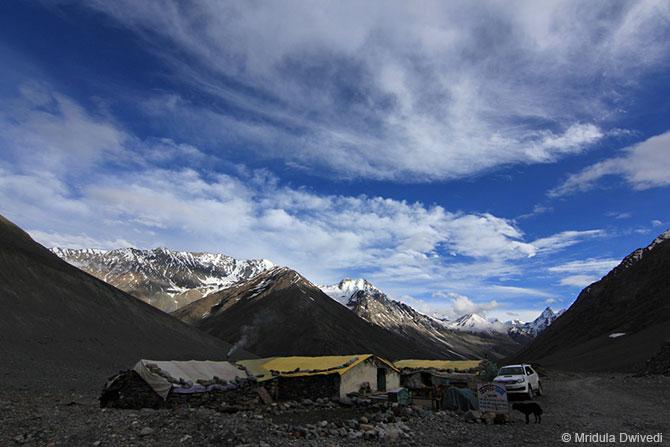 By way of habitation a few dhabas is all (well, almost, as there is a government outpost too) that is there to Batal. Chandra Dhaba and the chacha and chachi (uncle and auntie) who run it are legends in the area, known for providing shelter to people when they get stuck in bad snow storms. Search for Chandra dhaba on the Internet and see the results.
The Chandra River at Batal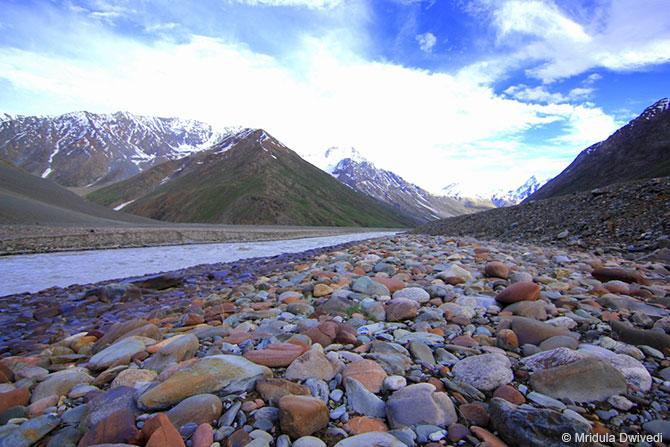 All through our road journey the sky was grey and it was drizzling. Every scenic mountain site that have I visited since June has been on a strike hiding its beauty behind a grey cover.
Just as I thought Batal will be the same the weather Gods took pity on me and the sky cleared up. The pebbles along the Chandra River looked like jewels!
In the Larger Scheme of Things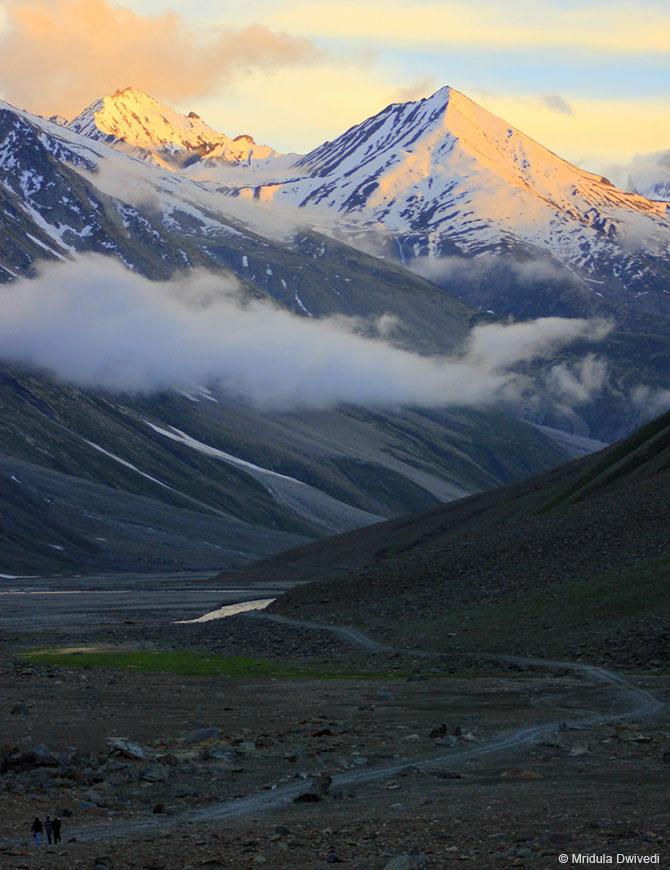 If you look hard at the picture you will see three dots -- my nephew Dilip, with Bobby and Vishal who were part of our support group -- against the mighty Dhauladhars!
The Night Sky at Batal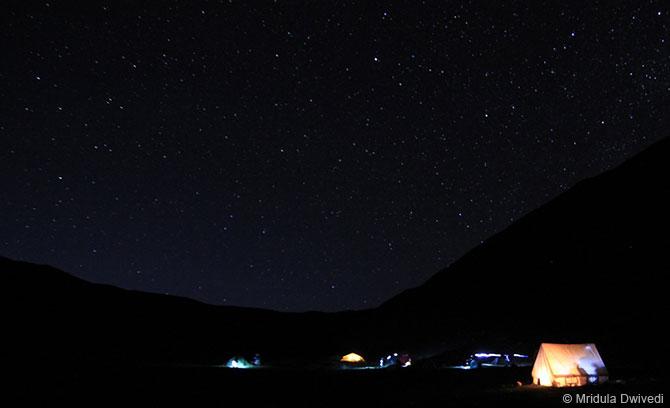 After an early dinner in the kitchen tent the men folk proceeded to sing songs! I took out my tripod and tried to capture the sky.
Looking at this, sitting in the city where I am lucky if I spot a dot in the sky, I get so nostalgic!
The Route to Chandratal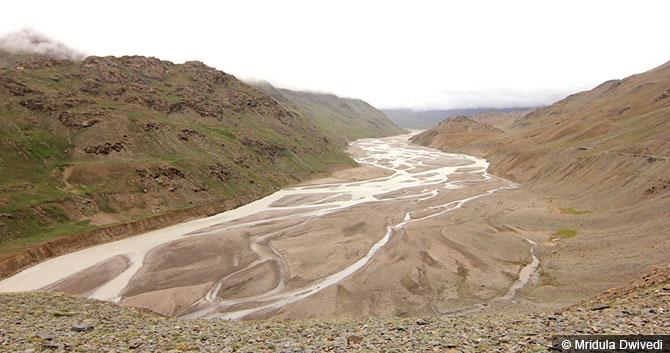 There is a motorable road from Batal to Chandratal. But when we were there, it was closed due to landslides. We decided to walk those 14 kilometres.
When the route is so beautiful, kilometres somehow just disappear. In the picture is the Chandra River again.
Our Campsite at Chandratal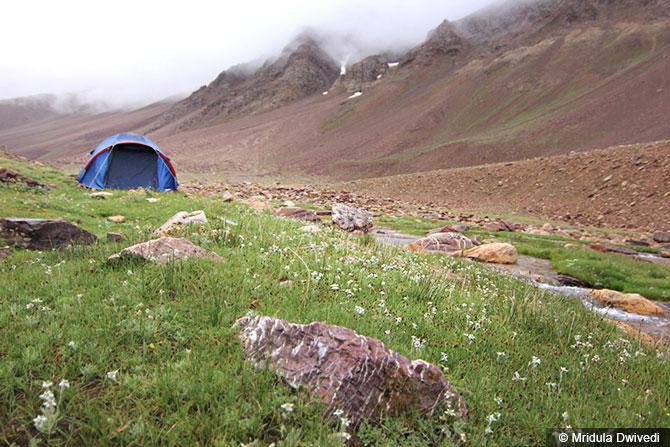 Our guide Ramakantji and his group knew a beautiful spot to camp at Chandratal. No one is allowed to camp within 2 km of the lake. But we had a pretty spot by the stream flowing out of the lake.
The Beautiful Chandratal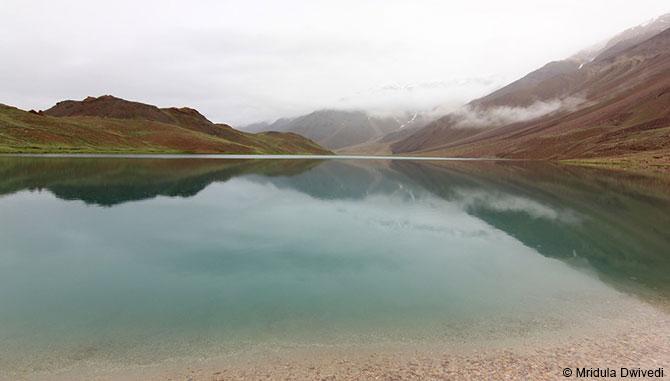 We went to Chandratal the next day morning. Alas, like Annapurna Circuit Trek I got more clouds than clear views but still, Chandratal is Chandratal, utterly mesmerizing.
I have to go back next year and pray for better views.
Crossing the Streams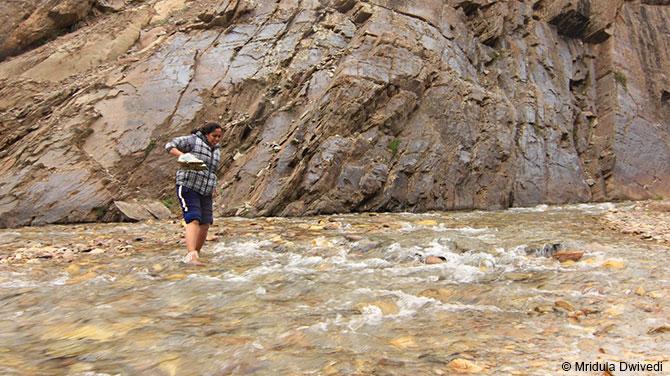 When you find you have to walk across a stream the best strategy for city dwellers like me is to take off my shoes and wade through!
The water is freezing cold but at least you have dry shoes to wear when you reach the other side.
This photo was taken by Ramakant Sharma, my guide on the trek and that is me wincing and wading through the ice melt that poured on the 'road'.
The Rainbow at the End of the Journey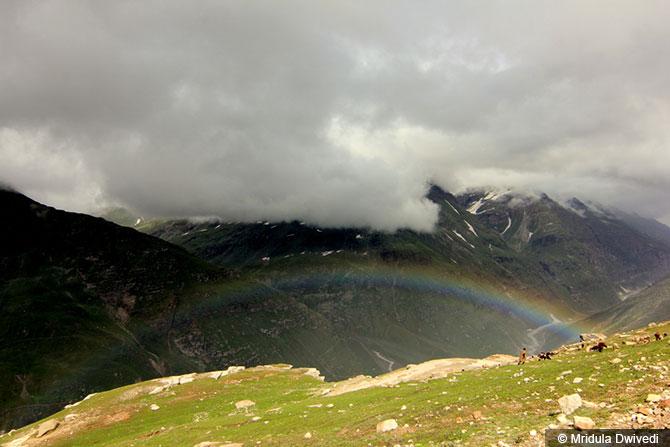 On our drive back to Manali, we saw a rainbow just before Rohtang Pass. We had to stop to click the picture. The magic sure does starts after the Rohtang Pass, whether you head to Ladakh or to Spiti!
Mridula Dwivedi is an academic from India who is passionate about trekking and travelling. She blogs at Travel Tales from India.
Want to share your travel story?
Please write in to travelpicsga@rediffmail.com (subject line: 'Travelling the lesser-known'), along with photographs of the destination you are writing about. We'll publish the best ones on Rediff.com.