The mass cycling event is all set to kick off on November 5, but looks like Indian roads, offices are not yet cycle-ready!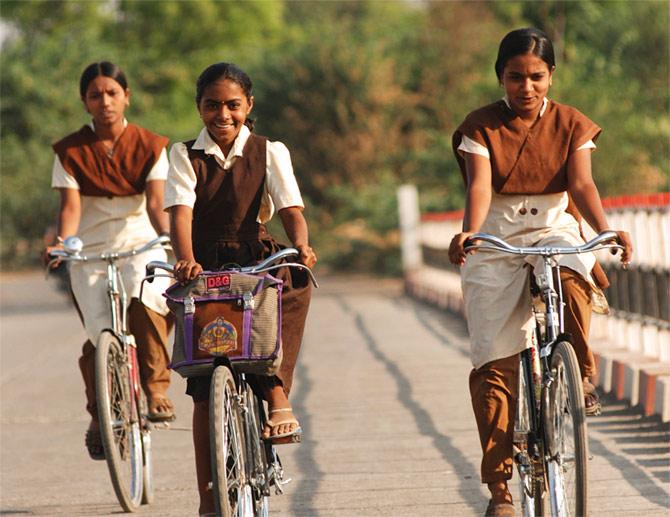 *Pic used for representational purpose only.
Photograph: Kind courtesy Mann Deshi Foundation

For Gurleen Kaur, this Diwali was the first time she stayed away from home during the festival.
She is a homemaker with a passion for cycling.
After scaling the heights of Leh last year, 45-year-old Kaur decided to be a part of a group of people led by Commandant Rajesh Thakur of the Sashastra Seema Bal that cycled the rough tracks of Arunachal Pradesh this month.
She cycled 730 km over six days.
"MTB Hornbill Flight Race was certainly more challenging than anything I'd done before because we cycled in the rain and heat on broken tarmac and cart and kuccha tracks.
"Nothing compared to even our Manali to Leh trip, where we cycled along the national highway."
Ask her about New Delhi and what problems people like her face while cycling, and she says, "So many."
The National Capital Region, Mumbai, Hyderabad, Bengaluru and other cities have people who cycle out of passion, like Kaur, or for staying fit.
Then there are those like Pradeepthi Kalapala, who cycles 11 km to work to her Microsoft office in Gachibowli in Hyderabad.
These people are cyclists by choice, and not because they are unable to afford a motorised vehicle.
Now, when the Union government has planned a marque cyclothon on November 5 in New Delhi, with plans to take the event to over 76 cities in phases, it is trying to encourage more people to opt for cycling, at least once a month.
The Petroleum Conservation and Research Association has roped in film actor, director and singer Farhan Akhtar as brand ambassador for the event, called Saksham Pedal Delhi.
"We want to make cycling a national event and if we are able to make it popular, people will mark the day (of the cyclothon) on their calendar," says Alok Tripathi, executive director, PCRA.
"These cyclothons will be held from November 12 to December 31 and every Sunday, an average 10-12 cyclothons will take place simultaneously in India. We have focused on two major drives through Saksham Pedal Delhi."
One is to conserve fuel and raise awareness about energy efficiency across the country. And the other is to propagate the idea of cycling.
"This inclusiveness is endorsed in our race categories, where the focus is not just on competitive cycling but also cycling for a cleaner, better India, which is why we are placing a lot of importance on the Green Ride," Tripathi says.
There will be three levels beginning with a 50-km race for professional cyclists, an amateur round called Open for 30 km and a Green Ride meant for all.
Tripathi says if owners of cars and private utility vehicles do not use their vehicles once a week, the potential saving because of diesel could be as high as Rs 8,400 crore.
The combined saving of diesel will amount to 1.43 million tonnes.
Similarly, if petrol fuelled two-wheelers, SUVs and cars are not used once a week, the potential saving because of petrol could be as high as Rs 32,000 crore.
The combined saving of petrol will be 3.30 million tonnes.
Kaur says this is because basic facilities, like cycle tracks that are continuous for ensuring safety, providing showers or changing facilities in offices and, importantly, cycle parking, are not available in most places.
"Cycles are expensive and we cannot leave them just like that," she says.
Kalapala, who parks her Scott Subcross 40 at the Microsoft office and has a facility to freshen up and change after an 11 km ride to office, however, says these events do create awareness and make people think.
She feels that cycling should not be an issue with those who work within less than 10 km of their residence provided there is a 2 ft continuous cycling track. With adequate highlighters and a helmet, safety can be ensured.
Her Rs 40,000 investment in a cycle is not necessary for everyone, she says, because people can use ordinary cycles too.
Her choice was because she goes on long rides in a group.
One such member of the group is Guinness Book record aspirant Sandeep Reddy who quit his job with Decathlon, a sports gear company, last year to take up his passion for cycling.
Reddy now runs an NGO that works among specially-abled persons and promotes cycling through his clubs. "It is important that people respect those who cycle. I will cycle to work whenever I take up my next job," he says.