The narrow lanes of Majnu ka Tilla in north Delhi hide many Tibetan marvels, from authentic food to vignettes of their lives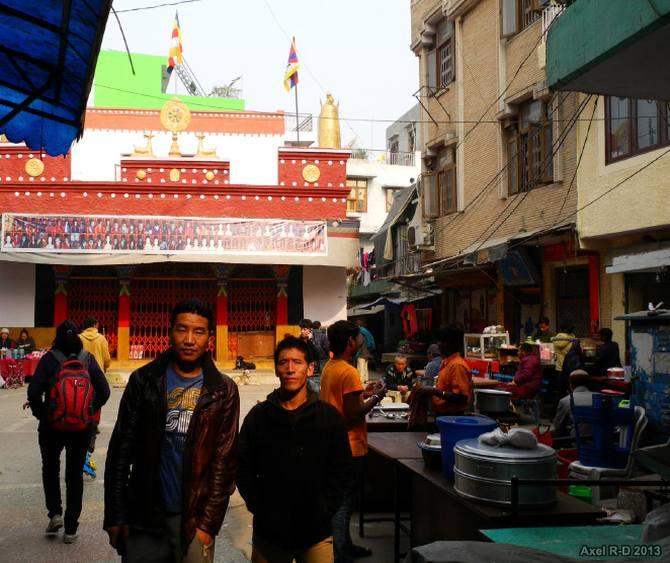 Photograph: Axel Drainville/Wikimedia Commons
It's quite galling for an enthusiastic traveller like me to discover that while she's been off exploring distant places, there are gems at her doorstep she hasn't a clue about. This is how I felt when a culinary historian friend told me about the many happy afternoons he has spent in Delhi's Little Tibet, Majnu ka Tilla.
"It's a tiny neighbourhood in north Delhi, but the minute you enter it, you're in a completely different world," he says. During my years at the North Campus of Delhi University, I vaguely remember going to eat momos somewhere on the banks of the Yamuna, but the place Ashish Chopra describes seems quite different. "Since the 1960s, Tibetans have settled down in Majnu ka Tilla, and have built hotels, shops, monasteries... indeed, their entire lives there," he says. "Its narrow lanes hide many Tibetan marvels, ranging from authentic food to vignettes of their daily lives." I beg him to show me MkT, as it is locally known, through his eyes, and he kindly obliges.
So off we go, one sunny afternoon, to peruse the mysteries of Majnu ka Tilla, which turns out to be a stone's throw from Delhi University's North Campus and is easily reached by the Delhi Metro. "This place is named after a ferryman who rowed people across the Yamuna as a service to god. He became so wrapped up in spiritual musings that people began to call him Majnu, after the legendary lover driven to near insanity," says Chopra. "Later, when a gurudwara was built here, it was named after him..."
Tibetan refugees settled here in the early '60s, after the Dalai Lama went into exile to Dharamsala. Today their next generation lives in the area officially known as Aruna Nagar. They call it Little Tibet or Majnu ka Tilla.
A fine Buddhist-style gate stands amid grey, three-storey structures, packed close together. As we enter, I realise what Chopra had meant about the place. Tall buildings on either side make the narrow alley so dark it's as if the sun never makes it here. I feel we've stepped into a different world, far removed from the urban chaos of Delhi.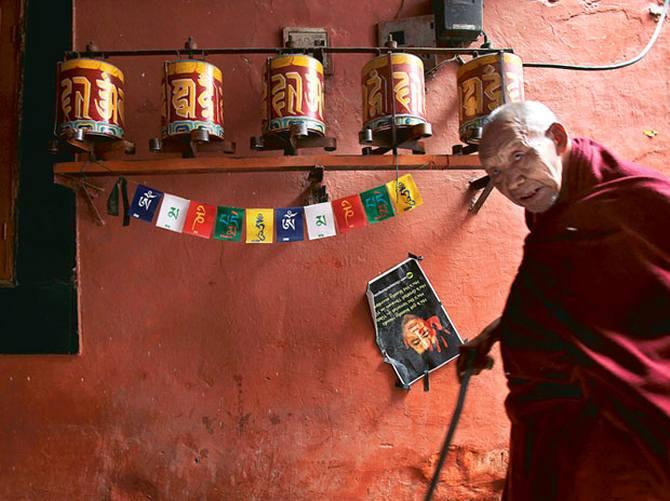 Shops on either side sell only exotic Tibetan jewellery, Buddhist artefacts and crockery. Ahead, the alley opens into a bright courtyard facing the monastery. Old ladies sit in the sun, making fresh momos and lemping, pancakes rolled with chilli paste. Around the courtyard, there are plastic chairs and tables for people to enjoy the view and food on offer. "Save your appetite," says Chopra, "for we're going to eat in my favourite restaurant here, Big Apple!"
So passing by Thangka tailors, vendors selling baskets of fresh greens, travel agencies advertising buses to Nepal, Ladakh and Spiti and strangely enough, a couple of immigration agents -- we walk straight up to Big Apple. It's a small thali restaurant, but what wondrous thalis it serves! The Bhutanese thali I order comes with a robust beef and cheese stew (there's a chicken version too). Their meat momos arrive, beautifully flavoured and bursting with liquidy goodness. Chopra's partner, the beauteous Prescilla Zinyu, orders a Tibetan thali that is equally good. Then I learn about the non-alcoholic house beer, home-brewed with fresh pineapple juice. Of course I have to try some! The meal goes on and on, and so do I.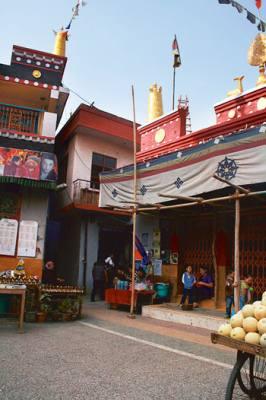 Groaning after the long lunch, Chopra and Zinyu make me stop at a Tibetan grocer selling everything from tsampa (the toasted barley Tibetan staple) to sunflower seeds. We buy a load of exotic provisions as well as a bagful of pokchoy and Chinese cabbage at a fraction of their price in the rest of Delhi. Zinyu and I decide to walk around MkT while Chopra drinks coffee and soaks in the sun. "Majnu ka Tilla has been a haven for me," says Choden, the sweet-faced woman who runs a roadside stall selling Nepalese woolens. "When I came here from Tibet 10 years ago, I was alone with two small kids. Delhi terrified me as it was so different. But I felt at home here." However, as the afternoon progresses to evening, I chat with more people and realise that others are seeking ways to escape MkT and India.
"We live in India but somehow still feel like outsiders," says Tashi, a Tibetan who's setting up offices here as an immigration agent. "Since many of us don't have Indian citizenship, we can't buy property or own large businesses. But how can an entire community just survive on selling momos and handicraft?" That is why, he says, so many Tibetan youths yearn for greener pastures. "I work to send Tibetan nurses across the world as Tibetan nurses speak fluent English and our religion predisposes us to care and nurture..." he says. Just then two eunuchs sashay in, asking for their monthly "donation". He gives it without a demur, and they leave. "This entire area is unauthorised, you know. We all pay the authorities as well as these eunuchs to turn a blind eye at us. All this just so we can survive..." he sighs.
Tashi does put the pleasures of MkT into perspective. But it's dusk and the hues of Little Tibet are mellowing down. Incense smoke and strains of Om Mani Padme Hum float across the alleys. A roadside barbecue emits heavenly aromas of cumin-marinated beef. Nearby, a man squats over a pan of Gyuma, Tibetan sausages. The place is filling up fast with locals, impecunious students and the odd tourist. "Hey, you said the momos are cheap here, but I hope these dhabas also serve beer," says a young college kid to friends as they elbow past an old beggar. "Let's hope the place is clean!" As I make my way out, it seems to me that the hustle and bustle and technicolour charms of Little Tibet hide the loneliness of that long-gone Majnu -- surrounded by people but truly understood by few.