Fed up of his desk job, Manish Gaekwad quits on impulse and sets out on a journey through India. This is the story of his 'Ladakh Days'.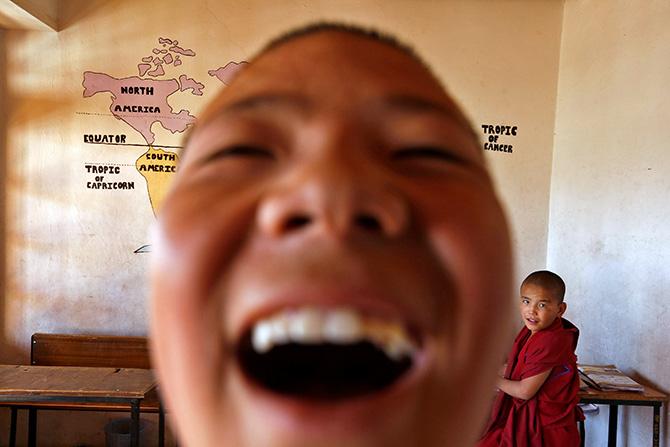 It is a covert operation to hush one's way through a grove of trees and halt a jeep passing through Khanyar in the morning, which is heavily patrolled even at this early hour. The smog of Dastgeer has still not cleared the air for safe passage.
I take a bus to Leh from the tourist centre in Kashmir.
Drinking tea on an empty stomach, I retch.
The bus is filled with foreigners.
My neighbour in the next seat is a French gentleman Alain from Canada who is a professor of sociology. He is sixty-something and has been travelling all over the world. He is quite naturally my dearest ally now, discussing French writers.
Vehicles are stopped at the Zoji La because the Border Police is clearing a section of the road that has come in the path of a mudslide.
The journey begins with a delay.
We are watching a valley of white tents below us: pilgrims on the way to Vaishno Devi Temple. A mysterious image of a concentration camp, much like the one described by the writer Sebald in Austerlitz, fogs my memory.
Miniature helicopters are flying over dwarfed pine trees, white smoke can be seen rising out of some tents. This view from the standpoint of a despot is a diorama for destruction.
Zoji La instils the fear of god in man. Ask any atheist on a bus. If he is sitting in the last row, watching over his shoulder as the bus swerves around a bend, its tail into an abyss, as the engine fumes through its dusty nostrils, I have caught my heart in my mouth more than once on that hairy stretch.
'For when you gaze long into the abyss, the abyss also gazes into you'
A glimpse of the Lamayuru Monastery as the bus winds its way through some moony landscape has our jaws dropping, cameras furiously snapping. A bunch of Tamilian boys on the bus indulge in pointless argot over angles.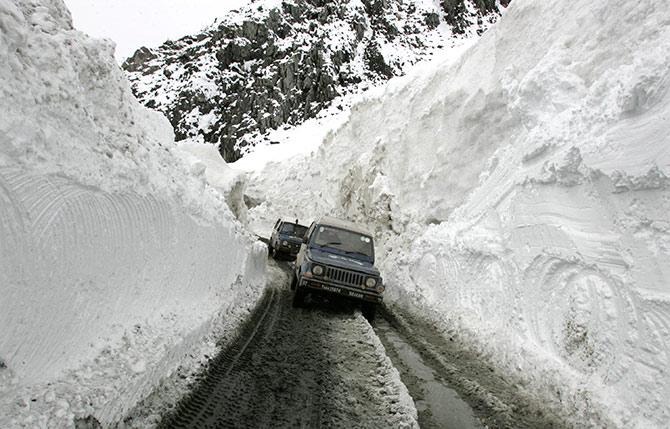 We arrive in Kargil around midnight.
The hunt for a lodge begins.
A tout at the bus stand offers to leave us at a dorm. The foreigners on the bus agree immediately.
Ileana, who has been reading Kafka on the bus, and her friend, Harriet, who has been bumming creamy Oreo biscuits from me, are college students from London.
'How do you speak such good English?' Ileana asked during a casual introduction with co-passengers, as she chewed on a rubbery onion pakora at a tea stall in Wadoo, where we halted for refreshments.
'Your accent is different from that of the people we have spoken to,' said Harriet.
'I was in love with my English teacher,' I replied. Lame, but true.
They decided to keep smiling and remained aloof thereafter.
Alex, a lanky young boy from Paris, visibly poor from his shabby clothing, is shy to talk. He speaks very little English. I feed him some mutton at a dhaba in Drass during lunch. He remains sick throughout the trip.
The dude from New Mexico who is reading a Murakami in his balloon pants has a shirty attitude, dismissive of everything. His parents were Osho-ites, he informs us.
When we are led to small rooms with damp walls and near zero light, he decides a hundred rupees for a dorm bed is steep.
He complains, 'For that much money I can get a bigger room.'
The tout has a 'suit yourself' expression on his face, clutching the arms of his jacket in the icy wind blowing across the ground.
The dude sleeps in the bus.
The Tamilian droogs are in cahoots somewhere.
Some locals who were on the bus have disappeared to rest somewhere we will never find out.
Alain, the French uncle I have befriended, and I want separate rooms. We want tea too. And clean bathrooms.
We find a cramped hole in the market. We have four hours to rest. We have to reach the bus stand before six in the morning.
The overnight stop at Kargil is mandatory once the light fades out. Vehicles are not allowed to pass.
At this juncture you must be wondering why this chapter reads like a clipped diary entry or even a concise narration of an unremarkable event. You should know that the harsh terrain rewards a short account where dialogue is kept to the minimum because words can hang mid-air.
A turgid style won't help in explaining the details, so let us continue to breathe fire from our mouths into our palms to believe this is real, we are alive, and we need to get out of here fast.
In the morning, there is some commotion at the bus stop.
Ours is the only bus that is starting its engine. Alain, Alex and I find a tea shop on the first floor of a building at five. Our souls are replenished. There is no better joy than to hold dearly a glass of hot tea in the cold clime we are charting.
One of the men from the bus has disappeared. His friend from Bihar is crying, narrating how he brought his friend along to work in Leh.
His friend was bitten by a mad dog a few days ago. The friend did not get a vaccine treatment.
They slept in the bus. In the morning, the man who was bitten woke up, acted funny, and walked out to relieve himself. He never returned.
The crying man has looked everywhere. The sight of a grown man crying makes the windy morning howl along. We feel vulnerable.
We collect money from charitable passengers for the crying man. We give him advice as well. We leave the crying man to look for his partner in the stray bushes pockmarked at the edges of the barren land, and medicate him.
The driver jumps the bus on a bridge, its underside to the left of where I am sitting gets jammed in the hooks of a bent pole. The belly of the bus rips open like thin aluminium foil, exposing its engine viscera. The rabid dog bus, lacerating and wounded, limps through the rest of the road.
I feel like I am sitting on a hollow tin throne, rattling like a can.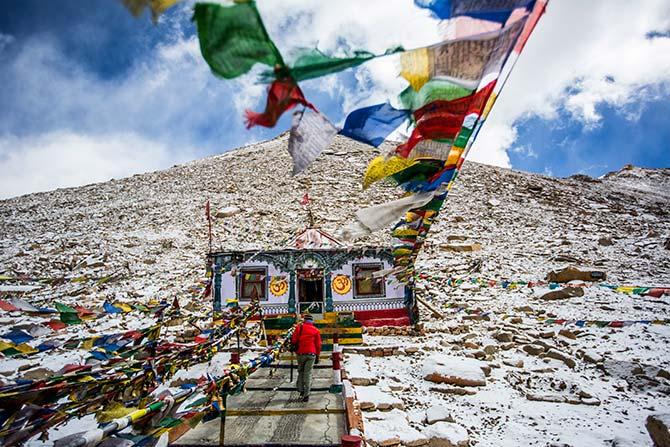 We reach the Leh market around sunset.
Alex, Alain, and I are one team, looking for a hotel without fussing over the budget.
The girls are with the Mexico dude. They know where to find the best dorm deals: they have read their guide books.
We walk around, following instinct. We discover Hotel Ree Yul Guest House.
It is a quiet hideout. The gurgling sound of an Indus stream flows outside my bedroom window.
Now we need a good bath and great food. Everything we sample tastes good. Must have something to do with the pure water flowing in the region. The pizza and coffee at a local eatery is divine.
The evening is spent circling the small market.
Alain retires early. Alex follows. I am on my own, pacing up and down, anxious to know everything. I scan everything in the market to start early the next morning.
I wake up with a shrunken heart.
No one has warned me about the breathlessness when I hike to Spituk Monastery.
Spectacular vistas on the climb but, with my lungs constricting, I am unable to enjoy the view.
'Give me strength to reach the monastery,' I pray. Oh, god!
I take endless breaks on the elevated road where I see the monastery fluttering in the wind.
Once inside, I find a corner to sit before a veiled Kali deity, 'Give me back my breath,' I mutter in my heart. Breathing heavy, trying to concentrate.
A flock of Punjabi tourists enters the inner chamber, a family consisting of a mother, father, two children, and a grandmother walks in with their cameras, snooping around. The sound of their bangles and anklets bring music to the soundless room.
'Kali ma, Kali ma,' the kids are elated to discover an eye and a tongue behind a black curtain.
The dark, cave-like room contains their exclamations within it.
A monk sitting in the outer chamber, unperturbed by their noisy presence, is reading a chant from a book.
The grandmother looks at me sitting on the floor, looking vacuously at the idol, in a meditative state. She grabs her grandson by his arm and drags him to me. He tries to stop with his foot, turning away from me. She folds her palms and requests me to bless the child. 'Isko buddhi dijiye (Give him intelligence),' she smiles benignly and expects me to raise my hand over his head for grace.
Does she think I am a monk?
God has been kind to me today. One minute I was literally dying to reach this place, and now, I'm suddenly being considered for a spiritual master's post.
After the tourists leave, I gloat, thanking the spirits in the room.
The monk peeps in. I use that as a cue to stand up and leave.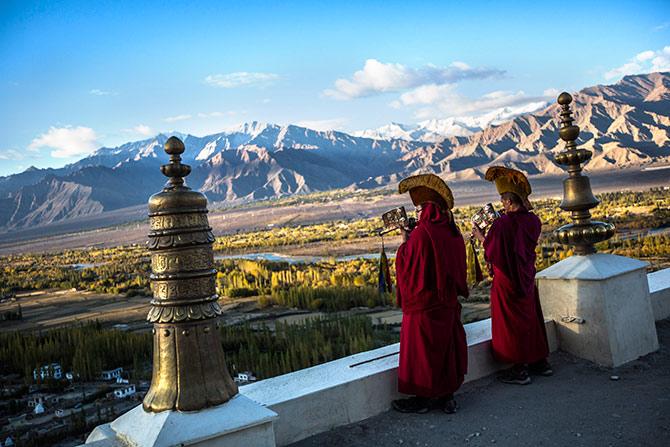 Ladakh does not have a verdant landscape.
Tourists taking photographs are taking pictures of arid lands, pictures of nothing. A picture taken of nothing is a picture that has not taken anything from it.
The place remains untouched.
This is me going zen.
It is a lucky arrangement I suppose. One hears of the beauty of these secluded places. It is a lost Eden. An east side Elysian field.
'To the Elysian plain, where life is easiest for men. No snow is there, nor heavy storm, nor ever rain.'
Standing atop a hill, taking in a full view of the valley, it looks easy to live here.
There is not much to do.
Faces belie fortune.
The remoteness of the valley is reflected in its people. Features plump, skin clear, cheeks russet. People are glowing in their fat. They look friendly.
This is something like mingling with the Inuit.
'You are welcome, please eat.' Eating well is socializing.
The big city people come here and all their big city talk is reduced to polite acquiescence.
If one were to ask the locals if they too feed on a 'diet of souls,' they would probably titter, covering their mouths, party to their Inuit brethren.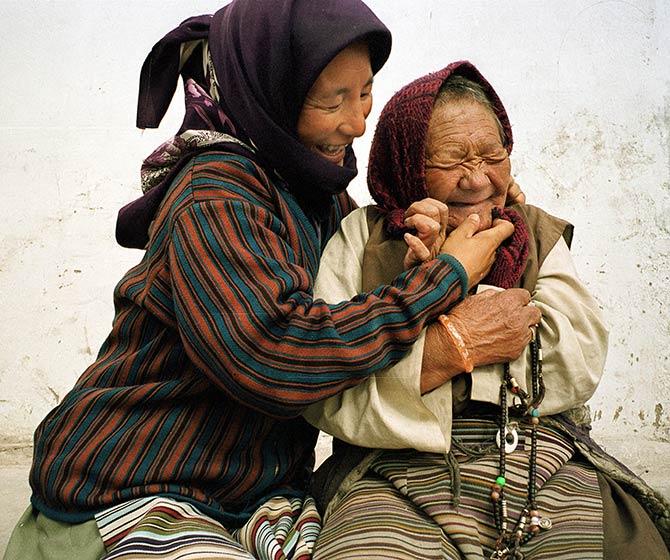 Today is the Dalai Lama's birthday, I discover, when I find the Tibetan refugee market closed.
Two little cherub boys, Owais and Junaid, dunking donuts in coffee at a small shop steal my heart.
I can breathe now. Smooth latte.
I have not yet had a conversation with anyone in Ladakh.
How does one talk to these genteel people, reflexive by nods and bows? Is there a bar?
Good for All, a shop selling apricot-flavoured lassi, jams, and pickles, is a favourite with foreign tourists. Good for All sounds rather scurrilous, I think. Explains why the crowd inside is thin. Only the odd seem to care for it.
At night, the metal tanks dispensing drinking water and lassi are brightly lit, standing by the door, the other end of which has a diminutive woman attendant looking busy at her desk. At the centre is a table where a yellow-haired woman is sketching on a pad; an old couple is sitting at another plastic table with their backs to the clear big window. The green-painted base supporting the broad windows curves at a corner where the shop is located at the end of an intersection.
The scene highlights the bleak mood of Edward Hopper's Nighthawks.
My presence stirs the picture from its redolent stillness as I enter the canvas to get them to nod, smile, and talk.
I walk into my coverlet. The tangerine bulb ensconced in an opaque glass disc fitted to the ceiling over my bed, in the night time, glows like a neon tit trimmed with a flower pattern -- a sort of enlarged areola.
Count sheep. Sleep.
Sometimes when I rise from bed and catch my reflection in a mirror, I fail to recognize myself. I have woken from the dead.
Isn't that what sleep does when it leaves without a sign? Not yet awake and cannot go back to being dead? Who, in such a state, could I be?
Discovering another Good for All breakfast place on my second day in Leh, I make friends with Dominique, fifty-seven, thin, frail, but strong in spirit, with glossy make-up applied in a hurry.
She is from France, chatty over bread and tea at this upstairs joint from where we watch the market below opening at a languorous pace.
Susma Tea is a speciality tea here. Dominique likes it. I hate it. Salty, buttery tea.
She is animated and wants to be seen gallivanting around town, looking busy. She suggests we go to the Ladakh library to start the day. We do.
The place is empty and she wants to catch up on her reading on some obscure Indian artefacts. We break in an hour.
I have to visit the Thikse Gompa and the Shay Gompa. The climb to the top of the monastery is arduous. Finding the door frame that opens into the sky, the same sky to which Manisha Koirala lifts her chin in style for a song sequence in the film Dil Se.
I try the same posture. Arms spread in the portal I should be taken back in time to what it must have been for her.
'My god,' I drop my arms, wondering how she managed to climb up.
I will meet her in Nepal later. I will tell her I struck her pose. She will laugh it off, the enigmatic roar of a star, 'It's the pictures that got small.'
The Maitreya Buddha in clay, almost fifty feet high, in the middle of a room with a balcony girdled around it, is every bit a sacred elephant with droopy eyes.
On my descent, I run into a little boy, Jigmet, standing next to a hand pump. I could draw the water but I ask him for help instead. He puts his life force into it. Water gushes in a thick sluice. I hand him ten rupees for his effort.
'Stay by this hand pump. When you see tourists coming down, offer them water from here and ask for a fee to pump.' I try to dirty his innocent mind.
He appears indifferent to my advice. This whole town's economy is generated from good behaviour it seems.
I meet Hell (her name) and Amrit, two biker girls in love, at Tibetan Kitchen. We exchange travel tips.
I am worried about the steep cost of going to PangongLake through private travel agencies. State buses run only on weekends.
Tomorrow is a Sunday -- it is when tourists take over the landscape; I have to speed up my sight-seeing plans. I get my permit and environment fee process cleared at the district collector's office.
Sunday morning is one of the best walks I will have taken in my life; at five in the morning through a sleepy town, I walk about a kilometre to the bus stand.
If walk could be dance, I have held Leh in my arms and pirouetted like a ballet dancer on ice, with one raised toe, spinning in my head at the stunning serenity it offers. I have the district entirely to myself.
Rumour has it that there has been a landslide on the way to Pangong Lake. Money will be refunded in an hour.
Returning to my hotel room under a slight drizzle, dejected, I call it quits.
Some other time, Ladakh. I can't even get mad here.
Excerpted from Manish Gaekwad's Lean Days with permission from the publisher Harper Collins.