The painstakingly created Buddhist temples and gardens of Japan are a work of art, says Anjuli Bhargava.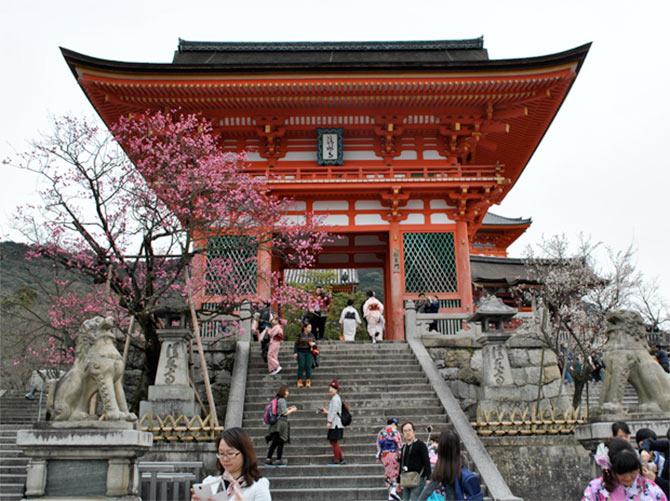 Anyone who has read Tan Twang Eng's Garden of Evening Mists can appreciate the hard work, toil and sheer determination that goes into the making of a Japanese garden. The protagonist of the novel works as an apprentice to the former gardener of the emperor of Japan. She is worked to the bone as they together try and restore his dilapidated garden, a task that seems virtually impossible, yet highly rewarding.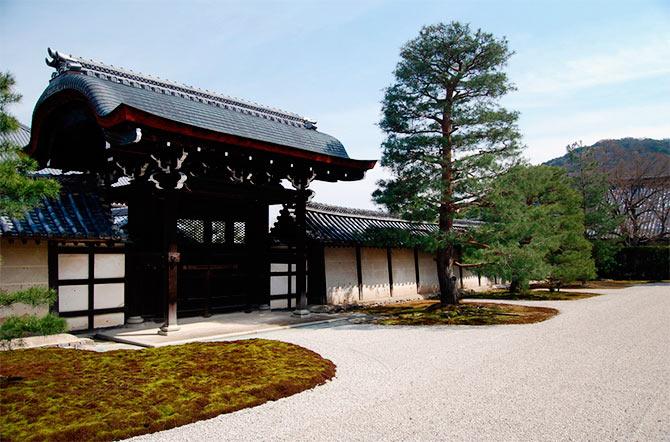 Photographs: jpellgen/Creative Commons
Standing at Kyoto's Tenryu-ji Zen temple in Arashiyama, I can finally see what they were attempting to create in the book. The garden created in the 14th century is a picture of perfection. Set around a small pond and running up the slope of the hills that surround it, it is so carefully curated that every blade of grass and every inch of moss seems to have been thought through and introduced with infinite care. Although I have never been one for this kind of highly manicured look -- the wild streak of nature appeals more to me -- I can't help but notice how well the entire garden, with its careful use of stones, moss, pebbles, water, plants and trees, comes together. It lacks pretension and has a sense of aesthetics that few things can match.
Tenryu-ji is as unlike a typical Indian temple as it gets. Barring the fact that both kinds of temples require you to take your shoes off, there is nothing here that we as Indians are accustomed to encountering. There are no colourful deities or statues. There is no dazzling display of gold or silver. No bells are ringing and the all-pervasive smell of incense is absent. Priests or, in this case, monks are nowhere to be seen. There is no sound of any chanting -- in fact, there is no sound at all. Almost everyone -- even Americans -- speak in whispers.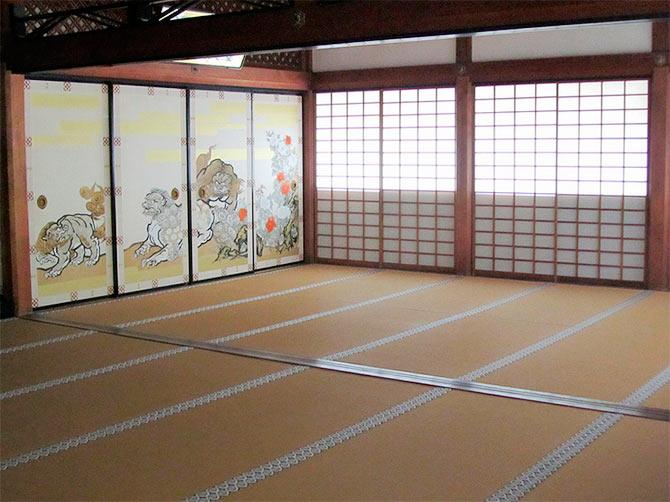 Photographs: missmass/Creative Commons
There seem to be no evident options to offer any prayers to, barring a giant-sized painting of a dragon that runs along the wall of a large room, which is otherwise completely bare. Shall I pray to this dragon? I consider it for a bit and then drop the idea.
The bare rooms lined all through by tatami mats look inviting and I see several people sitting cross-legged in a meditative state. The atmosphere is tranquil and if you are in need of solace, this is the place to head to.
At the end of a dense and dizzyingly tall bamboo grove that surrounds this temple is a small private garden set around a villa -- Okochi Sanso -- owned by a Japanese samurai film actor . The garden here too is superbly curated and although the cherry and other trees are not yet in blossom in Kyoto, one can partly imagine what one has missed. If you want to catch Kyoto in full blossom, visit the city in April -- not mid-March as I am doing.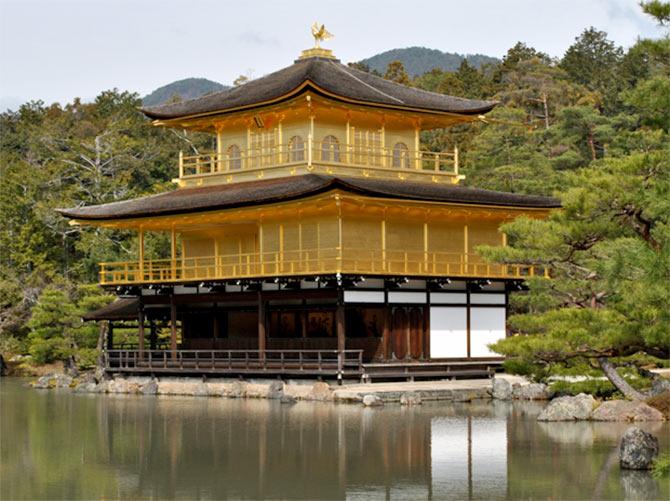 Kinkakuji, or the Golden Pavilion, appears to be floating on water.
But Tenryu-ji and Arashiyama are just a tiny part of what Kyoto offers. In the northwest of the city lies one of Japan's most famous sights: Kinkakuji, better known as the Golden Pavilion that, at first appearance, seems to be floating on water. Most tourists, including me, make the mistake of heading first and primarily to Kinkakuji and the temple is crowded at any time of the day and on any day of the year -- and that takes away from its appeal. A bit like our Taj Mahal, one is simply herded in along to the main sights and out before one knows it. You don't really need to move as the queue that you are invariably a part of has its own momentum.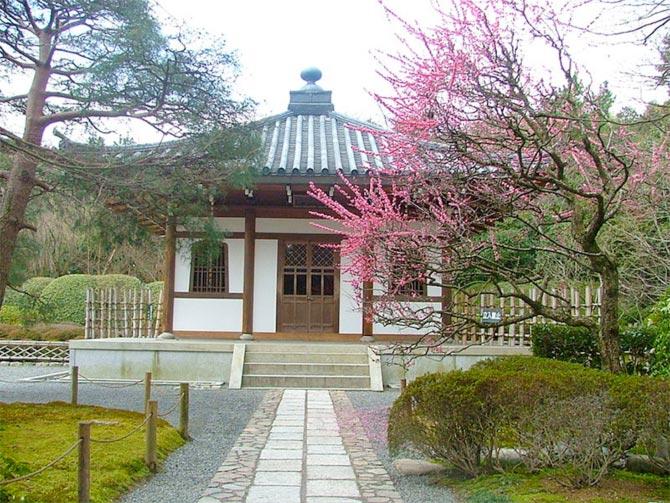 Photographs: Dingy/Wikimedia Commons
But once out, many make the mistake of skipping Ryoan-ji, a smaller Buddhist temple -- a little gem in my view. A short bus ride away from Kinkakuji, Ryoan-ji is both strange and esoteric -- factors that add to its lure. The complex has a beautiful pond and lovely gardens but its main draw is an odd collection of 15 rocks set in a dry landscaped garden (known as karesansui). Many Buddhist temples with Zen gardens have such dry, landscaped patches (little pebbles are arranged in a way that it gives you a river-like impression), small in size and meant to be viewed from a single point outside the porch of the chief monk as he contemplated on the true meaning of life.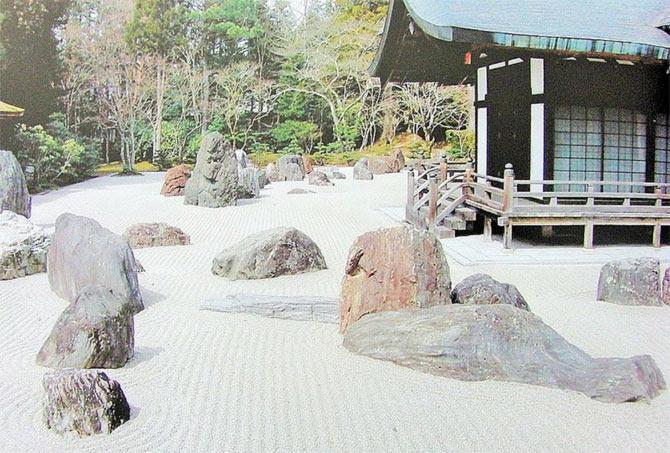 Photographs: PIERRE ANDRE LECLERCQ/Wikimedia Commons
At Ryoan-ji, the 15 rocks seem strewn carelessly with no logical explanation or thought on a river-bed of stones and yet visitors spend hours watching this rather arbitrary presentation. As I sit there for a few obligatory minutes, I can slowly begin to appreciate why. The rocks appear to be strewn, yet there is some artistic method in the madness.
Am I any closer to discovering the true meaning of life, as I start to move away from the rock garden at Ryoan-ji? Perhaps not but I am thankful I came here and tried.
The Kyoto guide
Getting there: Kyoto is a two-and-a-half-hour ride from Tokyo on the Shinkansen. Visitors to Japan should buy a Japan rail pass as buying rail tickets once in the country is prohibitively expensive.
Getting around: Local buses are the easiest way to get around, although the city has a good subway system too.
More on Kyoto: A bustling, working city, Kyoto has over 1,600 temples, hundreds of Shinto shrines and Japanese gardens and several Unesco World heritage sites. It has a range of accommodation to suit all budgets. Basing oneself in the heart of the city works well as the attractions are in every possible direction.