After all, the Andaman Islands are gorgeous, says Mitali Saran.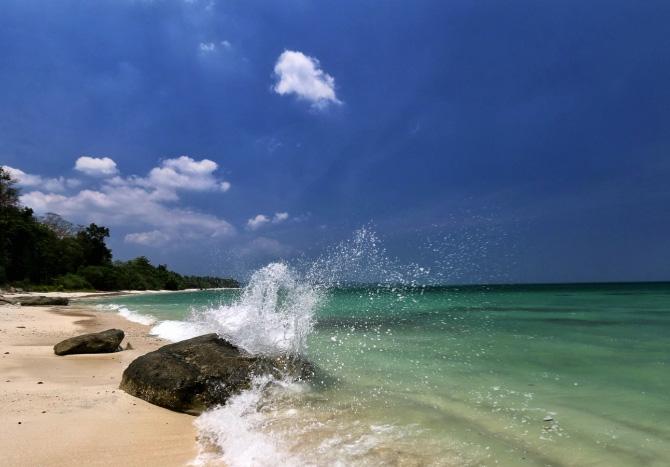 Well, mercy me, Mr Veer Savarkar was here.
Not here on Havelock Island exactly, but a 90-minute ferry ride away in Port Blair, at the Cellular Jail into which the British tossed troublesome Indians.
I won't get to see the jail, but from the film I saw on the ferry, it is a mean building.
It takes a special meanness to pick beautiful places in which to deny people a view, although sometimes this backfires -- apparently, Archbishop Makarios of Cyprus described his imprisonment in Seychelles as a vacation, and tried to buy the Governor's Lodge where he was confined.
Anyway, I'm now more inclined to forgive Savarkar for begging the Brits to let him out, because the Andaman Islands are gorgeous.
It's steamy hot, and I'm trying out something I've never done: lying in a deck chair, punctuating reading with dips in a chlorine-free pool. This most pedestrian of hotel activities turns out to be necessary downtime in a very busy holiday.
I've walked into and around the market all of one afternoon, poking my nose into markets and dive shops.
I've been on a day's trip on a boat which stopped at various reefs for snorkelling -- the one I loved most was South Button Island, which looks like a warship from afar, and whose underwater foundations are riotous with fish, including schools of stern swordfish and solitary jellyfish. I returned with a flaming pink butt -- remember, kids, when reapplying sunscreen, to give your bottom a little love.
I've been on a jungle walk, where the guide pointed out all that one can eat and drink, which is very useful if there's the slightest chance that you might end up in an Andamanese forest, starving. He showed me the crimson ooze of the blood tree, the jackfruit tree sap with which he used to stick his students' notebooks back together, and he fed me wild betel leaves and water from bamboo. He also turned out to be an ace karaoke singer.
My favourite thing so far, though, has been sea kayaking among the mangroves after sunset.
You paddle out over the waves as the light fades, and by the time you get to the million-footed mangrove coves, ducking branches and untangling paddles as you navigate tiny channels, there is only moonlight on calm water, and no sound but a breeze and a faint lapping. The water is full of bio-phosphorescence, plankton that emits light as a defence mechanism. They looked like showers of tiny sparks at the end of our gently splashing oars.
Kayaking in those jewelled waters snug with night is among the loveliest things I have ever done.
My college roommate and I, who are travelling together, have the same thought: who would have thought, when we met, that we would be two old hags flailing our paddles in a kayak 27 years later?
And we haven't even been to Radhanagar Beach yet, said to be one of the most beautiful in the world, but we will.
So, you see, a few moments of lying by the pool are called for.
Also, since there's no wifi or data anywhere, I've been reading a book -- a retro experience that I highly recommend.
If you're reading this column it's because I have trudged into town to the single shaky dial-up connection, which takes five minutes and a ritual sacrifice to send an email.
That didn't work, so I trudged some more to the one satellite connection.
That didn't work, so I read it out to the editor over the phone.
Come to think of it, if you're reading this column, it's because Business Standard is denying me a view by making me work, even though, naturally, I begged them to let me off.
Don't miss: Stunning photos of the Andaman Islands