On a field trip to Bharatpur at the peak of the summer, author realises that every season has its own charm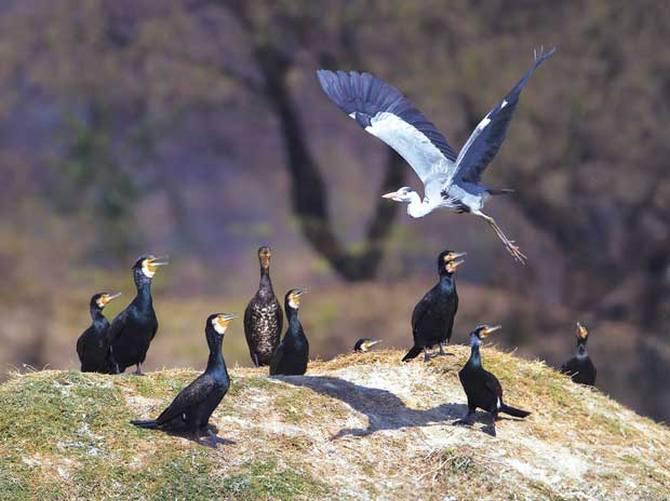 I have vivid memories of Bharatpur from my childhood -- a dark, luxuriant forest full of birds that truly lived up to its name, Ghana (Hindi for dense). In the quiet of its desolate circuit house, we'd tell ghost stories and listen to the owls hoot late at night. Over the years, we'd often visit the wetlands of Keoladeo National Park post the monsoons, wondering at the huge number of birds that migrated there from far and wide. Even with all these fond memories of the place, when I find myself heading to Bharatpur on a field trip in this heat, my heart, hardened traveller though it is, sinks a little.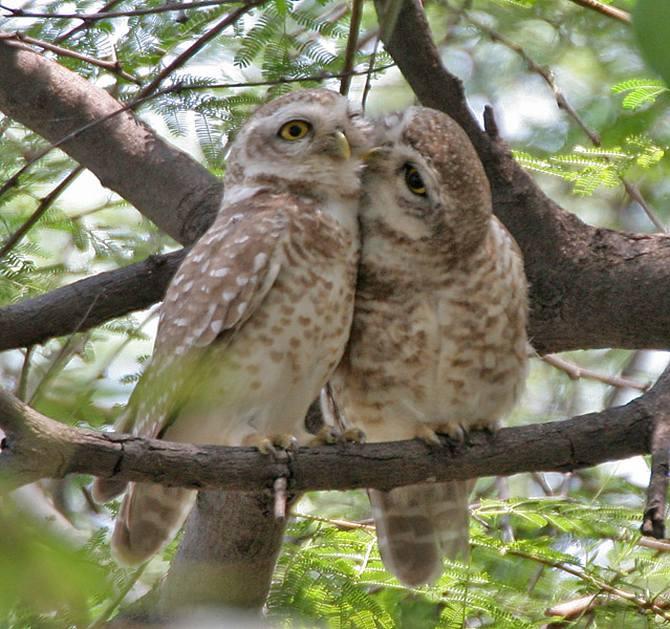 Photograph: J M Garg/Wikimedia Commons
For Bharatpur in the summer is a furnace. Hot winds from the Thar dry its fabled wetlands into tracts of furrowed wasteland. I step out of the car into smouldering 45-degrees heat, wondering why I've chosen to come here when everyone I know is heading to cooler climes. The blast of the humungous desert cooler in the lobby of Laxmi Niwas Palace, the heritage hotel I'm booked in, reassures me a little. But next morning, when I step out for a day in its rural hinterlands, I wonder how villagers keep their cool.
I see how when I'm invited into Ranvir Singh's "air-conditioned" room hours later. With a thatched roof and wet curtains fluttering in the hot summer wind, it feels like the inside of an earthen pot. A farmer, Singh is no stranger to heat. He proffers hot tea, and, "this will cool your body better than an iced drink!" So we sip tiny sips of super sweet tea while his wife plucks some sinuous kakdi from their fields for us. How do they avoid falling prey to the heat, I ask? "The most important thing is to cover one's head, as we do with turbans and veils," says Singh. "And if I'm out during the day, I make sure to cover my face as well!" His wife, Sugandhi Devi, has a simpler summer hack. "We get up early to finish the day's work by noon. Then I take a long afternoon nap, there's nothing like sleep to drown the summer out!" she laughs.
Ahead, we stop at a dhaba. "Eat raw onions with lunch," my hosts advise. "Old timers also believe that buttermilk with rock salt can ward off heat stroke." So we have some buttermilk. Then some sweet lassi. Then, just because it is so hot, we have some fresh sugarcane juice with ginger and mint added to it. It's noon and my count of sweet beverages consumed since morning is up to six large glasses.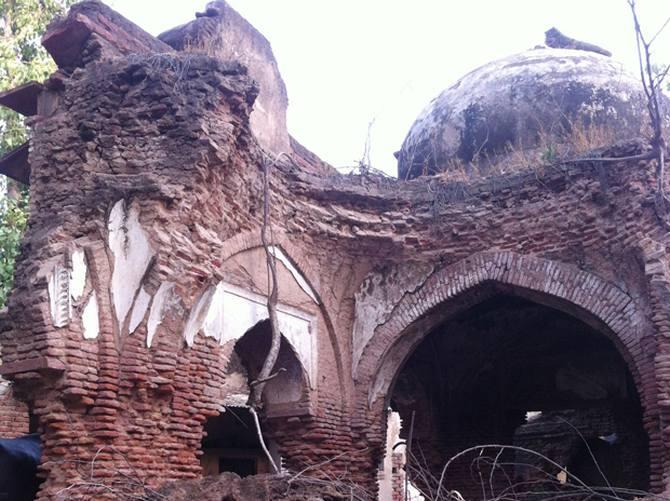 We're now headed to Paharsar, a village once inhabited by Muslim landed gentry, including, some say, a branch of the family of Zulfikar Ali Bhutto. "After Partition, the Muslims fled to Pakistan," says Bacchu Singh, its pradhan, as we drive through meandering lanes with mouldering havelis. He offers us sweet lemonade made from lemons and mint plucked in front of us. I drink it in huge gulps, for it seems that my parched body can't get enough water. The minute I finish, my glass is refilled all the way to the top. All these years, I surmise as I drink my eighth glass of liquid sustenance in the day, and I still haven't figured out how to convince rural hosts, especially in Rajasthan, that no means no...
The sun is setting as we climb to the top of a haveli with its signature courtyard and cool dark rooms. "Some years back, a villager dug up the foundations of his house here and found buried treasure," he says. "There's plenty of it here, left by the Muslims when they fled!"
The air suddenly feels much cooler now that the sun has all but disappeared. As we call it a day, I realise that although my sweet beverage count is up to 10 glasses, I'm feeling absolutely fine after a day in the sun.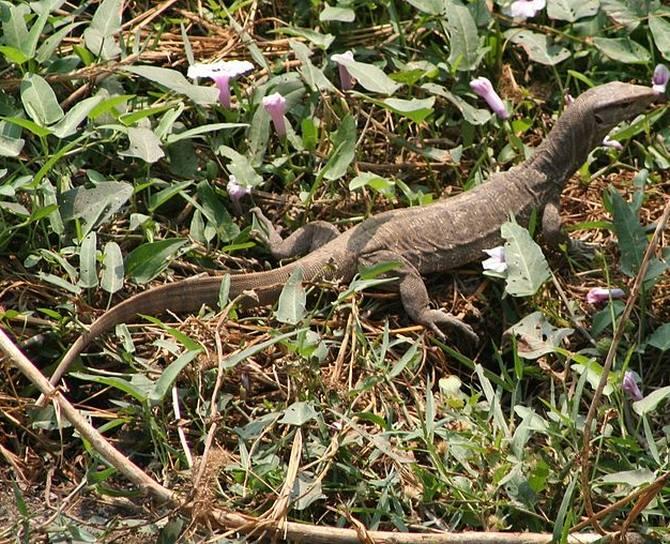 Photograph: Dr Raju Kasambe/Wikimedia Commons
On the agenda early next morning is, of course, a leisurely trip to the Keoladeo bird sanctuary. This is the only national park which one can explore on cycles and rickshaws, making the jungle experience a singularly intimate one. At six in the morning, the air is cool and scented with unknown blossoms. Bharatpur's scorching summer days seem a happily distant reality. The wetlands are mere puddles, I see, remembering our trips in the monsoons when both sides of the forest track was watery marshland. One of the puddles moves, and I realise I'm looking at a large turtle. Summer is a great time for spotting reptiles in the park. We stop at the Keoladeo temple, where turtles come by the scores to feed. Green Bee-eaters flit overhead as the priests sit on charpais under the large peepul tree and read the morning papers. The sun rises higher in the sky but it remains cool in the leafy shade, even as we traipse through the jungle to look at python and jackal dugouts. The jackals hover protectively as the guide tells us that tiny jackal pups shelter in the dugouts to escape the summer sun. Ahead, in the distant grasslands, we espy a pair of sarus cranes with a chick. These five-and-a-half foot tall birds are symbol of loyalty in Rajasthani folklore, for it is said that if one dies, its mate also dies of a broken heart.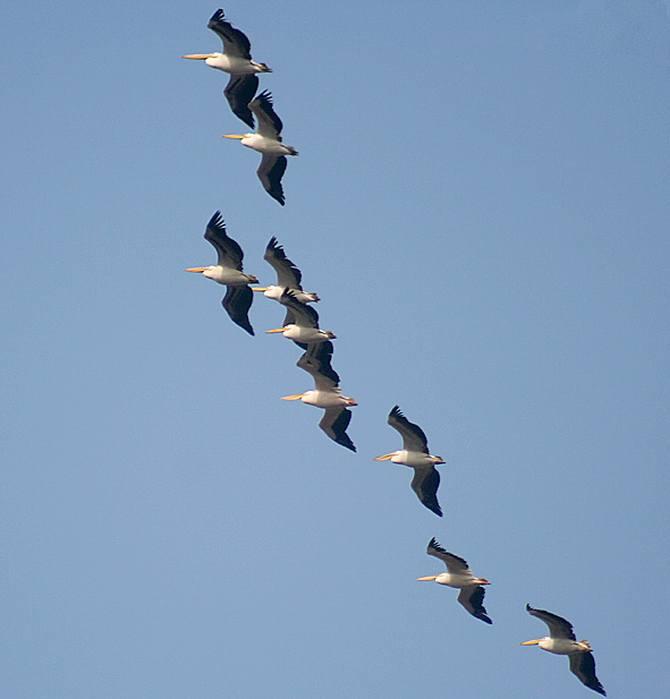 Photograph: J M Garg/Wikimedia Commons
"It's all dry now, you should plan a trip in better weather!" says Govind Singh, our affable and knowledgeable rickshaw wala as we head out of the Park. But this trip to Bharatpur in the peak of summer has shown me that every season has its own charm...that even when the sun burns everything it touches on earth, cool happiness can simply be found in a glass of lemonade and in the warm hospitality of a village home.