Why are more and more young people quitting their day jobs to travel? Abhishek Mande Bhot/Rediff.com finds out.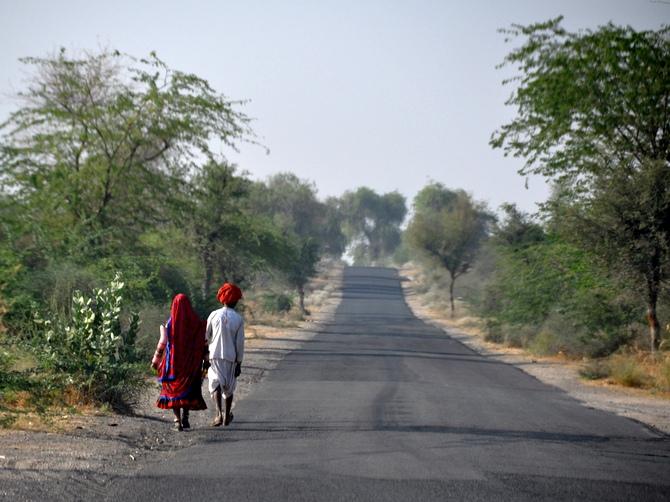 Photograph: Shreyans Bhansali/Creative Commons
On her last day at Femina, a popular women's magazine where she worked as a deputy photo editor, Amrita Das felt quitting her job was possibly the most unwise decision she'd made.
She loved her workplace, she says, and it seemed like a difficult choice to leave all that and the bunch of colleagues who had become very close friends.
And yet she did. So she could travel.
"Travelling has always been a way of life for me," Das says.
"Unlike most other people, the core reason for me to keep a job was to fund my travels.
"And even though I loved my work, it had begun interfering with my travel plans and hence, it became a concern for me.
"If I had to ever choose between the two, I would always pick travelling and so I did."
Amrita Das who documents her travels on her blog Travelling Ides of March isn't alone. She is part of the growing tribe of young Indian women and men who are quitting their day jobs to hit the road.
Since the time she quit in April, Das has travelled to six cities in India, visited two countries, became a licensed open water scuba diver and did what practically everyone wanted to do after watching Dil Chahta Hai -- lived in Goa for six months!
But life as a travel blogger isn't half as glamorous as you'd imagine.
Money can get difficult to come by and for anyone who's used to a steady paycheque at the end of each month, the uncertainty can be unnerving.
Travel blogger and Rediff.com contributor Lakshmi Sharath who has been blogging for nine years spells it out perfectly on her blog:
"If you are looking at a fat salary at the end of the month or for the travels to be sponsored, believe me travel writing is not for you," she writes on her blog.
The key, she says is to be passionate about travelling and have a flair for writing.
Almost 90 per cent of Sharath's trips are self sponsored, she says and while invitations for free trips do come by, most of the time there are way too many contenders for them.
There is no magic formula, just plain hard work she points out: "Editors do not look for me, I look for them."
"Often there is no response. The silence may be discouraging, but there are so many magazines out there.
I would suggest that everyone starts with a travel blog first.
"Then write for other blogs and magazines, who may not have the resources to pay, but will promote you.
"Build your confidence and your portfolio. Share your stories openly.
"Do not get cowed down by lack of responses from editors."
***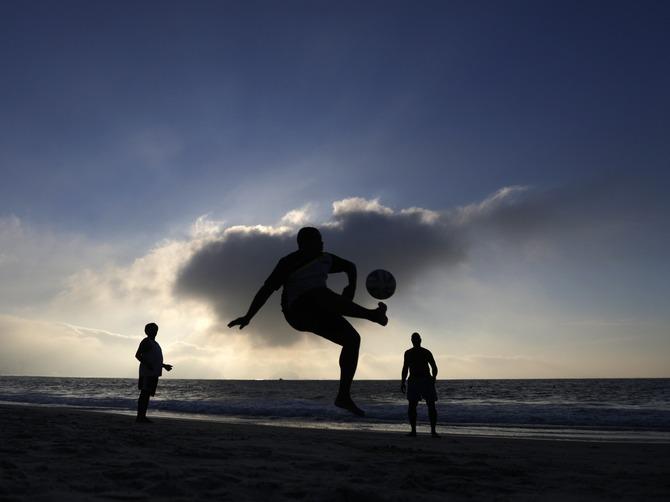 Photograph: Ricardo Moraes/Reuters
Months before she quit her job, Amrita Das spent her months exploring her options.
"I read up on my work options as a writer and blogger, kept in touch with a few bloggers and dedicatedly read their experience in the field.
It always helps to get a real picture of the business and life.
Also, travel blogging is looked upon as a glamorous career option when it is quite the opposite. So getting a reality check is very important," she says.
Unlike Das who, because she was part of one of the country's largest media houses, was unable to contribute to other magazines and websites, Neelima Vallangi who worked in a software firm could.
"For about a year and a half before I quit, I was freelancing with magazines to test the waters," she says. "Once I came to a stage where I felt comfortable with the idea of freelancing, I quit."
Vallangi says that she turned a 'hopeless and incurable travel addict' after she travelled to Ladakh in 2008.
So far she has travelled to more Indian states and union territories than we can dream of and 'returned to the Himalayas countless times'.
Vallangi, who quit her job around the same time as Das, also travelled a lot while being employed.
In a blog post, she explained just how she managed to do that:
Number of weekends in a year: 52 x 2 (Saturdays and Sundays)
Number of public holidays: 12
Number of leaves at work: 25
Total: 141 days!
"In a given year, most of us are on leave for almost 40 per cent of the time," she explains.
"We can travel for almost three months of a year.
"If you apply for a leave of five days, you (get) 9 days including the weekends.
This means in a year you can go for (at least) five major trips of ten days each."
But Vallangi knew that it was only a matter of time before she would itch for more travel and so she quit.
"I quit because I wanted to travel much more than the designated few leaves at work," she writes in an email from Arunachal Pradesh where she is right now.
"I needed the freedom to take off on a trip whenever possible without a meeting or a presentation to worry about," she says.
The only significant thing she remembers of her last day at work is "feeling incredibly happy that I'll never again have to lose my precious time stuck in traffic."
***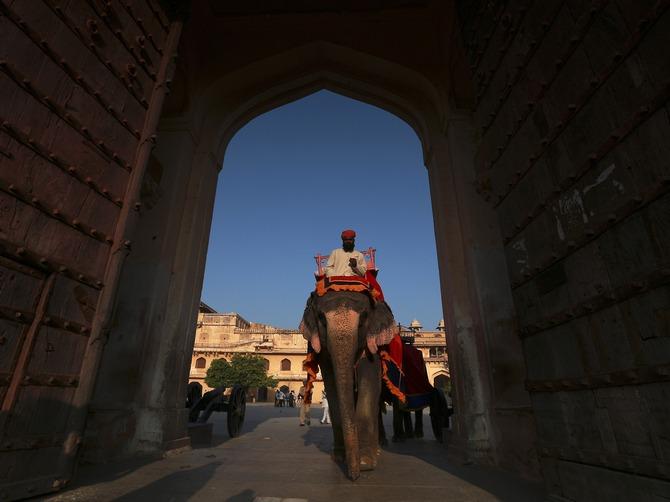 Photograph: Sheng Li/Reuters
By their very nature, blogging and freelancing require consistency. And consistency requires discipline.
That was the Neelima Vallangi's first big learning:
"It takes a lot of self discipline to make freelancing work.
I struggle to work on my own without a team or boss to keep you on track but that's something you have to sort out if you intend to quit your job and freelance," she says.
Amrita Das also faces similar troubles.
She says: "Routine is a big part of my life. Even now as a freelance worker the most challenging part for me is to maintain my every day routine.
"So the first day after my final day at work, I tried to maintain the routine I've had for about four years.
"I woke up at the same time and went for my workout and did everything as I normally do, except that I didn't go to work.
"I replaced it with errands I had to complete, since I was leaving Mumbai and it was an extremely busy time in my life.
"Luckily, I had much to do and it helped me minimise the time I spent brooding over my decision."
Since then she has learnt much.
"I've frequently felt that no work is small work and any money is good money. As along as we are alive, we will find a way to live very comfortably in this world.
"That our best friends are those encouraging people whose voices echo in our head when we're climbing a mountain at 15,500 feet.
"That people everywhere are kind, helpful and want to be heard.
"That things are just things. The more we gather, the more they lug around and become liabilities. It is remarkable how little we need to survive.
"That we're really small, tiny beings on the surface of the earth who can be wiped away in a second. And that's why it is important to experience life and laugh loud, with anyone or no one.
"That it is perfectly all right to be alone.
"That life is outdoors."
Wonderful, you may say, but how do I convince my parents?
"There is no thought that time can't change," Shivya Nath an award-winning travel blogger writes on her blog.
She remembers being 'mortified to seek permission for going on my first long weekend trip to a beach in Malaysia with a group of friends, to which they reluctantly agreed after much interrogation'.
Over the years while there are the occasional outbursts, her parents have come around.
"You need to take baby steps, not just for your parents but also for yourself," she writes.
"Grow them into the idea of you travelling, travelling often, travelling solo, travelling far.
"Study in a place away from home, live in a foreign country, travel to a nearby town, slowly make your claim to independence.
"The more you build your confidence to make conversations with strangers, navigate a new place by yourself, and make sound decisions, the more your parents will grow accustomed to the idea that you can travel without landing into too much trouble."
Das too had trouble explaining her rationale of leaving a reputed magazine to travel.
"I had discussed this with my parents before I had put in my papers that I would be making such a decision," she recollects.
"They were not familiar or particularly happy, but they didn't discourage me either.
"My mother still suggests I look for another 9-to-5 job though my father reads every article of mine in National Geographic Traveller India in an attempt to understand my work. It is very encouraging.
"My sisters, well, have been supportive as well.
"They don't quite get it entirely either, but haven't really questioned it much.
"I've always been a big believer in answering people who care so it was very important for me to address their queries.
"I think it forms a solid foundation within me to have my support system in place."
***
Handy tips:
So what does it take to be a travel blogger?
Amrita Das says:
Firstly, you have to be a traveller. Not the kind who'd take a weekend out, see a place and write about/photograph it. You have to be invested in your travel and know what you like. The sense of attachment is the key. You have to love what you do because it is not easy, doesn't pay much and sees little encouragement. You have to be able to endure this job with all its beauty and inadequacies.
You ought to have a good, reliable online presence. It's possible to get lost in the clutter so it is important that the blog and social media channels are connected to the audience and understand whom they are catering to.
Most crucial is perhaps patience and perseverance. Travel blogging/writing is seen as glamorous or 'cool'. It is neither.
As a solo traveller, there have been nights when I have been alone amid thick forest with no phone connectivity, in absolute silence, feeling alone and a little scared. That is not cool or desirable. But I have chosen to have this experience because it keeps me alive. And I am confident that it will take me places and have many more brilliant experiences because I am ready to keep the faith.
All travel bloggers aren't writers. Some of them are photographers, some are great with information and some just do it because they have their weekends free. I think it's important to define one's core strength and nourish it, every day. Mine, for instance, is experiential travel writing. I will always remember how I've felt, what I've learnt and what I've seen in a place.
It is important to practice every day. I feel writers and photographers need to read well and read every day to be good at their expressions.
Neelima Vallangi adds:
Find your unique voice and be consistent. There has been a deluge of travel blogs and you need to find a way to stay apart. Find something you are passionate about and blog about that topic diligently, for instance be it adventure or offbeat places or green travel or heritage.
If you want to write, you should know how to write well and click at least decently good pictures because we live in a very visual world.
There's not much need to know technology because we have excellent platforms for blogging like WordPress and Blogger where you can start a blog in few simple clicks.
And finally know that takes a lot of self discipline to make freelancing work.
Images used for representational purposes only.