Savi Munjal and Vidit Taneja are on an eternal honeymoon across the world.
And their pictures are filled with love and wanderlust.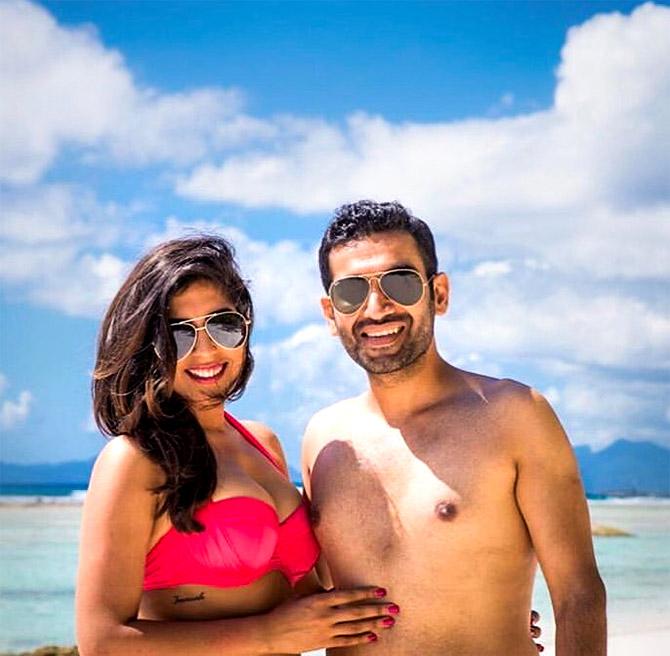 What happens when high school buddies fall in love?
When they get married and discover they are share the same passion?
Delhi-based Savi Munjal, 32 and Vidit Taneja, 34 met when they were 14 and 16 respectively.
'We were schoolmates, friends, we dated for eons, and then got married,' the duo describes on their blog Bruised Passports, whose Instagram account has over two lakh followers.
The blog started in 2015 has 'all the details you would need to plan a trip to a new country -- itineraries, accommodation suggestions, packing guides, and tips for budgeting. But Bruised Passports isn't just about travel,' the adventurous couple warn everyone.
'It's about love and looking at the world through rose-tinted glasses. We're both hellbent on questioning convention, chasing true happiness, and phasing out the negativity and clutter that define modern life,' they say.
Savi, a PhD in visual arts and literature and Vid, a computer engineer worked full-time in London and saved up every penny earned for ten years before quitting it all to travel the world.
'We put all our savings into travel instead of buying a house, cars etc. But we also work full time in travel and have a host of location-independent jobs to help sustain us as we go along,' they say on their blog.
Presenting some wonderful photographs from their journey together.