A Harry Potter walking tour in Edinburgh takes Veenu Sandhu to places that may have inspired the characters.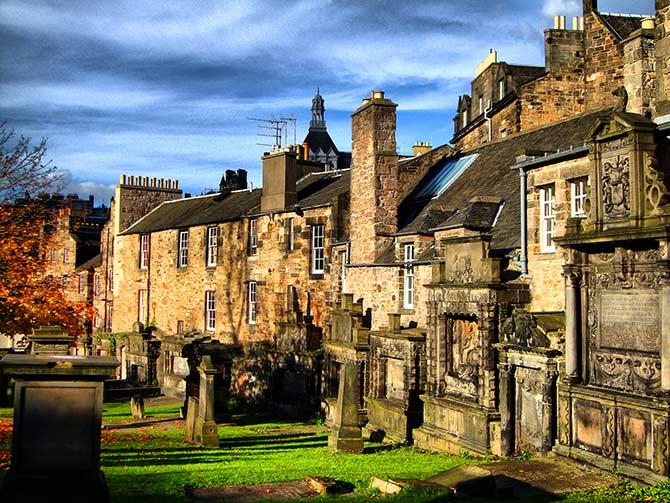 IMAGE: The Potter Trail begins from Greyfriars Kirkyard, the graveyard just off the road at the southern edge of the oldest part of Edinburgh.
Photograph: Courtesy Paul Murray/Flickr.
We are standing by the statue of Greyfriars Bobby on George IV Bridge in Edinburgh, waiting for a certain 'witch', or 'wizard', to show up. It is a clear day and Greyfriars Bobby, the Sky Terrier who is said to have guarded its owner's grave for 14 years, until its death in 1872, sits looking into the distance as people keep walking up to it to affectionately stroke its golden nose.
The clock strikes 3 and lo and behold, she's there, a 'witch' in a pixie cut, complete with the black cape, waving her foldable stool at us, beckoning us to follow her. And so begins 'The Potter Trail' -- the Harry Potter walking tour that promises to take us through places in Edinburgh that are said to have inspired characters and scenes in J K Rowling's spectacularly successful series.
The 'witch', our guide who goes by the name of Charlotte, leads us to Greyfriars Kirkyard, the graveyard just off the road at the southern edge of the oldest part of Edinburgh, or the Old Town. She places her stool on a grassy patch inside the graveyard and stands on it, hastily clarifying that this is not a sign of authority; she's just really short.
Then producing a pointed wizard hat, she draws out some wands from it. They are painted in three of the four house colours of the fictional Hogwarts School of Witchcraft and Wizardry: Ravenclaw, Slytherin and Gryffindor.
'No one wants to be a Hufflepuff,' she says, explaining the absence of the Hufflepuff colour.
Armed with these wands, we are now transformed into 'witches' and 'wizards' who will henceforth walk through the land of muggles (non-magic folk) to get a peek into the mind of a young Rowling as she wandered through Edinburgh's lanes, allies and graveyards when she was writing her first Potter book.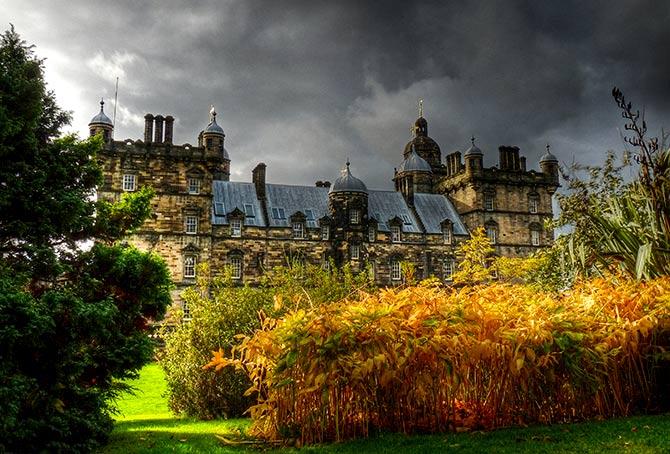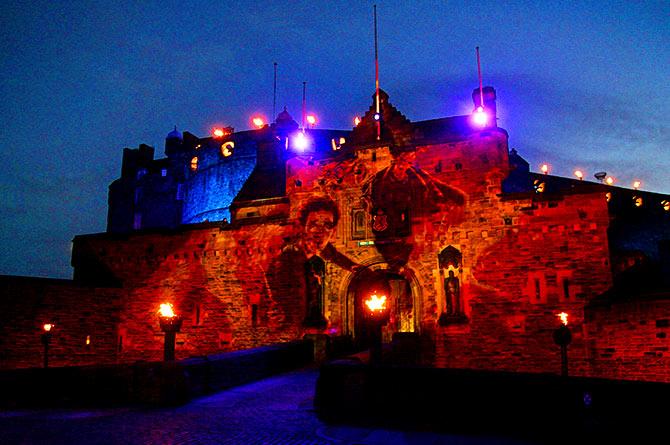 IMAGE: George Heriot's School and the Edinburgh Castle are said to have inspired JK Rowling's vision of Hogwarts.
Photographs: Hamish Irvine/Flickr and

Mike Finn-Kelcey/Reuters

.
Our first destination is a plaque on a wall at one end of the graveyard that reads: 'William McGonagall, poet and tragedian.'
Our witch-guide explains how the poet, a comically bad one, who died penniless in 1902, is believed to have inspired the name Minerva McGonagall, the no-nonsense head of Gryffindor House and later Hogwarts headmistress. But for the name, it is unlikely that Rowling drew anything else from McGonagall, the appalling poet widely regarded as one of the worst in English literature.
A few steps from the plaque is the locked gate of the magnificent George Heriot's School, founded in the early 17th century and rumoured to be the one on which Rowling based Hogwarts, with its four houses, four towers and grand architecture.
The school is rarely open to public, but we get a good view of it through the locked gate. From this point, we can also see the Edinburgh Castle in the distance. It, too, is said to have contributed to Rowling's vision of Hogwarts.
Our witch then marches off to the other end of the graveyard and stops for a brief minute in front of two unmarked graves, which, she says, many Potterheads (Harry Potter fans) have attributed to certain characters from the book killed in or before the battle of Hogwarts, including Potter's godfather, Sirius Black.
Last comes the most famous grave of all, at least in the eyes of Potter buffs: the grave of Thomas Riddell.
There's a view, unconfirmed by Rowling, that this is where the name Tom Marvolo Riddle, as the dark wizard Lord Voldemort was once called, came from. The flesh and blood Riddell belonged to a well-known family of Scotland, which, says our guide, has since received an unfortunate amount of hate mail.
Standing by the famed grave, she tells us gory tales of The Great Scottish Witch Hunt, five in all, starting 1590 and ending in the 1660s.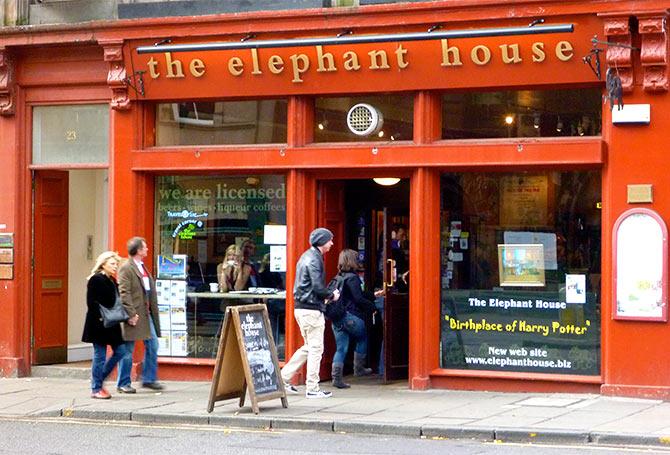 IMAGE: Another café in Edinburgh that boasts a connection to Harry Potter is Spoon Café on Nicolson Street, where Rowling is said to have spent most of her time writing the early manuscript of her first book.
Photograph: Rebecca Siegel/Flickr.
These stories spinning in our heads, we leave the world of the dead and step back into the street.
We now head down the road to our next stop: Potterrow, a medieval suburb from which Rowling might or might not have drawn the name 'Potter'.
From here we are off to the Spoon Café on Nicolson Street, once owned by Rowling's brother-in-law, where she is said to have spent most of her time writing the early manuscript of her first book. An understated plaque in one corner points to this.
Another café that claims to be the 'birthplace of Harry Potter' is The Elephant House on George IV Bridge.
By now, a light rain has started to fall. Soon, it begins to pour and the paint on our wands starts to run, but the Potterheads march on.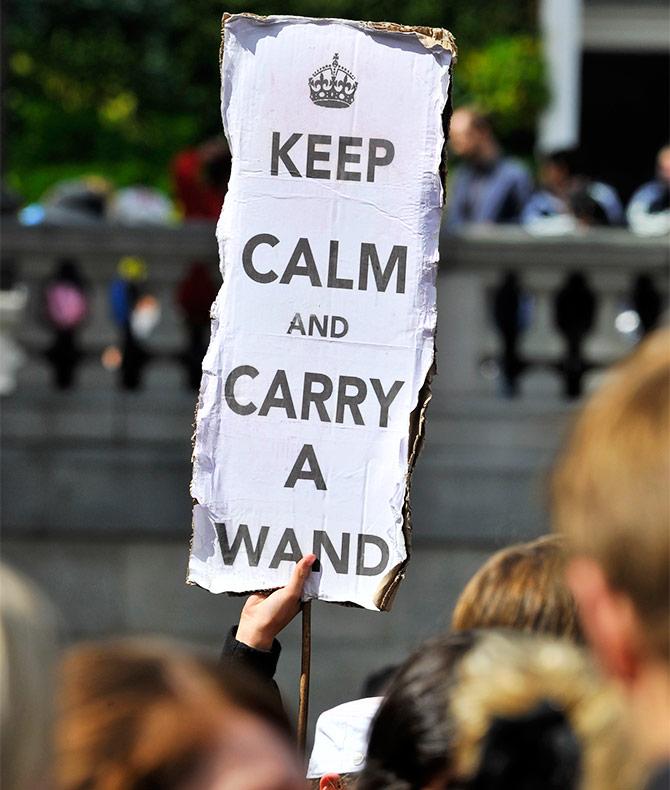 IMAGE: The free Potter Trail is a treat for Potterheads.
Photograph:

Toby Melville/Reuters

.
Next up is Victoria Street.
Packed with restaurants perched atop shops that sell all possible knickknacks, it is rumoured to have been the inspiration for Diagon Alley, the fictional magical shopping street in London.
Standing under a canopy here, we are enthralled with more Rowling and Potter trivia: what does the 'K' in J K Rowling stand for? What lies in the J K Rowling Suit in Edinburgh's luxurious Balmoral Hotel? Is it true that Rowling was once too poor to even afford heating in the peak of Scottish winter?
And just like that, the tour ends. We reluctantly hand back our wands and return to muggle world.
The Potter Trail is an unofficial tour. It lasts approximately 1 hour and 15 minutes and is free of cost, though you can contribute at the end of it.
---
Recommeded for you