Why check into a hotel when you can pitch a tent and get close to nature.
This summer, pack your bags and go to some place you've never been before.
Presenting some of the best camping options from across India.
We bet, you won't feel like returning home after this!
1. Purushwadi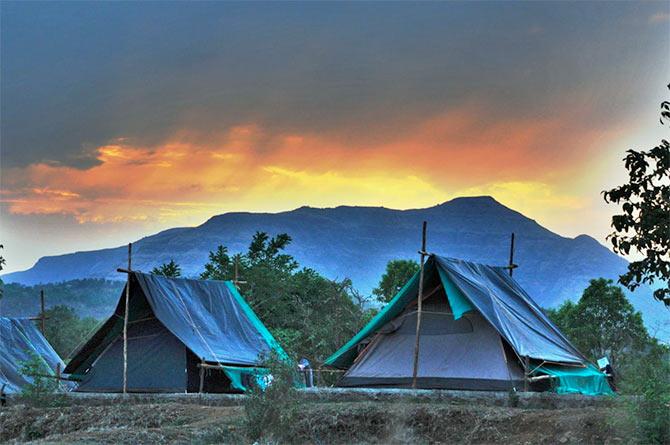 IMAGE: Immerse yourself in the rural life of Maharashtra at Purushwadi. Photograph: Kind courtesy Grassroutes
Located about 180 km from Mumbai, Purushwadi, is a tribal village, beyond Igatpuri, situated in Ahmednagar district.
The first village adopted by Grassroutes, an organisation that has been promoting village tourism in this tribal belt for over four years, this campsite provides for the perfect rural immersion.
For that added touch of glitter, the magnanimous number of fireflies adorning the village, especially in the first two weeks of June, makes Purushwadi an absolute must-visit.
Inir Pinheiro, founder of Grassroutes says, "We all live very boring lives, working 8 hours a day, travelling a few more hours to our workplaces and back. The only way to lead an interesting life is to get your mind out of the current context, and go do something different. Grassroutes has camps set up in 10 villages across Madhya Pradesh, Maharashtra and Gujarat, and we're all about the community experience. Our campers always come back with some amazing stories to tell. So head off, take a picnic basket and go; the experience will be like a much-needed breath of fresh air."
Recommended Camp: Purushwadi by Grassroutes
Cost: Rs 1,300 to Rs 2,500
Website: grassroutes.co.in
2. Sattal and Ramganga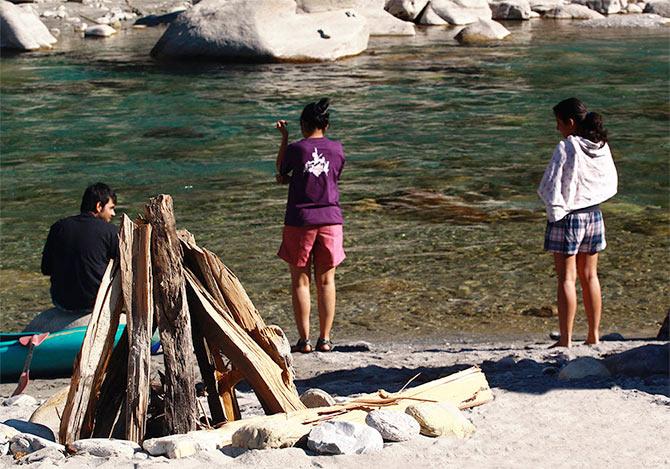 IMAGE: Pitch a tent next to a freshwater lake in Uttarakhand and surrender yourself to nature. Photograph: Kind courtesy Wildrift
An integrated group of seven freshwater lakes situated in Bhimtal, a quaint town in the Nainital district in Uttarakhand, Sattal can arguably called as one of the most majestic places in India.
Set amongst dense forests of oak and pine trees, Sattal is one of the few freshwater biomes in India that remain unspoiled by human interference.
These interconnected lakes are a paradise for migratory birds.
It is home to a few camps being operated mostly by local people catering to tourists looking for outdoor vacations.
One of the best camps to be at here is Wildrift's 'To Catch a Phhisss', which basically sets you up to live like the fishermen do.
"The programme highlight is the intense and real interactions with the locals, specially the fishermen who become your travelling companions, while the traveller becomes the fisherman for a few days", says Samir Kher, from Wildrift.
Recommended Camp: 'To Catch a Phhisss' by Wildrift
Cost: Rs 2,500 + service tax per day per person
Website: wildrift.com
3. Zanskar
IMAGE: The Chadar Trek will take you through the frozen and beautiful Zansar river. Photograph: Kind courtesy Thrillophilia
The scenic valley of Zanskar is located in the Kargil district, which lies in the eastern half of Jammu and Kashmir.
While the region boasts of vibrant hues of nature during the summers, the winters are graced with heavy snowfalls that cut the entire place off from the rest of the world.
The river that flows through here, known as the Zanskar River, freezes up during the winters and is majestic in its beauty.
Thrillophilia's Frozen River Zanskar Trek takes you through the snowy rock and boulders across the river, captivating you in the sheer regality of the place.
Commonly known as the Chadar Trek, due to the formation of the thick blanket of snow, this trek is considered to be one of the most challenging and tricky treks in the world.
Recommended Camp: Chadar Trek Frozen River Zanskar Trek
Cost: Rs 18,500
Website: thrillophilia.com
4. Rishikesh

IMAGE: In Rishikesh, sign up for a fun and adventurous kayaking trip. Photograph: Kind courtesy Snow Leopard Adventures
Located in the foothills of the Himalayas, Rishikesh is known as the Gateway to Garhwal Himalayas.
This small Uttarakhand city has attracted travellers and campers from all over the world for numerous years now.
Snow Leopard Adventures' flagship property, Camp Panther, is spread across 5 acres of terraced fields in the Shivpuri village at the foothills of the Himalayas. Activities like rafting, rappelling, kayaking, trekking and nature walks are all part of this camp.
Ajeet Bajaj of Snow Leopard Adventures says, "Zip lining and rafting are the highlights of camp visits. Along with our partners Flying Fox Adventures we have set up an exciting zip line 400m long. Experience unbelievable views of the Himalayan foothills, the mighty Ganges and the rafts floating 70 metres below. The zip line starts at Camp Panther and takes you across the river to our Camp Leopard Heights."
Recommended Camp: Camp Panther at Snow Leopard Adventures P. Ltd
Cost: Rs 6,000 to Rs 7,800 for 1 night and 2 days. Rates vary depending on number of people, time of year and activities included. Accommodation/meals and select activities are included.
Website: snowleopardadventures.com
5. Dhanaulti
IMAGE: Challenge your inner fears in Dhanaulti. Photograph: Kind courtesy Adventure Camps India
Located just 28 km away from Mussoorie, Dhanaulti is located amidst a thick, untouched forest of deodar, rhododendron and oak trees, giving it the perfect atmosphere for peace and tranquility.
The Dhanaulti Woods Mountain Camp by Wanderlust Camps and Resorts provides for various activities like trekking, rock climbing, rafting, Burma bridge, spiders web, flying trapeze, Tarzan swing, air rifle shooting, archery, zorbing, rope ladders for the campers.
Major SK Yadav, managing director of Adventure Camps India says, "The whole experience of staying in the luxury tents facing a valley with the evening bonfire and bar-be-cue after experiencing all adventure is the best part of Dhanaulti Woods Mountain Camp."
Recommended Camp: Dhanaulti Woods Mountain Camp
Cost: Rs 1,350 to Rs 4,000
Website: adventurecampsindia.com
6. Nagaland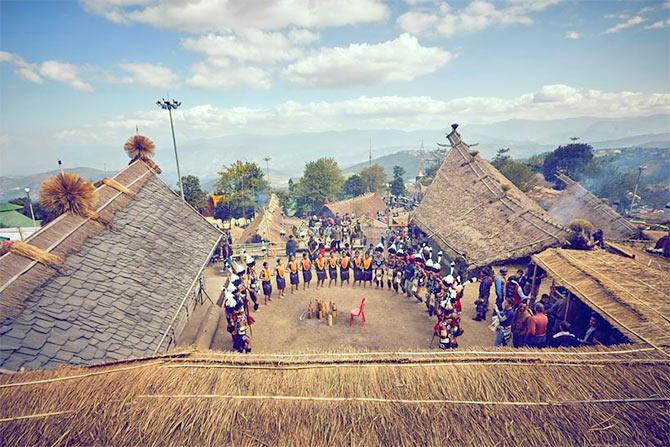 IMAGE: Experience the local culture and cuisine of Nagaland by camping at Kohima. Photograph: Kind courtesy Kohima Camp, Nagaland
Camping is not usually affiliated with being a luxurious experience. But 'The Ultimate Travelling Camp' had different plans.
Their Kohima Camp in Nagaland prides itself on crossing into the realm of the unknown and exploring the yet unexplored cultural treasures of the Land of the Nagas, who were known as the last head hunters And they do it all with a touch of luxury.
Rajnish Sabharwal, chief operating officer at TUTC says, "Today a travellers' priority has changed. Comfort level, security, great cuisines, expert tour guides, local culture experience are essential factors while deciding on a vacation, and more so they don't want to compromise on the luxury aspect of travelling. At TUTC, we understand this and our super luxury mobile camps at Kohima in Nagaland, as well as Thiksey and Diskit in Ladakh, welcome travellers to an intimate introduction to the peculiarities of a culture, without having to compromise on any of the luxuries of life."
Recommended Camp: Kohima Camp, Nagaland by The Ultimate Travelling Camp
Cost: Starting from Rs 84,000
Website: kohimacampnagaland.com