How many of these will you include in your travel list for 2016?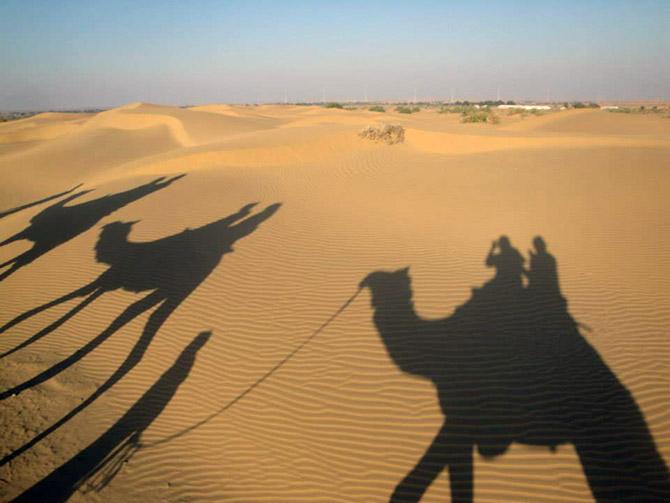 Photograph: Courtesy Anita Aikara
Young India is moving away from just lazing around in a resort, visiting a few touristy places, clicking pictures and then getting back to the comfort of their hotel rooms.
With travelling becoming more than a hobby, youngsters across India are exploring off-beat destinations and new experiences.
Do you believe that travelling is a soul-searching experience -- where you get to learn as much about yourself as you learn about the new place, culture and nature's wonders?
Then here are some experiences you should be giving a shot sometime soon.
Wait! Did you say, it's already in your bucket list?
1. Rafting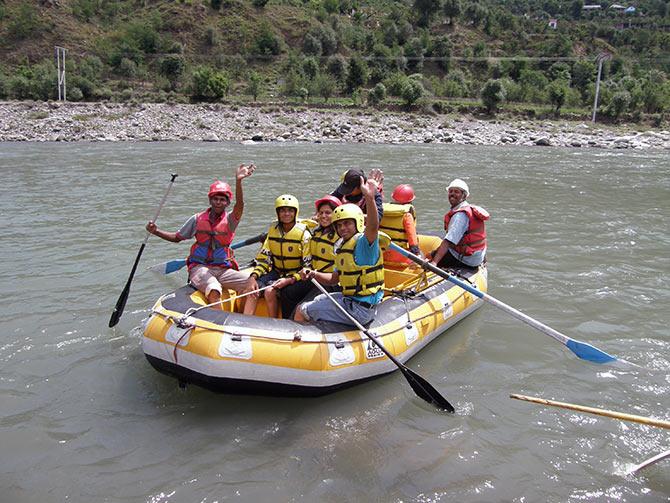 Photograph: Courtesy Balaji Photography - 3,000,000 Views and Growing/Creative Commons
The rush of gushing waters, the tremendous force you must exercise to manoeuvre the water currents, the team spirit and the adventure that come along make this water sport a must-try.
If you are a beginner, you could opt for rafting experience in Dandeli or Coorg in Karnataka, and Kolad in Maharashtra.
If you're a little more sporty and adventurous, you could try rafting in the Ganges in Rishikesh, Tons in Garhwal, Teesta in Sikkim, Brahmaputra in Assam, and the Zanskar Valley.
Depending on the length of route and the intensity of the rafting experience, it could cost you less than a thousand rupees to about four thousand rupees.
2. Scuba Diving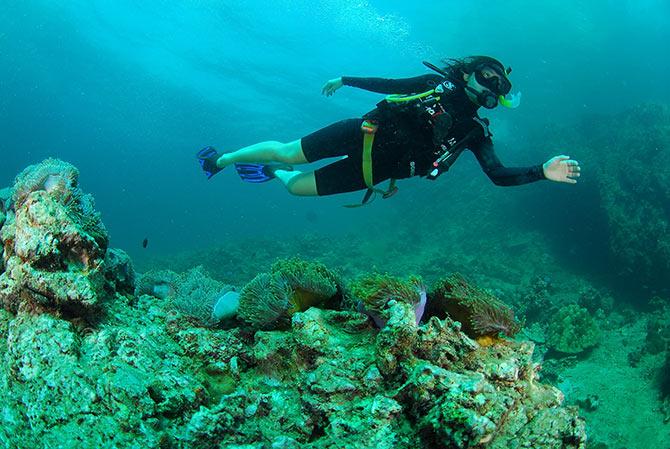 Photograph: Courtesy bhinddalenes/Creative Commons
The experience is like watching live an episode of marine life on National Geographic channel.
Diving a few meters into the sea, you are transported into what feels like a different world all together.
From corals and schools of fish to other species, which you probably have never heard of, you see them all.
For many people just one diving experience makes them crave for more. If you are among those, you can get a PADI certified and dive anywhere in the world.
A single dive generally costs about Rs. 4,000 and the PADI certification course will cost Rs 25,000 to 30,000.
The places you can opt for scuba diving experiences are the Andamans, Goa, Pondicherry and Netrani Island in Karnataka.
3. Trekking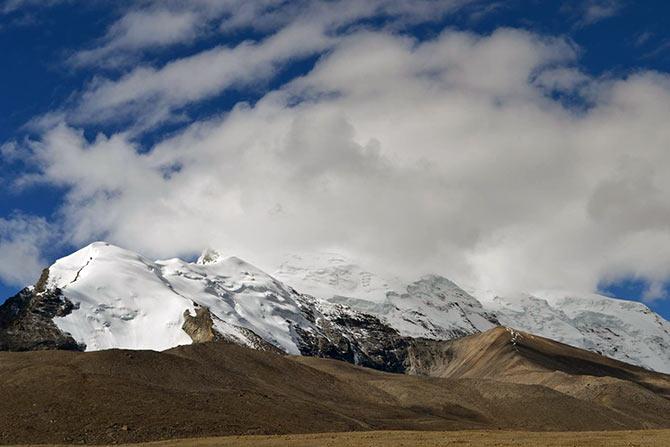 Photograph: Courtesy Rahul Bhan
Seeing the golden glow on the snow-capped Himalayas as the first rays of sunshine fall on Sandakphu...
Feeling the vastness of Mother Nature at the flower valley in Uttarakhand...
Seeing the clouds enveloped like a blanket below you when stand on top of a cliff, or treading on frozen rivers, is just a sneak peek into what awaits!
India has numerous trekking destinations with varying difficulty levels.
For beginners or even seasoned trekkers, the options are unlimited.
There are numerous trekking expeditions organised by experienced trekking clubs like YHAI, India Hikes, Bangalore Mountaineering Club, Mumbai Hikers and Great Hyderabad Adventure Club.
You could join one such trek and get to experience the real fun of trekking.
The cost is affordable and depends on the number of days involved in the trek.
From treks that last a less than a day to ones that last for more than a week, from snow-laden mountains to rocky terrain and green cover, you have choices galore.
4. Jungle trails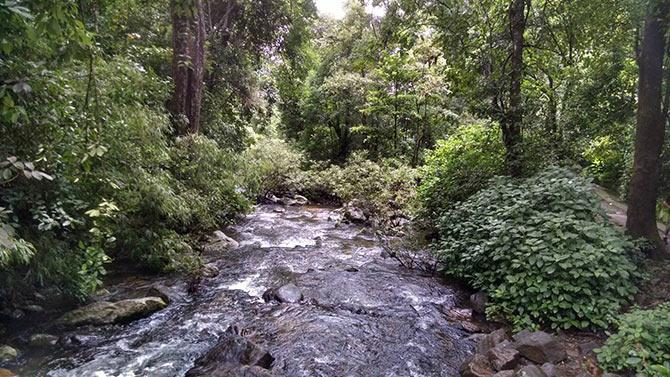 Photograph: Courtesy Subhash Allan Oliveira
From learning to identify footprints of animals, spotting wild birds, squirrels, insects, reptiles, etc. and knowing more about their ecosystem –- jungle trails are the best introduction to wildlife.
You'll walk for miles through the jungles which would mean walking through slushy paths, deciduous cover or thick green canopy, sometimes battling mosquito bites as well.
Many forest reserves offer guided jungle trails and it's something you shouldn't miss. Just trust the guide and enjoy an experience of being in the wild.
5. Outdoor camping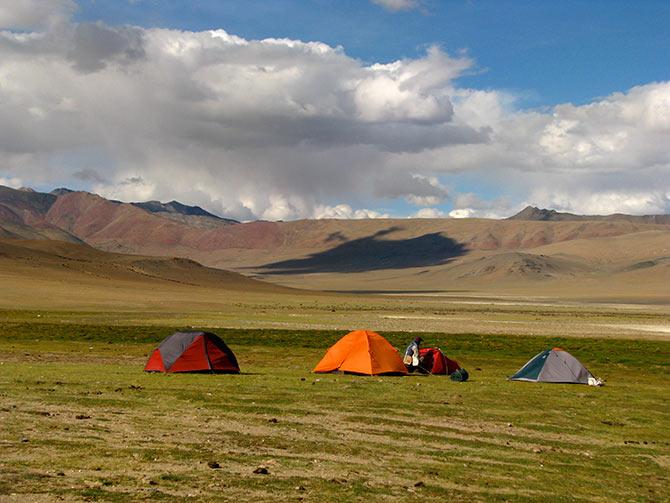 Photograph: Courtesy McKay Savage/Creative Commons
Rent tents, camping equipment and drive to the nearest open space that brings you close to nature.
Wake up hearing birds chirping, laze around, munch on some snacks that you might have brought, and explore the outdoors.
At sunset, enjoy a chat with your buddies –- about the future, life in general, relationships, spirituality, and crack some silly jokes.
As night transcends, enjoy star gazing, the sound of crickets and other little insects, and slowly drift off to sleep.
I am lost in thoughts writing this description. The real experience is too good to be paraphrased in a few words.
6. Cycling trails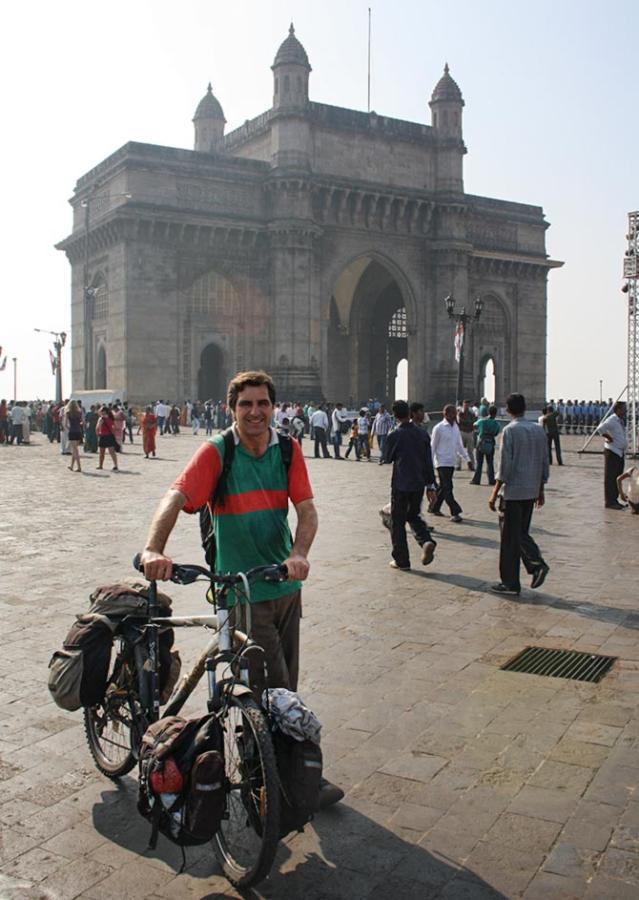 Photograph: Courtesy Reuben NV/Rediff.com
Once a childhood passion, cycling is now becoming 'cool' among adults.
It is becoming a sought-after sport with many enthusiasts hitting the road on weekends, pedaling more than a hundred miles to and fro.
The most popular adventurous cycling tours include Manali–Spiti Valley–Kinnaur Valley, Shimla–Jalori Pass–Manali, Manali–Chandertal Lake–Lahaul Valley, Nilgiri mountains, among others.
Also most metros have a number of cycling tours close to the city which are ideal for a weekend plan.
Even if you don't own a good sporty cycle, you could rent one and join the enthusiasts who organise such cycling tours. Come on, no excuses. It's time to pedal your way!
7. Motorcycle expeditions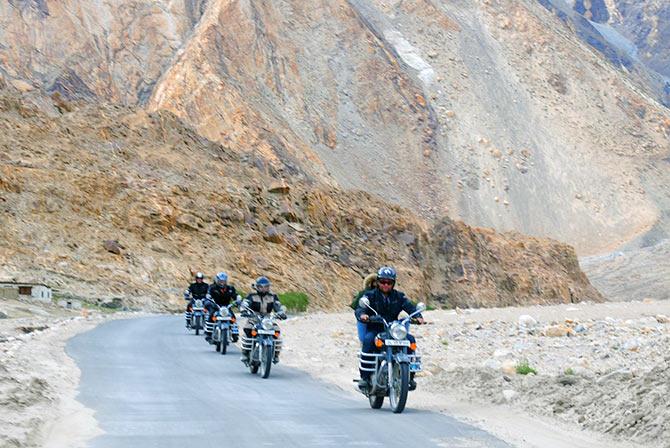 Photograph: Courtesy Reuben NV/Rediff.com
Motorcycle expeditions have become the symbol of free spirit. A number of motorcycle clubs organise bike trips -– from unheard rural villages to the highest motor'able' road in India.
They are not only well-organised, but they also ensure that you follow all the road safety rules throughout the ride. There are also women-only rides organised by groups such as Bikernis.
Enjoying lunch at a road-side dhaba, asking a villager to hop on and dropping him off at the nearest destination, to taming the roads is all part of a motorcycle expedition.
You get to meet new people, learn more about different places and enjoy what life has to offer. Put on your helmet, start your motorbike and vroom away!
8. Bungee jumping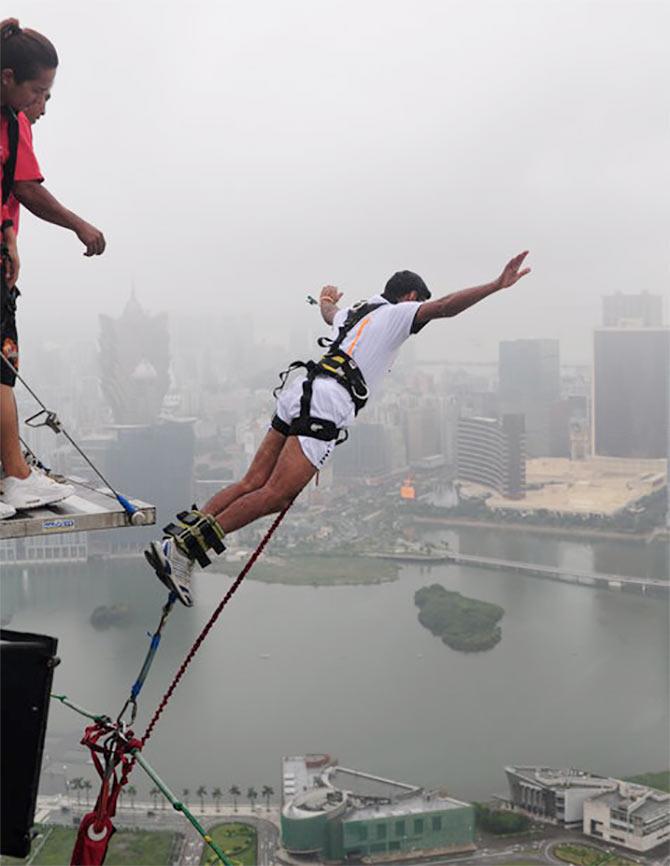 Photograph: Courtesy Sunil Sharma
While a number of places offer bunging jumping from cranes and tall towers, you could give them a pass.
But, you must try bungee jumping at Mohan Chatti village in Rishikesh.
A platform built over a rocky cliff, 83 meters above the ground, it's probably the only place in the country which offers bungee jumping from a fixed platform.
Why you should try this? Well, it helps you get over your fears. The jump costs a little more than Rs 2,000.
9. Safari in 4X4
Photograph: Courtesy Anita Aikara
Explore the salt flats of the Great Rann of Kutch on a full moon night, the abandoned town of Dhanushkodi in Rameshwaram or the Thar desert.
The experience of the safari in 4X4 to these places will be more than just an unforgettable memory.
10. Kayaking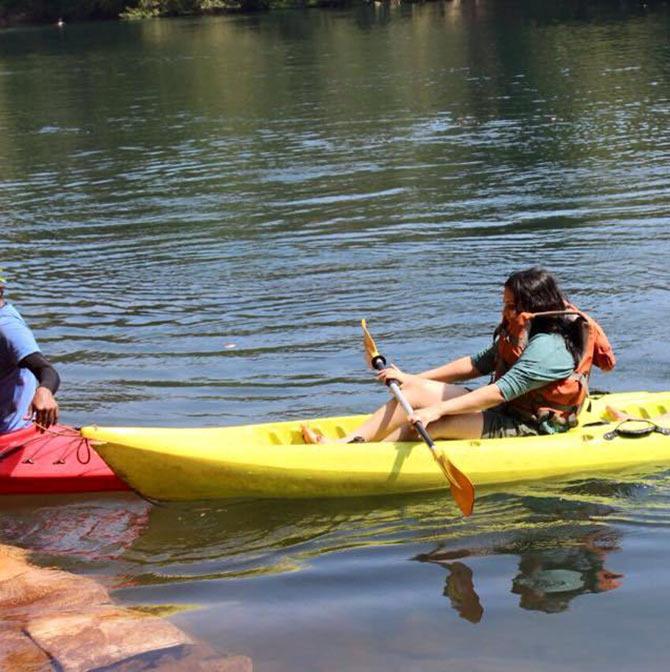 Photograph: Courtesy Sonia Anthony
Learn a little bit of kayaking and explore the virgin backwaters of Kerala, Goa or the numerous rivers and tributaries that India is blessed with.
The Himalayan rivers are great for expert kayakers, however beginners could try kayaking in parts of the river which flow smoothly and the currents are manageable.
Sadly, there are not many takers for this sport so far -- except for recreational kayaking.
11. Exploring hidden or unknown waterfalls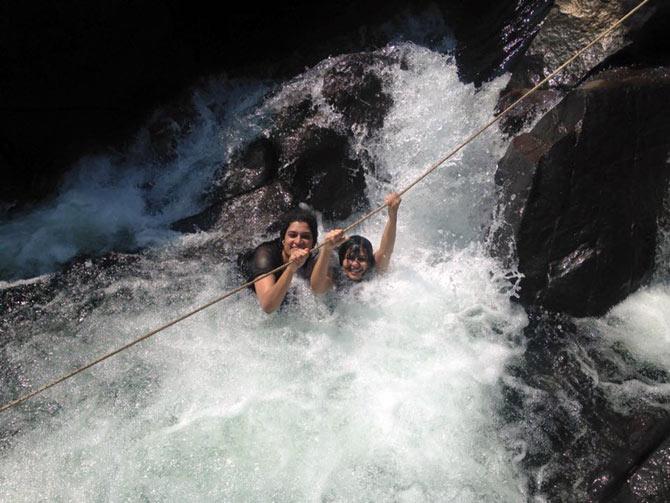 Photograph: Courtesy Sonia Anthony
India's green cover is blessed with numerous waterfalls –- unheard and magnificent ones.
For some, you just have to trek a few kms until you get to see the waterfall in its real splendour.
There's much more to see than the Jog Falls in Karnataka, Dudhsagar Falls in Goa and Nohkalikai Falls in Meghalaya.
Heard of Vantwang Falls in Mizoram, Lodh Falls in Jharkhand and Teerathgarh Falls in Chattisgarh? No?
And you were secretly feeling jealous of those Facebook posts of your friends in front of Niagara Falls?
These majestic falls are in your country, so forget Niagara Falls for now.
12. Walk to rural villages on foot
Photograph: Courtesy Subhash Allan Oliveira
There are numerous city walks that helps you learn more about the city you live in than what Google tells you. However, there's one more walk that you should give a try.
Called 'Shodh Yatra,' it seeks to learn more about creativity and innovation at the grassroots, and also about traditional knowledge which is often unwritten but passed on through generations.
Participants walk about 250 km in a span of a week covering areas that usually don't have regular road and transport connectivity.
It's organised twice a year by the Society for Research and Initiatives for Sustainable Technologies and Institutions (SRISTI).
If you are interested in developmental issues, this 'yatra' is definitely for you.
It's not just a travel experience but something beyond.
All images used for representational purposes only.