Plum is -- in no particular order -- a high energy bar, a restaurant for a five-course meal and a delectable home decor store, says Veer Arjun Singh.
Plum By Bent Chair feels like a galactic ship that accidentally slipped out of a newly discovered black hole.
The restaurant and bar in Delhi's Aerocity is so purple (plum, get it?) that supervillain Thanos could call it home.
I wouldn't have been surprised to find a bunch of blue-headed aliens here either, communicating with their antennas and sipping green, yellow and red liquids out of crystal glass.
It would at least have felt like a theme party I didn't dress up for.
Blame the stereotypical sci-fi references on the psychedelic effect this place can have on your mind, especially if you down their super-stiff cocktail recommendations after dark.
And I did. Their jasmine tea-infused gin cocktail with yuzu lime would have called for a repeat order if not for their wide selection.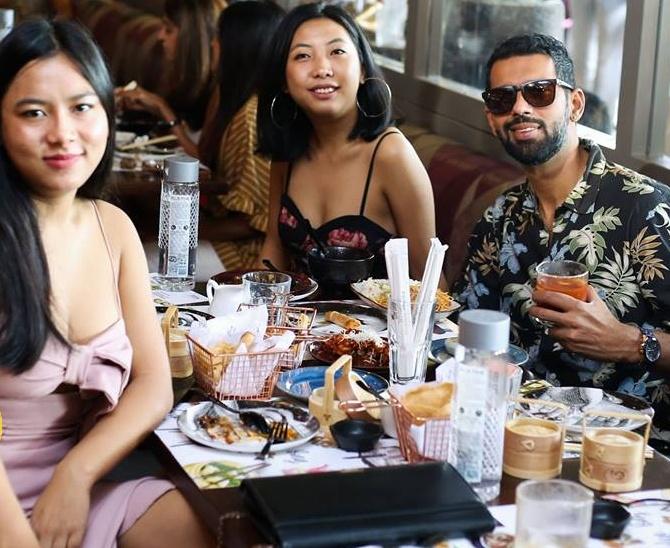 Another drink to try is Fig in Fashion, which fires up their house bourbon with exotic spices.
I am sure food will be next on your mind. But if you're going to open the menu to look for bar nibbles, you might have come to the wrong place.
The pan-Asian selection here just doesn't allow you to nibble. You have to think Food. The edamame and truffle bao from the vegetarian selection is excellent.
You could slowly move from soup to sushi and ngiri, navigate through the customary burgers and pizzas, and land on the small plates page.
It's rare for a speciality kitchen to offer such a variety of vegetarian and gluten-free dishes.
Consider ordering the gluten-free Cantonese sliced chicken tossed in soy with a unique kick of ginger, or the three-mushroom bok choy with glass noodles.
You are also likely to find offerings with outlandish names, such as Medellin Luxury Sofa and Maharaja Luxury.
So, while you wait for your food to arrive, do look around to see what else there is to order.
The penny will likely drop at this stage, and suddenly you will understand why this 70,000 sq ft space is so overwhelmed with colourful decor.
You could order the artwork that caught your attention when you walked in or any of the ceiling lamps that guided your way in.
The vase in the corner, the wine holder or the tableware. Maybe even the table and four chairs that were reserved for someone else that day.
They won't unseat the guests in front of you. But yes, you can basically buy whatever you set your eyes on.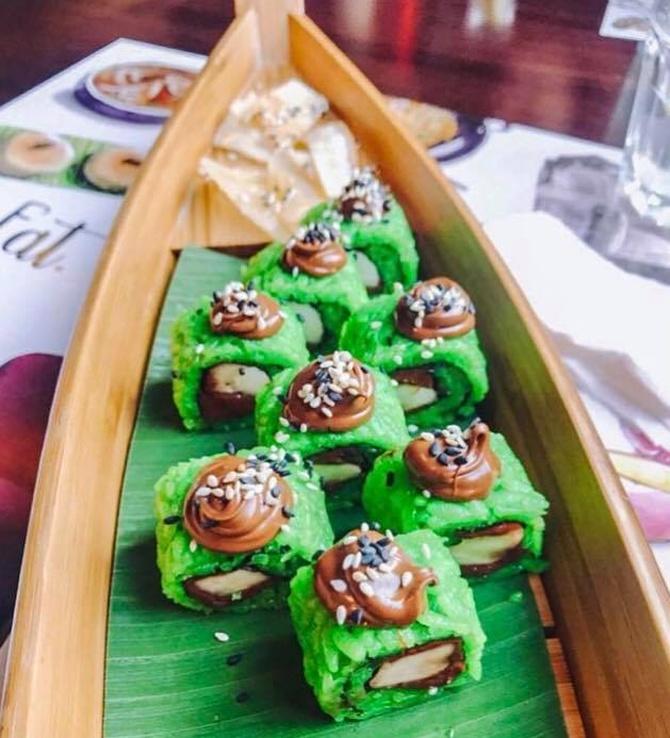 Shop-in-shop isn't new to Delhi's recent culinary experiences. I have wandered into the likes of Comorin and Cafe Dori and walked out with a jar of marmalade and a set of diaries respectively.
But being in a place where you can buy virtually everything you see is a radical proposition.
Plum was conceptualised by serial restaurateur Priyank Sukhija, who runs over 30 F&B establishments in the country, including Tamasha in Delhi's Connaught Place and Flying Saucer in Nehru Place, and Natasha Jain, the owner of furniture company Bent Chair, which she floated two years ago.
There's nothing simple or cheap about this place. The velvet chairs from the Rocky Star verdant corner where I was seated will easily set you back by Rs 50,000 a pair.
You would pay a little more for the small oval table from the same collection.
If you didn't come to spend on anything that isn't instantly gratifying, you can always ask for the Bent Chair catalogue and browse through it for stuff that can be purchased later.
It's great sometimes to have no inputs from a salesman shadowing you but only courteous staff patiently waiting for you to initiate a conversation.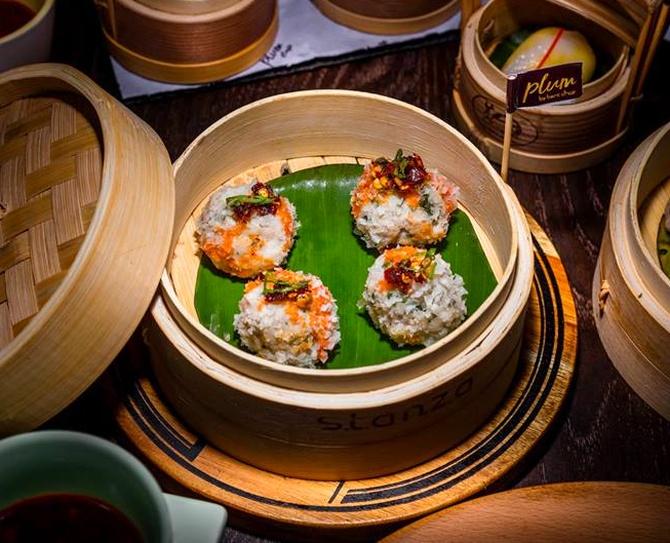 Plum By Bent Chair is a high energy bar, a restaurant for a five-course meal and a delectable home decor store in no particular order.
It's got outside seating, a smoking area, valet parking and music that will have you tripping even at noon.
Everything tangible here is Instagrammable and for sale. Just don't take a drunk decision.
A meal for two, with alcohol, at Plum By Bent Chair costs Rs 3,000.