In a journey of Marco Polo-esque proportions, Meenakshi Arvind and Mookambika Rathinam drove through 24 countries and two continents over 72 days.
Meenakshi and Mookambika tell Rediff.com's Archana Masih about their incredible, unforgettable, journey and the desperation for Gandhi in a dark corner of the world.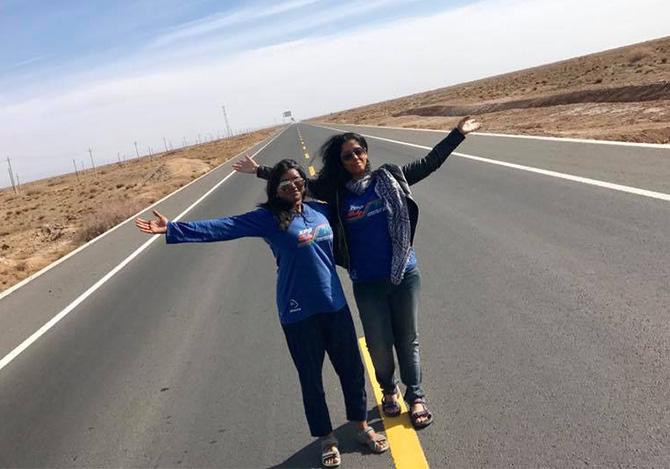 IMAGE: Meenakshi Arvind, right, and Mookambika Rathinam, left, in Dunhuang, China. They self-drove a Tata car from Coimbatore to London.
Photograph: Kind courtesy Meenakshi Arvind
Just as Meenakshi Arvind prepares to leave the lobby of the Coimbatore hotel where she has spent an hour relating a journey of Marco Polo-esque proportions, a woman walks up to congratulate her.
"What you did was great. For women it is not easy," the woman tells Meenakshi in a mix of English and Tamil. The woman from neighbouring Trichy had accompanied her son who was to appear for the GRE exam in Coimbatore and had stopped for a cup of coffee when she spotted Meenakshi.
Meenakshi in turn tells her about her own daughter taking the GRE at the same centre a few years ago. The mothers exchange notes and take selfies.
"This trip has brought us so much love. We met so many people. It has made me confident -- and humbled me," says Meenakshi, who converted her passion for driving into an ambitious 72 day road journey through 24 countries and two continents in a Tata car.
In Kyrgyzstan, an Indian medical student was so excited seeing an Indian car on the road that he waved out frantically and followed them to the hotel.
"Can you imagine he just followed us because he saw two Indians in an Indian car! He treated us to dosas and took us to meet other Indian students, his international friends and faculty," she recalls.
Journeys break boundaries.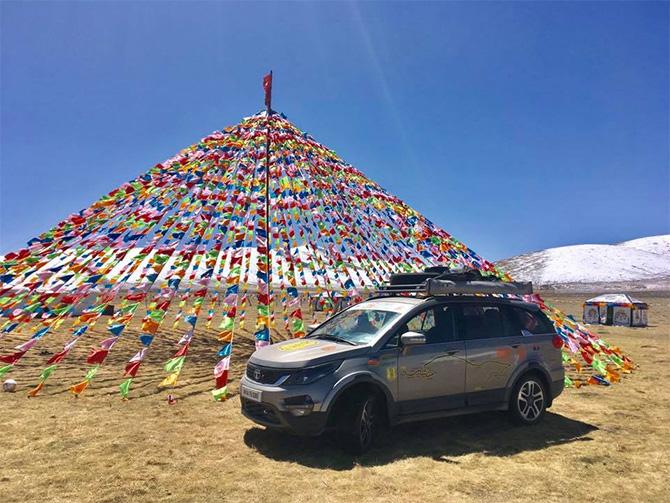 IMAGE: The longest drive through a country was 19 days in China. The best roads were in China, as was the highest amount they paid on tolls. Photograph: Kind courtesy Meenakshi Arvind
A seasoned road traveller -- in 2015 she had driven to Myanmar and before that in Europe, North America -- but this trip was something like never before.
She had posted her itinerary on social media in July 2016 and two other women joined in.
Mookambika Rathinam from Pollachi village near Coimbatore, on her first trip abroad (if you leave out neighbouring Nepal) and Priya Rajpal from Mumbai, who did a part of the journey.
"I felt people had an affinity towards India," says Mookambika, a software engineer who left the 9-5 routine to move to a life of farming and yoga.
"I always wear a bindi and people were calling us Seeta Geeta after the film. They are ga-ga about Raj Kapoor and Mithun Chakraborty in Uzbekistan. I used to put bindis on the women and they would be so happy," she remembers.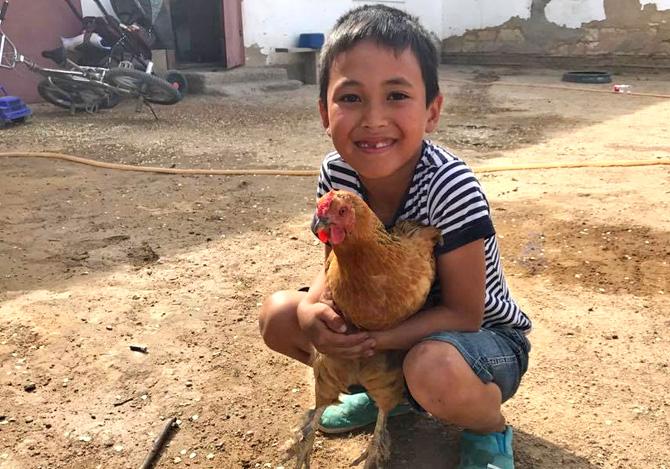 IMAGE: A child at his home in Uzbekistan. His mother brought camel milk in a bottle with two cups, but Meenakshi and Mookambika politely declined. It was such a lovely family, says Meenakshi. Photograph: Kind courtesy Meenakshi Arvind
Planned over seven months, the expedition needed 11 visas, road permits for every country, 15 sets of photocopies each and most importantly, a checklist of the different names by which diesel was known in various countries.
Sometimes it is just numbers or a letter A, in red or black.
The girls also carried oxygen tanks, medication, dehydrated food, dry fruits, peanut barfi, disposable t-shirts, car spares and jerry cans to carry fuel because some countries did not sell diesel.
"Uzbekistan can jail you for carrying paracetamol. Drugs common to us are banned for them, so we carried prescriptions. They actually count the strips you have," reveals Meenakshi.
There were also some rules that had to be followed -- in Russia you can be fined if your number plate is dirty.
In France if you are pulled over, you need a neon vest and a breath analyser with you in the car.
In Myanmar and China, the car had to be accompanied by a guide assigned by the government at all times.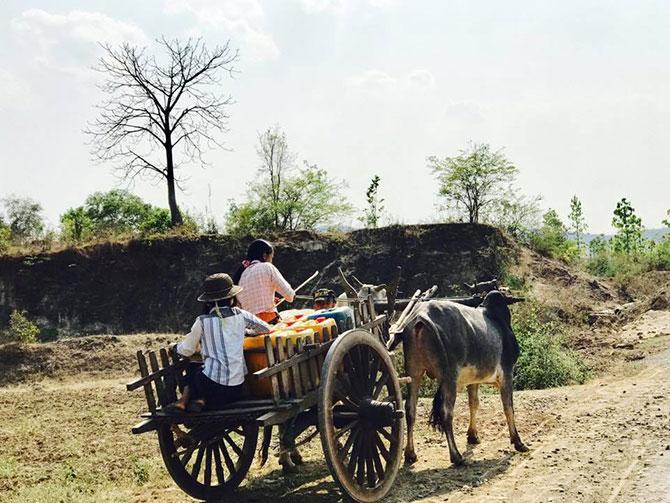 IMAGE: A village in Myanmar. In Yangon, on hearing them speak Tamil, an Indian invited them home. Photograph: Kind courtesy Meenakshi Arvind
The itinerary was planned old style -- with Meenakshi bending over a world map spread out on a table -- using a pencil to draw the route. The ground rules were:
No driving after 6 pm.
Staying at safe hotels with a safe parking and wifi.
The drive was supported by the Rotary Club to promote literacy, Tata Motors and other sponsors.
The trip cost the three women Rs 15 lakhs (Rs 1.5 million) each and was led by Meenakshi. Rs 18 lakhs (Rs 1.8 million) was raised in sponsorship that was shared by them.
The journey started from Coimbatore in March last year through Kolkata, Siliguri, Manipur from where they exited India after the last car servicing -- into Myanmar-Thailand-Laos-China-Kyrgyzstan-Uzbekistan-Kazakhstan-Russia-Belarus-Poland-the rest of Europe to the coast of France.
In Calais, the women drove onto a train meant only for cars, trucks, buses and camper vans. "It was cool. In front of us was a Tesla," says Meenakshi.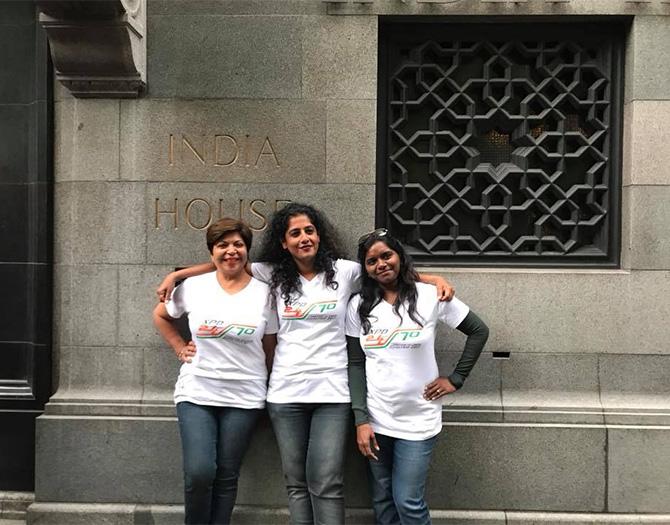 IMAGE: Meenakshi Arvind, centre, Mookambika Rathinam, right, and Priya Rajpal, left, on the completion of their journey at the Indian high commission in London. Photograph: Kind courtesy Mookambika Rathinam
At the end of the 33 minute journey across the English Channel, they were welcomed in England with champagne.
The expedition ended at the Indian high commission where the trio was welcomes by the high commissioner. The car was shipped to India after pictures were taken with Big Ben.
A few days later, they flew home.
The grand adventure was hardly a drive into the glorious 'ooh-aah' gush that travel routinely elicits.
In fact, it was on the verge of a collapse, no sooner had it begun.
The journey also exemplified how politics determine geography and the movement of people between borders and peoples.