We Indians simply cherry-pick those aspects of other cultures we like and reject what we consider unsuitable. Most of us recognise it as globalisation, says Kanika Datta.
Illustration: Dominic Xavier/Rediff.com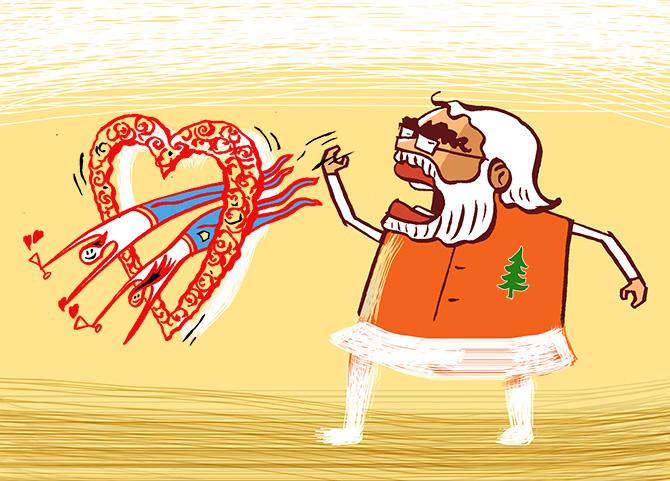 Karnataka Home Minister G Parameshwara deplored the westernisation of young women that somehow makes them irresistible to loutish men.
For some years, the Shiv Sena made violently gallant attempts to save Maharashtra's youth from succumbing to the licentiousness of western culture and celebrating Valentine's Day.
More recently, Prime Minister Narendra Modi tried to obliterate Christmas Day with Good Governance Day. He had a pretty good shot at wrecking the deplorably western Bacchanalian rites of New Year's Eve in 2016 with a rambling speech in two languages to his fellow countrymen.
Yet, here's the inconvenient reality: All these attempts to corral India within prescribed cultural boundaries have been signal failures. Despite the Shiv Sena's best efforts at wrecking shops selling Valentine's Day kitsch and menacing boys and girls, urban Indian youth across income groups in this most repressed of societies have persisted in sullying their so-called Indian-ness by embracing the spirit of romantic love with undiminished gusto.
As for Christmas Day, sharp-eyed hoteliers and urban retailers, ever on the lookout for a commercial opportunity, have happily co-opted the celebration of a martyred Messiah's birthday into their events calendar.
Christmas in urban, globalising India has simply morphed into the cold-weather party season that begins with the very Hindu festival of Diwali, feting the return of a victorious avatar of Vishnu, and ends with a year-end ritual based on a calendar established by a Catholic Pope.
If Mumbai and Kolkata were the once epicentres of Yuletide carousing, Delhi and Bengaluru have long since joined the party. Never mind if the revellers subscribe to saffron politics or socialist ideology, everyone loves a good tamasha. So when local markets adorn themselves in faux snow and importune a chap or two into wearing Santa outfits, you just know the online marketplace will catch up soon. Last year, commercials for Christmas sales blithely leveraged conventional imagery -- gifts under a fir tree -- to hard-sell their deals.
Mr Modi, more acutely aware of what works and what doesn't in cultural ideography than any other contemporary Indian politician, appears to have accepted the inevitable and given Good Governance Day a quiet burial (or cremation, if you will). This year, he made a point of signing off a Mann Ki Baat broadcast with Christmas wishes.
His New Year's Eve address may have been a one-off, coming as it did within a day of the end of a historic demonetisation exercise. Since the soaring rhetoric could not mask the content-lite nature of the speech, it had the salutary effect of encouraging an early start to the revelry.
Okay, so maybe Mr Modi did drive some of us to an early drink on December 31 evening, but do take heart from his stamina in repeating the speech all over again in English -- a recognition, surely, of its role as India's link language.
May we assume that the early efforts to thrust the Hindi language on a country where more than half the population speak other languages has been quietly buried (cremated), too?
Can we hope that this is the start of a belated recognition of the wondrous multi-culturalism that is India?
Any hope for lifting the strictures against eating beef, perhaps?
Who knows, but India's self-appointed cultural commissars -- most of whom exceed Mr Modi's nationalist asceticism by a long chalk -- needn't fear. Young Indians are in little danger of being subsumed by western ideals. A youth survey published by Hindustan Times last year showed that young India is, in fact, more conservative and "Indian" in its values than in any time in the past. The overwhelming majority of young people said they preferred to live in joint families, to listen to their elders, and opt for arranged marriages involving the whole nine yards (no boring court procedures for them).
So what's going on?
Young people who embrace the social opportunities of Valentine's Day, the women who enjoy the freedom of wearing western clothes, including "revealing" outfits, and men and women who party from Diwali to December 31 retain the many elements that make India, well, India. They simply cherry-pick those aspects of other cultures they like and reject what they consider unsuitable. It's all part of an acculturation process. Most of us recognise it as globalisation.