'The agriculture sector has been given the wrong kind of attention.'
'More innovations are needed for the sector to be successful,' says Devi Murthy whose company Kamal Kisan helps farmers with technology.
IMAGE: "I don't think there is anything wrong in making money," says Devi Murthy, "but it's better for all if you create a win-win situation for yourself and the community."
Photographs: Kind courtesy Kamal Kisan
Working in the rural sector and creating products for farmers often earns Devi Murthy the tag of a social entrepreneur, but she prefers to be known as an entrepreneur who saw a technological gap and filled it.
Devi tells Rediff.com's Shobha Warrier about following the footsteps of her entrepreneur parents after studying engineering in America, and the journey of her company, Kamal Kisan.
A family of entrepreneurs
My parents, R Saravana Murthy and Nirmala Murthy, are entrepreneurs, having started Kamal Bells in 1982 -- a company that manufactures sheet metal products for automotive companies.
I grew up listening to the dinner table conversations on business and business plans.
Knowingly or unknowingly, such conversations had an influence on me, more so because I looked at my parents as role models.
I also wanted to have something to do with business.
My ambition got concrete shape only after I finished my engineering.
I decided to study engineering at Drexel University (Pennsylvania) for a wider exposure, and the decision helped me immensely because the United States does not just let you have text book knowledge.
There, the approach to learning and knowledge is quite different from what we have here; it's a little more wholesome.
A student has the freedom to randomly choose subjects, and that is why I learnt a paper on business with stress on accounts, management and finance along with engineering though not with the intent to be an entrepreneur or business woman.
Exposure to agriculture at IIM
I came back to India after my graduation to work with my parents in our family business for a couple of years, and then study business management.
I did so at the Indian Institute of Management-Bangalore, specialising in entrepreneurship.
The programme I attended was structured to suit those in family business and entrepreneurship. As it was a part time course, I could work and study.
It was at IIM-Bangalore that I understood learning engineering sitting in a classroom is totally different from applying what you learnt in real life situations.
What really helped me there was peer learning as there were many students from various industries -- from jewellery making to real estate to education to agriculture.
A couple of guys were from the agriculture background; one was a tractor dealer and another was from Raipur with a lot of agricultural land. That's how I got exposed to agriculture.
Otherwise, there was no chance for me, a person who grew up in Bengaluru, to get exposed to agriculture. Exposure to the other side of India was very minimal when you grow up in a city.
These guys told me that there was a gap in the market, and that I should seriously look at it. They felt since I had a mechanical background, I should look at the deficiencies they faced.
Adding value to the community
I also had the desire to work in a field that would add value to the community I live in. Maybe it came from the curriculum that we worked on.
I didn't think there was anything wrong in making money, but it's better for all if you create a win-win situation for yourself and the community.
I believed I had the skills to provide farmers access to technology that could make their lives easier. But I also knew my knowledge of rural India, farming and farmers was limited.
So, I decided to travel to various parts of the country to meet farmers, and see how they worked.
I also visited various universities to know about the technological gap that exists in India.
One thing that struck me was, although we had so many research institutions and scientists, there was a total disconnect in what they do and what the market wants.
I wondered why I -- just out of college -- could see the disconnect, and why seniors in the industry could not.
I felt that our research was many, many years behind global players. Most of the researchers did not understand the ground level problems.
People say the farmers do not adapt, but I feel we should find out the reason why he is reluctant to use certain technology.
A farmer may not be an expert in technology, but he is an expert in his field.
IMAGE: Farmers plant cabbage using a Kamal Kisan planter. Farmers, Devi says, are extremely receptive to technology.
Starting Kamal Kisan
I had no plans to start a firm of my own.
I began with a research and development centre as part of my parents' business. I only wanted to develop products that would be available for rural India.
There was a lot of scepticism about whether farmers would pay for the kind of products I was planning to make.
My parents were very accommodating although I didn't have a definite idea on how I would proceed.
After my parents gave me space in the factory to start an R&D centre, I hired two people from my own salary.
As we proceeded to work on the product, I realised I was not doing full justice anywhere.
That was when I decided to separate my work from my parents' and be on my own.
In 2013, I, along with two researchers, started Kamal Kisan.
My first funding of Rs 5 lakhs was from the Rural Technology and Business Incubator at the Indian Institute of Technology-Madras.
First attempts
My grandfather had made a sugarcane crusher way back in the '60s, but he could not market it well then. He was way ahead of his time.
So, my first plan was to design a sugarcane harvester.
I was told that it was an area where farmers faced acute labour problem. But I soon realised that a sugarcane harvester would be a big challenge for me to take up first.
Then I met many farmers and found out about the difficulty they faced in rice plantation.
Many farmers in India face acute labour shortage in rice planting -- it is labour intensive and physically draining as you have to stand in mud, bent over.
Youngsters are not interested in doing this kind of work. So, we decided to design a machine that can mechanise the planting.
As we went along, we understood a rice transplanter also is a huge task as we needed to invest a lot more money in the design we had.
We have not been able to separate the rice plant perfectly while planting, as the roots are very tender and get entangled.
Though we had to abandon trhe rice transplanter and the sugarcane harvester, we started designing other products.
First successes
The first successful product was the vegetable planter and then the mulch layer (a tractor-attached device that can lay plastic mulch sheets and cover it with soil in a single pass).
The mulch layer was first designed to help a farmer friend of mine, but it turned out to be our first successful product.
Our main aim is to reduce the number of labourers with the help of technology.
The mulch layer can reduce labour requirements from six to two, and with the help of a vegetable planter, you need only one person to plant one acre of vegetables in four hours while the conventional planter needs four people.
We launched the vegetable planter priced at Rs 2,000 at a Krishi Mela in Shimoga, Karnataka, in 2015, and the response was excellent.
We got the order for 120 planters there itself.
As the product is quite simple and intuitive, it became a huge hit with farmers.
We have sold 900 planters at various rural markets in Karnataka.
In the meantime, we also came out with the sugarcane planter. As it is priced at Rs 95,000, it has been marketed more as a rental service.
The farmers who do buy it use it as an income source by renting it out to other farmers.
Weeding is another huge problem farmers face, as it is labour intensive; we are looking at it seriously now.
The problem we face is we do not have the funds to invest in our R&D.
Though we have ideas, we are not able to make new products.
We are just fine tuning our existing products till more funds flow in.
Many of us have this pre-conceived notion that farmers are not willing to pay and adapt to mechanisation, but we found that they are if the product is easy to use and not very expensive.
Whenever I met farmers, I found them to be extremely positive and receptive to technology.
In fact, people in the rural area are a lot more welcoming and open to technology and new products.
It was interesting for me to see that aspiration of farmers has increased and they prefer machines to manual labour.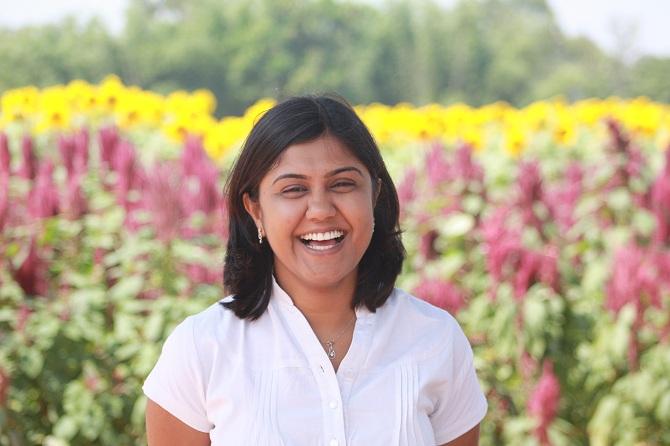 IMAGE: Devi began with a research and development centre as part of her parents' business before striking out on her own. Kamal Kisan became a profitable venture from October 2016.
Solving India's agriculture problems
When I started Kamal Kisan, I was not planning to be a social entrepreneur and the farmer also doesn't look at our products as something from a social enterprise.
I started with the intention of building a company that made useful products for farmers.
Whether I am a social entrepreneur or not, I have to be realistic in my approach.
We became a profitable venture from October 2016.
When I entered the rural market, it was an unknown area and I continue to learn.
One lesson I have learned is that the aspirations of farmers are high, but because the market is flooded with government subsidised products, it is tough to make the farmer pay for technology.
I feel that the agriculture sector has been given the wrong kind of attention; subsidies and loan waivers are not going to help the sector the way the government thinks it will.
Whenever I go meet a farmer, I see that there are so many problems he faces and they need to be solved.
That is what the government should be doing; solving their problems.
I will be satisfied if I can solve at least a few of their problems, but Kamal Kisan will not be able to solve all.
We need more Kamal Kisans and more innovations for the agriculture sector to be successful.
---
Don't Miss: How Young India is helping farmers