'My parents don't offer financial advice -- unless, of course, I ask for help. It is thanks to a lot of reading, research, on-the-job learning, and, of course, my stint at Oxford that I have reached here.'
Over Lebanese delicacies, Ananya Birla, billionaire Kumar Mangalam Birla's daughter, talks money, relationships, her passions and how she outpaced her peers with Abhineet Kumar.
She does not carry money. She has learnt to play the guitar all by herself. She is planning to launch her own soul and R&B album, and has got a tattoo on her arm that says 'Conquer'. She could easily pass for a rock star in the making.
But at 21, Ananya Birla has also built a microfinance business with a loan book of Rs 500 crore (rs 5 billion) and plans to turn it into a small finance bank. If that isn't enough, she has another start-up ready for launch. Little wonder that her mother keeps reminding her that Rome was not built in a day.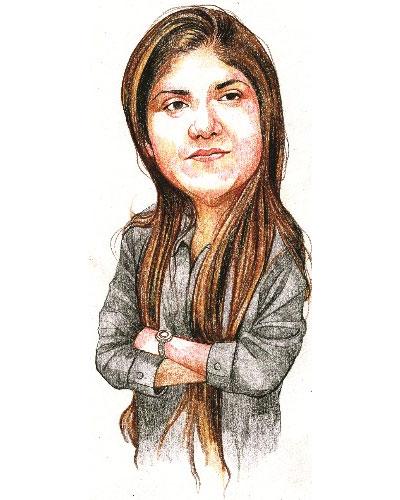 On a Thursday afternoon, I am waiting at the lobby of the Taj Mahal Palace hotel, Mumbai, as the young Birla enters in a pair of blue denims, a grey shirt and gold-streaked hair. Her high-heeled sandals make her an inch taller than me.
We take the lift to the Souk, a rooftop restaurant in the 22-storey tower section of the hotel that has the picturesque Arabian Sea and the Gateway of India as its backdrop.
She has chosen her favourite restaurant in town.
As we settle down and go through the menu card she talks about her love for Asian food, especially the Lebanese fare that the restaurant offers.
I struggle with the menu and prefer to take cues from her. She says she is learning to pronounce the names of the dishes correctly with help from a Lebanese friend.
We order her favourite vegetarian salad, the tabbouleh as starter, and a dish of falafel and hummus for the main course. She adds a virgin mojito while I settle for some fresh lime and soda.
With a second venture in the offing, this fifth generation entrepreneur from the Birla clan is no doubt quite prolific.
I ask the source of her inspiration.
"I literally follow my heart," says Birla, who counts start-ups and music as her two passions.
"I think a combination of these two can make a great difference to the world," she quips.
I am aware of her microfinance business, Svatantra that lends to women entrepreneurs in rural India. It provides technology-enabled cashless disbursement and is working on a cashless collection mechanism that will require the use of digital wallets. I am also aware about her next start-up venture that will entail selling inaccessible artwork over an e-commerce platform.
We switch to her other passion -- music. She has been playing the santoor since she was seven and the guitar for about six years now. She writes lyrics and composes music and is planning to launch a soul and R&B album.
"It sounds rather silly and cliched, but reading Jonathan Livingston Seagull (by Richard Bach) has really turned around my life," she says.
"Life is an amazing journey and learning from other people keeps me going. Books help; even if it is fiction, it is a great way of learning," says Birla a little philosophically.
Some of her other favourites are Jeffrey Archer's first novel Not a Penny More, Not a Penny Less, and the popular Asterix and Obelix comics. She is currently reading up on the myth of Pygmalion and Galatea in Greek mythology.
The food arrives and I thoroughly enjoy the fare.
She talks about her student days at Oxford, where she studied economics and management as part of her undergraduate degree programme. "I was all by myself, completely independent. I made amazing friends and discovered my passion for start-ups and music while studying there."
Does she plan to study further?
"I want to be in the real world -- learning goes beyond universities," says Birla, who is clear about her priorities and values leadership creation more than formal education.
She feels that if, two years down the line, she is in a position to mentor three more leaders within her organisation, it would be more valuable than gathering a few more degrees.
It must be tough for her to lead a team where most of the members are older than her.
"EQ (emotional quotient) is absolutely important -- dealing with people and their egos is part of leadership management," she says.
Who has such clarity of thought at such a young age? I tell myself she should thank her parents for her maturity and for such conditioning.
After all, Kumar Mangalam Birla also took up the reins of his group when he was quite young -- at 28. In two decades he transformed the $2 billion India-focused business house into an over $41 billion global conglomerate.
"I am the luckiest daughter. My parents are super supportive and they understand me," says Birla, adding that she calls the shots as far as her own ventures are concerned.
She fondly talks of her younger brother Aryaman Vikram (19), who plays cricket professionally for Madhya Pradesh, and her school-going sister Advaitesha (13), who "has taken Kathak lessons and is full of creativity." She says their parents goaded them to follow their passion.
Does her upbringing influence her views on money? Her father is the eighth richest Indian on the Forbes 2016 billionaire list, with a personal wealth of $6.1 billion (Rs 40,687 crore).
"I never carry money anywhere. I always ask my driver," she laughs.
On a serious note, she says, "I think money is necessary for certain things in life, but it does not give any sort of satisfaction or happiness unless it is used the right way."
Noting her proclaimed detachment from material goods, I ask her about her indulgences.
"Which car do you drive?"
"A BMW Z4", that costs around Rs 75 lakh (Rs 7.5 million). She loves long drives and finds them relaxing. I notice her watch with a green strap: A Cartier. I am assured she has not given up on the good things in life.
"What do you value the most?"
"My dog Sky," she says and laughs out loud.
I can't resist laughing, too, but I know how seriously dog lovers consider their pet.
"She is like a sister -- I don't think of her as a dog. She gives me so much unconditional love," she continues animatedly about her Yorkshire Terrier.
On a serious note, she counts her work and her relationship with her parents, siblings and friends, as her other important assets. She is closest to her mom Neerja Birla. "All relationships are like start-ups -- one has to keep working on them as you are bound to have misunderstandings."
"People are different. So you can't possibly have the same opinion -- so you compromise," she says with the kind of maturity that usually comes late in life.
"Did you mature too fast?"
She laughs out loud, "I think I did actually -- don't ask me why."
As we approach the end of the lunch, a steward recommends Moroccan mint tea. As we sip the tea I ask her if she has had to face any hardships in her life.
I learn that she started her first venture when she was 17; it failed due to a bitter fallout with her two partners. "Being an entrepreneur every day since the age of 17, with no support from anyone, made me grow up fast," she says while flashing the tattoo on her left arm that says 'Conquer'.
"My parents don't offer financial advice -- unless, of course, I ask for help -- but it is thanks to a lot of reading, research, on-the-job learning, and of course my stint at Oxford that I have reached here," she says.
If not money, what is it that drives her?
"I wish to create sustainable institutions that have an impact on this world," she says.
Birla plans to turn Svatantra into a small finance bank and take it national in the next two years. She is hoping not to get carried away by the frenzy around start-ups and that she will be able to build a strong revenue model and demonstrate discipline in fundraising.