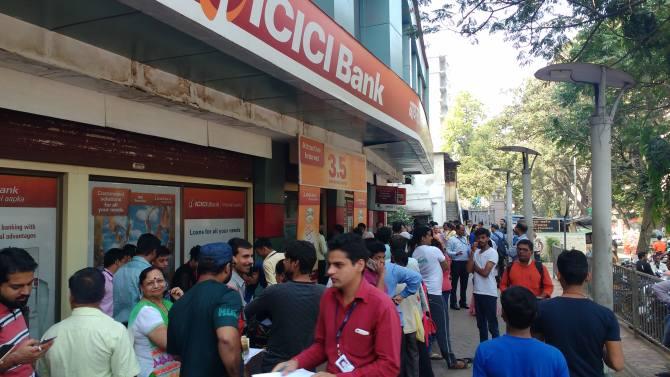 MUMBAI: People queue outside a bank to deposit, withdraw or exchange notes. Photograph: Prasanna D Zore/Rediff.com
Last week, Sita Menon, who once edited Rediff's Get Ahead section, withdrew Rs 1,200 (in Rs 100 notes) with great difficulty from an ATM in Kerala.
On Sunday, Sita lost her handbag at the airport which contained the Rs 1,200.
Along with the cash, she lost her credit and debit cards as well.
"I now have Rs 30 at home and it's been strange to say the least, the timing of this," she says.
Ask how she is managing and she says, "I have ordered veggies and supplies on udhaar (credit) from the local grocer."
Get Ahead contributor Paloma Sharma wrote about how she waited four hours at a bank on Sunday morning before she could exchange Rs 4,000.
A week has passed since Prime Minister Modi outlawed Rs 500 and Rs 1,000 notes.
After banks opened on November 10, countless million Indians have been spotted in serpentine queues outside banks, ATMs and post offices all over the country, trying their luck at exchanging, depositing and withdrawing money.
Their stories are both heart-rending and harrowing.
What has your experience been like?
Did you have to wait hours trying to get money from an ATM or bank teller?
Did the cash run out before your turn arrived?
Did you need to wait hours to exchange your Rs 500/Rs 1,000 notes, only to be told you had insufficient documentation?
What sort of problems did you face?
Were the bank staff helpful?
Were there enough notes in the ATM?
What advice would you have for readers planning to visit the bank in coming days?
And for those who haven't had the courage so far to brave the long queues at banks and ATMs, how are you coping with the lack of money in your wallet?
Have you been using your credit cards a lot?
Downloaded one of those payment apps on your smartphone?
TELL US your CASH CRISIS story.
Good and bad, please share your stories with us.
E-mail your experiences, tips and suggestions to getahead@rediff.co.in (Subject: Cash Crisis) along with your Name, Age and Location.
We will feature the best responses on Rediff.com