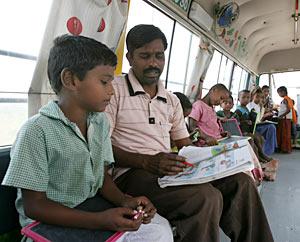 Do you have a favourite teacher? Write in!

Teacher's Day is September 5.
We all had our favourite teacher in school.
That very dear person who made a difference in our career. Someone who influenced us. Or gave us a wiser outlook to life.
Please nominate your favourite teacher. Tell us why he or she was special, and share your special story about your teacher with us. It can be an anecdote or a dedication. Or maybe an interesting, sentimental story.
Simply write in to us at getahead@rediff.co.in (subject line: 'To My Teacher, with love') with your experience and, if possible, a photograph of your teacher and you. We'll be publishing the best entries right here on rediff.com!
Photograph: Krishnendu Halder/Reuters