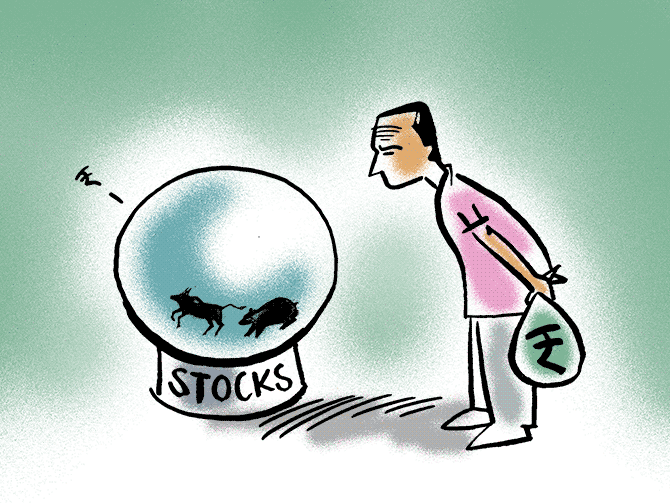 Ajit Mishra, vice president, Research, Religare Broking, answers your queries:
---
Nilanjan Mukherjee: I have the below mentioned stocks in my profile.
Ajit Mishra:
1. Yes Bank 13000 @ 14.7- Better to Exit
2. NTPC 40 @ 163 - Long term support is at 82.
3. ALOKIND 1000 @4.19 - book profit.

Amit: Want to invest ₹ 40K more. What is your suggestion? My choices are:
Ajit Mishra:
ONGC- Currently looking weak on short-term chart, avoid for time being.
PVR - Overall fine on the chart. Can take fresh long position either around 1200 or above 1500.
ASHLEY- Can take long position but with strict SL at 60
GAIL- Avoid now
MAHCIE - Better to Exit or hold with SL at 114
Chandra Bhanu Panda: I am new to stock market; I hold following stocks please suggest. Please suggest to hold/exit
Ajit Mishra:
ABHASH RAJ: I am holding the following shares.
Sir, I thought of keeping these shares for 10 years. Sir please help me to identify which shares i have to keep and which i have to sell. Also please suggest any share recommendation. I am a small Investor and can invest 10k per month. I want to make a huge corpus in 10 to 15 years. I can take risks so please suggest the shares that can make me rich. I request u this.
Ajit Mishra:
Rajesh Shinde: My name is Rajesh and I would like to get your opinion on whether to hold or sell the following stocks:
1. Cerebra Int
2. Electrosteel Steel
3. Karuturi Global
4. NFL (National Fertilizer)
5. Ruchi Soya
6. Surana Solar
Ajit Mishra: Exit all the stocks
Dinesh Jain: Advise for 1. hpcl. 2. Urja global 3. Laurus lab
Ajit Mishra: You can buy HPCL and Laurus Lab for long term. Avoid Urja Global
Satish Khire: I bought following shares last month, but are going down only although the market is picking up. Please advise whether to hold or exit.
Ajit Mishra:
1. Nestle Rs.16690/- / 10 nos.- It has witnessed a marginal profit taking but overall strong on the chart. Hold with SL at15650
2. HUL Rs. 2209/- / 50 nos.- Hold with SL at 2090-
3. Godrej Consumer Products Rs. 713.5 / 200 nos.- Hold with SL at 640
4. RIL Rs. 2110/- / 100 nos.- Strong on the chart. Hold with SL at 2040
Gautam Ghosh: I have the following queries:
I am holding 5000 shares of JSPL, 1800 shares of Vodafone Idea, and 1200 shares of Federal Bank. Should I hold, sell or accumulate?
Ajit Mishra: Hold JSPL andVodafone. Exit Federal bank
Pl rank the following banks as fresh investment ideas: HDFC Bank, Kotak Mahindra Bank, ICICI Bank and Axis Bank.
Ajit Mishra: All are good banks, you can invest in them. Ranking would be as mention above.
Pl rank the following companies in terms of fresh investment ideas: HUL, Nestle, Brtitannia, Infosys, Cipla, Pidilite, M&M, TVS Motors, Bajaj Auto, Maruti, Hero Motors, Thyrocare and Dr. Pathlab.
Ajit Mishra: All the stocks are decent and Ranking will be Britannia, HUL, Nestle, Cipla, Pidilite, Infosys, M&M, TVS Motors, Bajaj Auto, Maruti, Hero Motors, Thyrocare and Dr. Pathlab.
Santoshkumar H Patil: Please give the Review for below holding
Ajit Mishra:
Harinath Bandlapalli: I am having following stocks purchased at. Also I want to invest 5L for 3 to 5 years. Please suggest good stocks to enter now.
ITC@224
Maruti @8000
L&T@1180
ICICI bank @365
Ajit Mishra: Hold the above stocks. You can also invest in stocks such as HDFC Bank, Kotak Bank, HDFC ltd, L&T, Britannia, Dabur, Asian Paints, Bajaj Auto, Tech Mahindra, TCS, Reliance Industries, Cipla, Biocon, and Bharti Airtel. We advise you to buy these stocks in staggered manner as these stocks have decent fundamentals and good long term growth prospects which can deliver healthy returns.
RANJITH KUMAR: Please review my holdings for long term:
Ajit Mishra:
Saimeenakshi Sankar: I am a novice small scale investor and very recently started learning about stocks thru articles and youtube (my objective is to invest for medium to long term. Not Intraday trading). I still have to understand a lot more but out of curiosity, I have bought few shares.
Given below are my portfolio details. Kindly let me know if I should continue with the stocks. Also, please suggest some penny stocks that I can invest for medium to long term. Is Eicher Motors a good buy after the recent stock split? Please advice!
Ajit Mishra: We would not advise you to invest in penny stocks. You can invest in Eicher for long term.
Paul: I invested below stocks in SIP manner when I was working abroad. My friends suggested these stocks and I keep on accumulated for the past 10 years. But now some of these companies not listed in the market. When I was outside, was getting messages that these scrips will be banned in trading. But I was helpless as I can't provide them delivery note. So, now all shares in Dmat account. Kindly advice what should be my strategy.?
AUSTRAL COKE @18 - 15000
CORE EDUCATION @80 - 300
GITANJALI GEMS @90 - 100
KINGFISHER AIRLINES @25 -900
S. KUMARS NATIONWIDE @8 - 15100
SANCIA GLOBAL @11 - 3500
VIKASH METAL & POWER @15 - 1200
ZYLOG SYSTEMS @ 70 - 200
HOUSING DEVELOPMENT @55 - 165
RELIANCE POWER @ 85 - 100
A2Z INFRA ENGINE @ 30 - 100
APTECH LIMITED @ 220 - 100
INDIA GELATINE @42 - 50
PARSVNATH DEVELO @ 90 -250
PENINSULA LAND @ 85 - 200
PRAJAY ENGINEERS @22 -1300
PTC INDIA FINANC @45 - 60
UCO BANK @78 - 360
BANK OF BARODA @85 - 35
WELSPUN INDIA @35 – 90
Ajit Mishra: Exit all the stocks which are listed. For the one which are not listed you need to contact their respective company secretary for further guidance.
Rakesh sharma: I have below mentioned shares in my portfolio kindly suggest me what should i do...hold or sell.
BINANI INDUSTRIES EQ
BRANDHOUSE EQ
COAL INDIA LTD-EQ
GMR INFRA - EQ RE 1
GUJARAT NRE COKE-EQ
JAIPRAKASH-EQ RS 2/-
JAYPEE INFRATECH- EQ
JET AIRWAYS(I) LTD
RELIANCE INDUS-EQ
TV18 BROA-EQ RS 2
Ajit Mishra: Hold Coal India and Reliance Industries and Exit all the other stocks mentioned above.
Shantanu.R Manjrekar: Which Stocks to hold/ Exit or Buy.
Affle India
Avenue Supermarts
Bajaj Finserv
Colgate Palmolive
HDFC AMC
HDFC Bank
IOCL
Reliance Industries
SBI
Tata Steel
Titan Industries
Ajit Mishra: Hold all the stocks mentioned above.
Patel Brijesh Bharatbhai: I have following stocks. Let me advice whether i have to exit, hold or accumulate. You will also advice me how to build good portfolio.
Ajit Mishra:
Abhijeet Gupte: Please advise on the below stock i hold. Kindly let me know which should i hold or exist:
Ajit Mishra:
tcd177 tcd: Please guide me which strategies (with limits to buy or sell) can be used for Intraday & long term shares investment. Also if possible suggest /send me e-book to learn shares trading. I have not yet opened trading accounts please guide me.
Ajit Mishra: Investing in markets for long term, one should look at companies which have decent financials, prudent management, steady future growth prospects and low leverage ratio. For books, one should read books of authors such as Warren Buffett, Charlie Munger, Benjamin Graham.
ujjwal gupta: First of all thanks for all the advice. I am 22 years old and looking forward to building a portfolio. I have the following holdings right now. I am open to both long term and short term investments. Please provide your valuable advice. I also want to expand my portfolio and it will be great if you could advice me to either invest more in the following stocks or look for other options.
Ajit Mishra: For Long term

For Short Term
TataMotors – It has been rebounding for past five months or so on daily chart. One can start gradually accumulating the stock at the current levels. Strong support is at 120 and resistance is at 156.
Reliance Industries- Strong on chart. Support is at 2040
BhartiAirtel (Currently in loss of Rs. 730)- hold with strict SL at 480. Below this level, selling pressure can be intensified.
HCL Tech – IT packs are looking strong on the short-term chart and HCLTECH is one among those. Support is at 680 and resistance is at 740
Aftab Khan: Need your advice on below Portfolio. Shall I hold/sell these shares. Any suggestion in shares that I can invest in.
Ajit Mishra:
Nidhi Jain: Please guide on the portfolio. Also please advise if Affle India @2900 can be added to the portfolio or should be avoided or should wait for the correction? Please guide on HDFC Ltd. too.
Ajit Mishra: Affle India and HDFC Ltd both can be added to the portfolio
Vivek Sharma M: I am holding the below stocks, could you please let me know if I can add any more stocks on dips or can hold any or do I need to sell any stocks. any suggestions on this would be appreciated.
Ajit Mishra:
Anup Muralidharan: I hold the following stocks and would like your advice on their long term holding as well as in what range I should buy or exit with target in mind.
Icici bank ' 98 @ 354.61
SBI bank ' 32 @ 192
ITC ' 100@ 195.47
Bajaj finserv ' 1 @ 6166
Ajit Mishra: Hold all the stocks for long term
CHETAN BHIMSINGH CHAVAN: I have the following shares:
Ajit Mishra:
Illustration: Dominic Xavier/Rediff.com
---
Please mail your questions to getahead@rediff.co.in with the subject line 'Stock Market Query', along with your name, and Mr Ajit Mishra will offer his unbiased views.
Disclaimer: This article is meant for information purposes only. This article and information do not constitute a distribution, an endorsement, an investment advice, an offer to buy or sell or the solicitation of an offer to buy or sell any securities/schemes or any other financial products/investment products mentioned in this QnA or an attempt to influence the opinion or behaviour of the investors/recipients.
Any use of the information/any investment and investment related decisions of the investors/recipients are at their sole discretion and risk. Any advice herein is made on a general basis and does not take into account the specific investment objectives of the specific person or group of persons. Opinions expressed herein are subject to change without notice.