Introducing a stock market advice column where Ajit Mishra, Vice President, Research, Religare Broking, answers readers' queries. He will answer all your stock market-related questions on a weekly basis.
Please mail your questions to getahead@rediff.co.in with the subject line, 'Stock Market Query', along with your name, and Ajit will offer his unbiased views.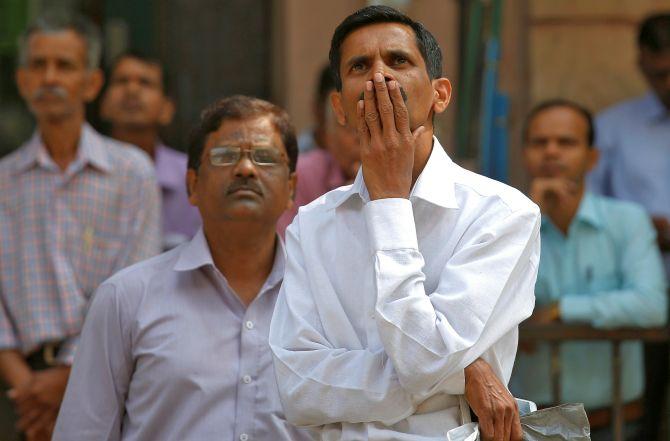 Photograph: Shailesh Andrade/Reuters
Mohit Bhatia: Hello sir. My name is Mohit. I had invested money in South Indian Bank stock at Rs 40/share. I am holding this share for more than 1.5 years with hope of making some profit but it has plunged since then to around Rs 13/14. What do you suggest? Should I hold or sell? And also about Spicejet share: is it good to hold or sell?
Ajit Mishra: The bank's performance has improved in this quarter, hence, wait for a few more quarters and then exit the stock.
Spice Jet: Exit 50% of the holdings (from fundamental perspective).
PareshRanpara: I am holding Tata Steel bought @ 525 and D-Link India bought @ 105. Can you advice regarding its fundamentals and technicals as to how long should I hold it?
Ajit Mishra: You may hold Tata Steel with a view of over a year as short term pressure may continue. We suggest you exit from D-Link India on the basis of fundamentals.
TusharShingate: I am holding 30,000 shares of Suzlon @5.7. 1,000 shares of PCJewellers @37. Please advice what to do?
Ajit Mishra: Sell both the stocks and strictly avoid investing in such stocks in future.
Pankaj: I have 3700 Delta Corp bought at the rate of Rs 224. Should I sell or hold? And what would be the time frame?
Ajit Mishra: Though it's currently trading with negative bias but one can hold it with strict SL at 130 with medium term view.
Nishith Bhatt: I have 550 shares of Cipla purchased about 18 months ago at Rs 620. When do you think it will come to this level again? It has been stagnant around Rs 550 since too long now. I shall be grateful for your advice.
Ajit Mishra: Cipla has been trading in a zone of 500-590 levels for last nine months. Either side decisive break would dictate the further trend. We therefore advise to liquidate your partial position at the upper band i.e. 590 zone.
Gupta CP: Your advice for PNB & SBI?
Ajit Mishra: PNB: It is trading with negative bias for more than a year now and still there's no sign of reversal. Short-term view is sideways to bearish.
SBI: It's only one PSU banking stock which is looking firm to us. Though it may see some marginal profit taking, but overall trend would remain up. Support zone around Rs 330-320.
RS Yadav: What is the future of stock markets particularly shares like Setco Automotive and oil-company shares with E-Vehicles coming to market?
Ajit Mishra: India's oil/petroleum demand will continue to outdo the supply and hence oil companies will do well in the future. Further, we believe these companies will diversify their business offerings and may also set up infrastructure needed for E-Vehicles, thereby balancing the structural changes in industry, if any.
Sandeep Guha: I would like to know the prospect of Maruti, Bajaj Finance & Bajaj Finserv. Can I invest in these 3 stocks for 6-month period at this level?
Ajit Mishra: We recommend you to invest in these stocks for a period of at least 12-18 months view as we may continue to see fluctuation in near future.
Mgd: How do you see Shankar Buildcon, which had moved up to Rs 2300 and now is at Rs 350? Can I buy?
Ajit Mishra: Avoid the stock as the financial performance has not been good and the stock is in continuous downtrend.
Sachin Juneja: I wish to know the future of Piramal Enterprises Limited and Bank of Baroda. I bought PEL @2100 and BOB @ 125.
Ajit Mishra: PEL: Technically, PEL is looking weak on the short-term chart. On the upside, multiple resistance is there at Rs 1860, Rs 2040. Breakout above these levels can lead to rise in price else consolidation will continue. On the downside, support is at Rs 1650. Better to exit on bounce.
BOB: In line with other PSU banking counters, it's also trading with negative bias. Avoid for long trades.
Ashish Kumar Jain: I am holding some small caps stocks in my portfolio currently. Currently, those stocks are all down. What is the future perspective of small caps and mid caps? When will they rise? Should I hold or sell?
Ajit Mishra: Many good quality small and mid-cap stocks are trading at good valuation and improvement in earnings can lead to rebound in the stocks. However, stick to quality names with good corporate governance and stable fundamentals.
SANKAR: I am at a loss to understand why the once premier construction companies and Indian turnkey Project executors are lagging miserably when all governments are spending huge on massive infrastructure projects like road /power plants /housing / airports /railways? I am naming a few, once stalwarts, quoting at rock bottom prices like HCC, IVRCL, GAMMON INDIA Ltd., TANTIA CONSTRUCTIONS, JP ASSOCIATES, etc. They have now become Penny Stocks.
What is the future of stocks of such companies? Any chance of recovery of these stocks, and estimated time period of recovery? Shall be grateful if you initiate analysis of these companies?
Ajit Mishra: These stocks were not able to sustain high debt levels and many of these companies had corporate governance issues, complex business structure, etc, that led to their fall. You can consider stocks like L&T, Cummins India and KEC International in infra and engineering space.
Vibha Gupta: I have Mindtree @800 (500 shares). It is consistently falling. What should be the approach? I am willing to take a loss.
Ajit Mishra: Post takeover by L&T, there have been changes at the top level management which has affected its financials. Going forward too, the stock may remain under pressure for short term. Hold for long term.
S Viswanathan: I am holding following shares. Please advice how long I should hold these shares?
Ajit Mishra: L&T share = 40 nos: Hold for 2-3 years
Shreyas Shipping & Logistics Ltd. = 50 nos: Exit on rise
Reliance Industries Ltd. = 50 nos: Hold for 2-3 years
Reliance Power Ltd. = 235 nos: Exit
Hindalco Ltd. = 100 nos: Hold for 2-3 years
PraveshRai: How to pick best stocks? How do we know that 'this is the correct time to buy any particular stock'?
Ajit Mishra: One should look at number of factors like intrinsic value based on P/E (price earnings or any other valuation parameters), financial performance, fundamentals as well as industry prospects.
Mukesh Kumar: As you know these days market scenario is disastrous. I have been investing through SIP and also have shares of GIC, APTECH & CL EDUCATE. I am monitoring the market since last 2 years for these shares but all these shares are going down. What is your suggestion: wait or sell out?
Ajit Mishra: You may sell all the three stocks on the basis of poor fundamentals.
Mahesh Joshi: The stocks that I had purchased a year back are now down almost by 50% or so. Is it advisable to purchase more at CMP and average out to minimise the loss? I had purchased Welspun Enterprise at Rs 170. Now it is trading at Rs 100 or so. So should I purchase more and average it out and sell the entire stock to minimise the loss and recover the amount I had invested? Is it wise to do so?
Ajit Mishra: You can average at current levels but try to exit on a rebound.
Shaktiraj: I am having 2500 shares of Detla Corp @ Rs 207. Can I hold for longer period? I am also having Sterlite Tech 600 shares @ Rs 187. Please advice: can I hold or sell these stocks?
Ajit Mishra: Delta Corp: Exit
Sterlite Tech: Hold for Long term on the basis of fundamentals.
Manpreet Singh: I have 1000 shares of Yes Bank averaging Rs 120. I also have 200 of Spice Jet Rs 145. Shall I hold them and if yes then for how long?
Ajit Mishra: Yes Bank: The stock is in downtrend though marginal bounce can't be ruled out at the current levels. So, we suggest you to hold with strict Sl at Rs 82.50.
Spicejet: The stock is currently hovering in a range around its record high. So, we suggest you to hold it with strict SL at Rs 135. Upside resistance is at Rs 155.
Gautam: I have about 3000 shares of Jindal Steel & Power, which I had purchased more than 29 years ago. Kindly advise whether I should hold on to them, or sell them right away, or sell them later at a certain price point?
Ajit Mishra: The nature of JSPL's business is cyclical. Hence, exit partially at current price levels.
AngshumanMoitra: Please find below my few questions, the answers to which would be much appreciated.
Target price of Powergrid (PGCIL) from 2-3 years perspective and whether one should sell on price rise or hold for medium/long term?
Prospects of Avanti Feeds from medium term point of view
Prospects and Target Price of TCS, from a short term point of view
Ajit Mishra: PGCIL is a good stock to hold from long-term perspective. We cannot provide target price as the stock is not under our coverage universe.
Avanti Feeds: From 1-2 year perspective its prospects are bright at current valuation as financial performance has improved inQ1FY20.
On short-term chart, TCS is looking sideways to bullish. Also we have a running recommendation for the stock in our newsletter. Please follow the levels.
Himanshu Jain: Hello Ajit, I am new to stock market so need few instructions on how to deal in this. Also I have few stocks shortlisted for me. Please suggest on these.
Ajit Mishra: From long-term point of view
Coal India – Avoid
HDFC Life – Buy
PNC Infra – Avoid
IGL – Buy on dips
Biocon – Buy on dips
Moil – Avoid
Disclaimer: This article is meant for information purpose only. This article and information do not constitute a distribution, an endorsement, an investment advice, an offer to buy or sell or the solicitation of an offer to buy or sell any securities/schemes or any other financial products /investment products mentioned in this QnA or an attempt to influence the opinion or behaviour of the investors /recipients.
Any use of the information /any investment and investment related decisions of the investors/recipients are at their sole discretion and risk. Any advice herein is made on a general basis and does not take into account the specific investment objectives of the specific person or group of persons. Opinions expressed herein are subject to change without notice.