The rape of a young woman in New Delhi by Uber cab driver has raised the disturbing question of women's safety all over again.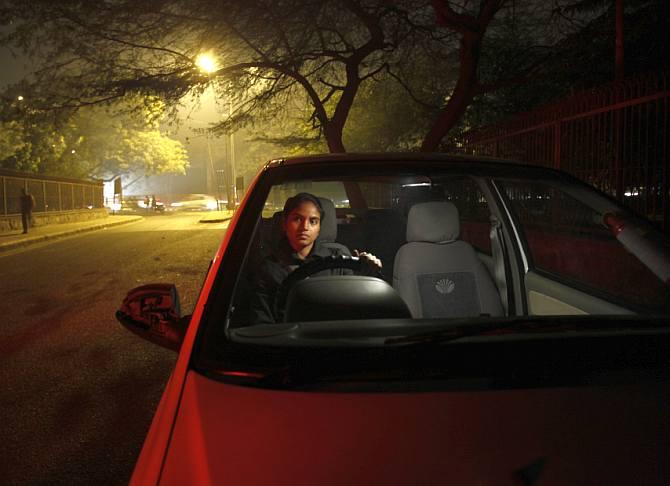 On Friday night, a young lady in New Delhi hired a private taxi and made the mistake of dozing off in the car.
When she woke up, she found herself in a secluded spot and at the mercy of her driver who had turned off the GPS and for all practical purposes had gone off his employer's radar.
Even as controversy surrounds the hiring and the screening processes of the drivers, the latest rape has raised questions about women's safety in India.
1. A woman commuting alone at night always spells danger
A few years ago, Piya Pande, a Mumbai resident found herself at the airport at 2 am after her flight touched down a few hours behind schedule.
"It doesn't always happen to someone else," she said speaking to Rediff.com.
Whether we like it or not a woman commuting alone at night always spells danger.
Pande listed out some dos and don'ts for women taking a taxi late in the night:
"Ensure you're dropped right at your doorstep. Get someone to walk you right to your apartment.
"If you get home with your iPod plugged into your ears every night, chances are you may not notice that shady-looking character who's been at the street corner daily just to catch a glimpse of you. Often, crimes against women are planned and the victim is stalked before the attack is carried out.
"Don't be too timid or afraid to speak up or stand up for your rights."
Pande listed out eight such handy tips. Read them here!
2. Soon after the Nirbhaya case, several women's safety apps mushroomed.
Most of us own smartphones and these apps are available for free.
Our reader Maninder Pal Singh selected his top five. You can read his picks here.
That being said, no app will work without Internet connectivity, a common problem even in our biggest metros.
Keep your loved ones posted of your whereabouts at all times.
3. "Take a self-defence class,"Mumbaikar Debbie Gail told Rediff.com after a college-going girl was molested at the hands of a mob of men in Guwahati.
If you haven't got around to enrolling for a class, Raj Vadgama, a martial arts trainer has these tips for you:
"The elbow is human body's strongest part, use it to hit.
"The shin is delicate part of the body so instead of targeting the groin, go for the shin."
Read them here -- 10 self-defence techniques every woman should know!
4. Delhi has earned a nasty reputation of being unsafe for women.
"Be aware; be cautious," says Delhi girl Harnoor Channi Tiwary.
Have your car keys ready so you're not rummaging through your bag for it in the parking lot, she says.
"Sit in the car and immediately lock the doors.
"Don't wait to wear your seat belt etc with the doors open.
"If by chance someone attacks you before you get in the car, throw your keys as far as possible and shout loudly for help."
You can read Tiwary's piece on staying safe in Delhi here.
5. So what exactly goes on in the mind of a rapist?
"Rapists are not wired very differently from us, says Dr Yusuf Matcheswala, a renowned psychiatrist practising at Mumbai's JJ Hospital.
Some do indeed face psychological problems, he adds, but many others see the act as an expression of their need to dominate women.
Then there are some who, according to Dr Sanjay Kumawat a consulting psychiatrist and the former superintendent of the Thane Mental Hospital, only look for a feeling of gratification.
"In such cases (the rapist) rarely ever bothers about the outcome of his actions.
"These people are nymphomaniacs, obsessed with sexual thoughts. They are unable to postpone their need to be satisfied."
So what is it that goes on in the mind of a rapist? More insights here!
6. Have you been harassed too? Tell us!
A recent survey revealed that 84 per cent women in Chennai have been harassed while using public transport.
96 per cent of the respondents in the survey -- conducted by Survival Instincts, a non-profit CSR initiative of ZEiSys Technologies -- said they were harassed while commuting.
In the light of the revelation, we had invited you to share your stories with us.
Suman Sarangi shared two incidents with us and told us how she reacted in those circumstances.
And share your stories and tips to stay safe with us too!
E-mail getahead@rediff.co.in (Subject: I have been harassed) and tell us how you were harassed and how you dealt with it.
Please mention if you wish your name to be withheld.
It is time to raise your voice!
Note: Lead picture used only for representational purpose
Photograph: Mansi Thapliyal/Reuters