From accommodating social obligations to engaging in silly fights, the first year of marriage truly puts your relationship to test, feels Divya Nair.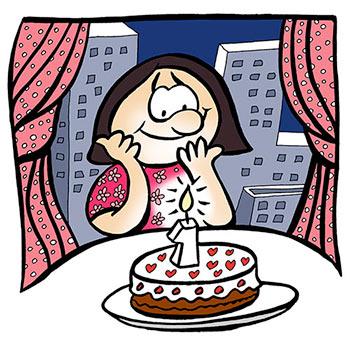 Time flies so fast.
It feels like yesterday when I wrote my first wedding column on Rediff.com.
From then on, it's been one hell of a ride for us.
On January 24, we celebrated our first wedding anniversary -- away from each other.
He was working on an important project in Norway while I was in Mumbai.
And that was one of those few instances when I felt I was better off alone than married.
As we complete a year of marriage, I'd like to share with you some of the important lessons my husband and I learned as a couple.
Plans will fail, there will be disappointments
Gone are the times when the wife cooked for the husband and waited by the door for him to arrive so they could have dinner together.
Forget having dinner together, on Fridays, my husband sometimes arrived home earlier from Pune, after travelling three long hours, but I would still be stuck at work in Mumbai.
And the one weekend when I made an exquisite three course meal, my husband was stuck in road traffic and got delayed by five hours.
His phone was switched off and I was growing impatient.
When he finally landed home and told me his phone's battery had died because he had been watching a movie on it, I wanted to tear his hair out.
I soon realised there was no point fussing over lost time.
I reheated the food and sat down with him to eat.
I do not get to meet my parents often.
When one of my friends told me that after marriage she could not meet her parents who lived just an apartment away, I thought she was exaggerating.
Although I stay only 30 kilometres away from my mom's place, I do not get to visit her as much as I promised to.
In fact, most of our conversations take place over the phone.
I sometimes miss the good old days when after a tiring day at work, I could rush home and sleep like there's no tomorrow.
There will be social obligations.
Until I got married, if I did not want to attend a family event I could always request my parents to excuse me.
Much as I want to, I cannot do the same with my in-laws -- there is constant pressure to attend at least one family event every week or month.
And since it's your first year of marriage, if you do not turn up for a social event, people will begin to judge you as being 'arrogant', 'selfish' etc.
Whether you like it or not, you'll have to attend funerals, marriages, birthdays and baby showers hosted by people you've hardly met.
You'll disappoint some of your friends.
All those promises I made to my friends about meeting them at least once a month post marriage hardly came true.
If you fail to attend two or more events hosted by your close friends, you'll be called a spoil sport.
In the last one year, I can count on my fingers the number of friends I have met.
At the same time, I have lost count of the number of meeting and reunion requests I have turned down.
And don't expect your friends to understand why in the first year of marriage attending a family event is more important than their mehndi or baby shower.
As long as your friends tease you for the absence it is fine, but there will be times when a friend refuses to talk to you because you cancelled their plans more than once.
You cannot avoid the 'baby' question.
All those aunties and relatives who once upon a time wanted to know when you were getting married now want to know when you're planning a baby.
It doesn't really matter that some of these concerned aunties did not attend your wedding.
Within a few months of being married, be prepared for unwarranted advice like 'Do not delay your pregnancy', 'At least start planning your first child else it will be too late…'
Whenever I see these aunties, I wish I could disappear in the blink of an eye.
Marriage is not all about love and sex.
Within a few months of our marriage, we realised that sex is just a part of our relationship.
Sometimes, it's all about treating each other as friends and sharing responsibilities.
Other times, it is about two different people trying too hard to find common ground.
In the last one year, we have fought, made sacrifices, blamed each other and gone to bed without talking to each other for days together.
Sometimes, I have had to manage multiple responsibilities all by myself and wondered if I was married at all.
However, with time, I have realised that the true test of marriage lies in nurturing the desire to live with the same person and rekindle your love for each other despite the limitations.
In a world filled with imperfections, we need to constantly remind each other that nobody and nothing is perfect, including us.
As we complete a year of marriage, I feel I have grown up to expect less and love more.
Illustration: Uttam Ghosh/Rediff.com
Don't miss Divya's previous columns:
Wedding diary: Things I'll miss the most after marriage
Amma's advice on what makes a marriage last
Wedding diary: How I met his parents
Wedding diary: Love, sex and other things
The bride's dressing room: No family please!
Click click click...smile please!
Wedding sari under 5k? You must be joking!
No buffet dinners please, we're Indians!
'I'm finally getting married and you're all invited'
'Have you bought enough gold?'
'Arranged marriage seemed like a box of lies waiting to explode'
ALSO SEE
10 questions every couple must ask before getting married