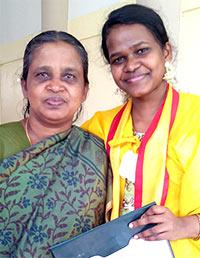 As a child, we don't realise the sacrifices our mothers make for us.
But as adults… aah! That's a different story.
Twenty-three year old Chitra R is grateful for everything her mother had done for her and, in this heartwarming feature, thanks the 'iron lady' she fondly calls 'Mommy'.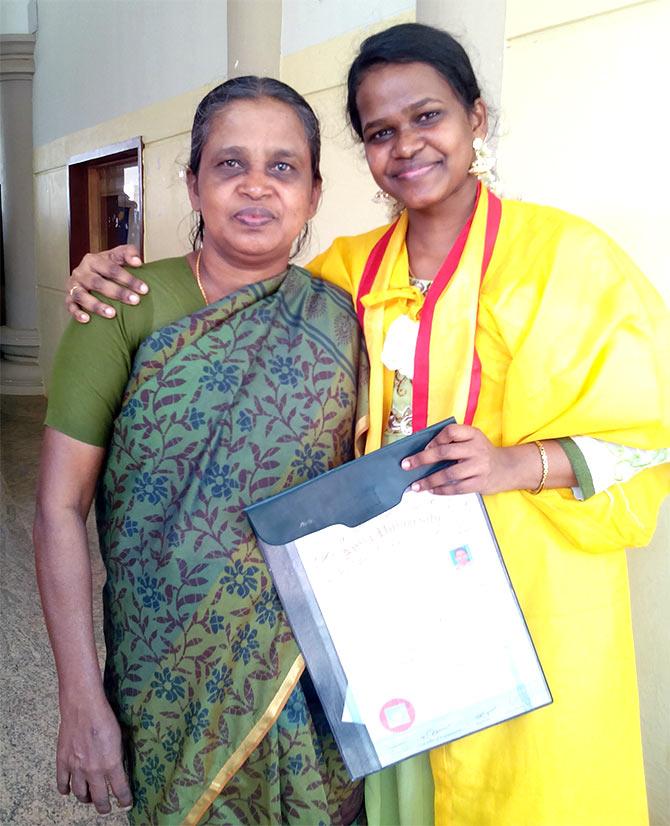 IMAGE: Chitra, a newly minted software engineer, with her biggest strength -- her mother. Photograph: Kind courtesy Chitra R
I was born seven years after my sister. For her, I was someone she could play with. For my Daddy, I was his little princess. And for my mother, I was God's second gift.
Like most mothers in my hometown in Kanyakumari, she couldn't take care of me 24 x 7. She was working as an assistant postmaster in Nagercoil. My maternal grandmother filled in for her and took care of me when I was young.
Every morning, before my parents headed to work, they'd take turns to kiss my cheeks and shake hands, signalling goodbye.
Soon after they left, I'd start waiting for them. Every day, I'd wait till five in the evening so that I could run to the gate and catch a glimpse of my Mom walking from afar. I'd wait till she reached the gate and run to her, grab her handbag and kiss her.
If Dad came home early, my first question to him would be, "Daddy, where is my chocolate?"
Once Mom reached home, I wouldn't leave her side. I wouldn't even let her freshen up. I'd follow her everywhere, narrating the incidents of the day. She'd hear me out patiently, frequently responding with a "Hmm" or an "Ok".
I'm 23 now and live away from home, but I still update her everyday about everything that happens in my life.
I remember those nights when I'd sleep near Granny after listening to her stories. If I woke up in the night, I'd go and sleep next to my Mom. She'd pray for me and my sister when we were asleep.
Thank you, Mom, for all those prayers and good habits you taught me.
My mother used to wake up at up at 4 am to do the dishes. Most days, I'd wake up with her and watch her do the chores.
After Granny returned to her village, our routine changed. Mom would leave for work early so Dad would dress me up. On his way to work, he'd drop me at Mom's office.
I'd get special treatment there. The postmen uncles would treat me to chocolates. They'd even take me along to open the post box.
If I got bored, Mom would give me a paper and a pen, make me sit under her table and ask me to scribble or draw something.
I enjoyed those moments because I got to be near my mother. Sometimes, I'd play with her sari pleats. I felt special and happy when I was around her.
At the age of 10, I lost my Dad. My sister was in Class XII then.
Our lives were shattered. Teary-eyed, I'd tell Mom that I wanted to see Dad. She'd hug me, cry and say, "The Lord is your father. You can call him Daddy."
Granny used to visit us often, but mostly it was just the three of us at home. After my sister moved to Chennai to enroll in a Bachelors course in nursing, it was just me and Mom.
A voracious reader, she taught me to love books and gave me the courage to face people. She taught me to pray and read the Bible every day.
Every time I made a mistake, she'd correct me, forgive me and hug me when I cried out of guilt.
During my final year at school, I was told to pursue fine arts instead of engineering at a career counselling session. My Mom knew I'd always wanted to become a software engineer. She gave me the courage to pursue my dream.
That day, she told me something I will never forget. She said, "My daughter will never fail; she will always win in her life."
Even when I failed her, she never lost hope in me.
Thank you, Mom, for believing in me; it has made me the confident person I am today.
After completing my engineering, I got placed. And that was the toughest moment in my life. The job required me to move to Mumbai.
I had lived with Mom all my life. My elder sister was married and living with her in-laws. I wasn't sure I could leave my mother alone. I had second thoughts about taking up the job.
That's when she told me, "It's your dream. You've got the chance to live it. So go. I will be okay. Promise me that you will take care of yourself and be a good girl. I will be always proud of you."
Once again, she gave me courage I needed. I had not even crossed Kanyakumari before. Thanks to her, I was ready to travel to the big city of Mumbai.
A lot of people asked my mother why she was allowing a young girl work in Mumbai instead of Chennai or Coimbatore, which was much closer (to home). My mother told them, "Wherever she is, Lord will be with her."
She is 58 now and still goes to work. She is a sincere employee, a loving grandmother to my nephew and a caring mother to her daughters.
She survived setbacks, made sacrifices and yet let none of that affect my sister and me.
She is an iron lady who made us to cry, laugh, be brave and face life's toughest challenges.
She did everything she could for us with a bright smile. She is our guardian angel and a darling at heart.
My Mom is my best friend. There is nothing I cannot discuss with her. Thank you Mom for making me who I am today; you'll always be my best friend.
ALSO SEE