We had invited you, dear readers, to share your love stories.
Here Vishal tells us how he and Pallavi went from friends to life partners.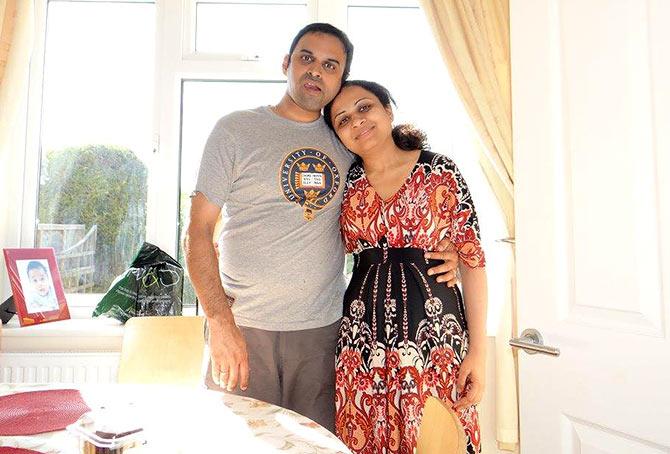 We were family friends. Never dreamt of making her my life partner as we were always good friends.
We went to different schools but our parents met frequently, so did we. It was always a casual friendly meeting.
Fast forward time -- she was pursuing medicine and I, engineering, each in a different city.
But we met again at my place as we were visiting our families during our summer break.
This time, I was blown away by her. I wasn't sure what she thought.
Love blossomed and I had to convince her by creating a mythical story that expressed my love for this imaginative girl (who was none other than her).
She fell for it!
To confess my love, I travelled from Mumbai to Varanasi in sleeper class just to see her and be with her for a few hours.
I must say, it was worth the effort.
Our parents resisted as there was no match for an engineer and a doctor, according to them.
We patiently waited for eight years.
Our parents eventually gave in.
We completed 11 years of marriage and hope to celebrate our love for many more years with our two lovely boys.
ALSO SEE
Jab We Met: Everything just clicked
Jab We Met: It was love at first browse
Jab We Met: My arranged love story
Jab We Met: I drove from Vizag to Kolkata to see her
Jab We Met: I did not have her photograph
Jab We Met: He was my project partner
Jab We Met: My so-called arrogance disappeared
Jab We Met: She was my friend's younger sister
Jab We Met: 'We sat on adjacent benches but never spoke'
Jab We Met: 'I could never forget her'
Jab We Met: An arranged 'happily-ever-after'
Jab We Met: She's 9 years younger than me
Jab We Met: I called her up at the stroke of midnight
Jab We Met: It was love at first sight
Jab We Met: I was ten and I knew she was the one!
Jab We Met: Our friendship blossomed into love
Jab We Met: It started in a chat room