We invited you, dear readers, to share your love stories this Valentine's Day.

Here, Atul Kumar tells us how thirty years ago, he first met his 'soulmate' in a chemistry lab.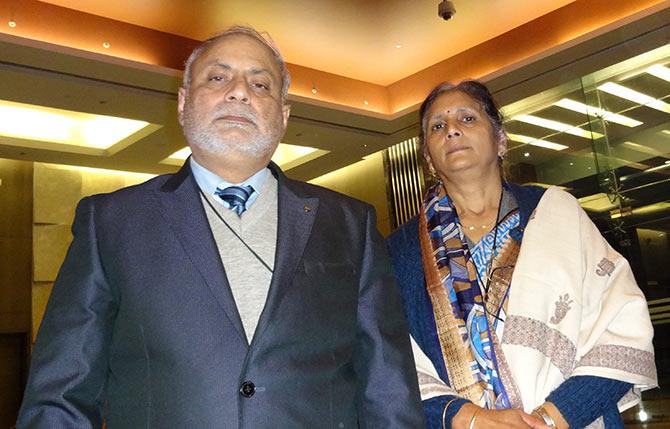 This is a real-life love saga nostalgically remembered after over 30 years of its happening and is yet to reach its zenith…
A boy hailing from a sleepy hamlet of holy town of Haridwar who completed his schooling way back in sixties under the Vedic traditions of a Gurukula might have never imagined that love will work such wonders in his otherwise traditionally-destined lifestyle.
My mother, a repatriate from Faisalabad, the then Lylpur of Pakistan, was an apostle of strong willpower and determination unheard of womenfolk of her times.
A firm theist with 'never-say-die' attitude and an eternal optimist, my mother had a strong influence on my subconscious and worldly life.
My father belonged to a small businessman family that migrated from Navanshahar (presently Ranbir Singh Pura) of Jammu district during troubled times of partition and settled in Kankhal -- a holy place near Haridwar.
My father did not possess even an iota of the stuff my mother was made up of.
And their marriage could never bring even a moment of happiness and contentment in my mother's life.
But true to her self, she was determined to not to let the family turbulence come in the way of the growth of her sons.
When I got admitted in a prestigious agricultural institution near Nainital and my family had no means to support my education, my mother sold her gold ornaments and made it possible in spite of brewing protests from well wishers of the family and society against this extravagance.
At the institution, my life transformed.
I was weighing a chemical on an electronic balance during a Plant Sciences laboratory class in the fall trimester of 1975.
I told my classmate standing besides me to remain there till the work was over because I felt I was deriving some kind of spiritual solace in her presence.
While making the request, little did I know that I was talking to my soulmate.
The girl braved all the upheavals that came in her way during the next eight years of our friendship till she finally decided to listen to her inner voice -- come what may -- and marry her friend.
The marriage was solemnised at Arya Samaj on the banks of holy Ganges in the summers of 1983 amidst chanting of Vedic rituals as my mother wanted it to be and had a court stamp the following day upon the insistence of her suspicious parents.
Though it was a roller coaster ride for both of us, the eight years of friendship that finally bloomed into love bore the testimony to the stellar strength love possesses.
She belonged to a Brahmin family from Uttar Pradesh and her father was a senior professor.
In such a well knit, god-fearing family firmly rooted in traditions and rituals, an intercaste relationship was a strict no-no.
When their daughter did not buzz at all to end this affair, her mother once even went to the extent of convincing her to accept the boy as the brother of her daughter, if she agreed to tie him a rakhi. But that was not to be.
However, soon after my mother met the girl, she made up her mind that she was made for her son only.
An outstanding student throughout her schooling and graduation, with a Bachelor of Education degree, she could have become a school teacher and been content with her career.
However, she was determined to pursue higher studies and enrolled for pursuing Masters the same year when I joined the university.
After completing her Masters with flying colours she got a prestigious senior research fellowship for her doctoral studies, which she completed successfully.
My mother's resolve was so strong that she used to assure me amidst all the troubled times that things would be materialized in a miraculous manner.
All kinds of psychological and spiritual pressure tactics were applied by her parents on their darling eldest child and only sister of two younger brothers to desist her from continuing this relationship.
A tantrik yagna was also performed at the home.
I do not know what descended upon her parents, but suddenly they accepted our relationship and happily agreed to bless our marriage.
By that time, I was working in a prestigious university in Bihar.
When there is truthfulness, maturity and intensity in love, it imparts tremendous strength.
I remember, during trimester breaks when hostel mess were generally closed down for maintenance works, she used to cook food with electrifying speed in flat 20 minutes for me when her mother used to retire for an afternoon nap after mid day meals of the family.
Many a times it appears that God sends his emissaries to help his children in distress.
I am greatly indebted to my professor at the university, an alumnus of University of Illinois, who had unshakable faith in my abilities and was convinced with our sincerity. He had all along been a pillar of strength for both of us.
A mother of two grown-up children now and working as a Professor, she has been whole-heartedly accepted in the family as a role model.
In a family where women folk never ventured out of house alone, my wife has been a globetrotter having visited several countries for various assignments.
We nurture a deep-rooted feeling that without blessings of Mata Vaishnao Devi such miracle would not have happened in our lives.
In fact, love is like a fertile garden that needs to be tended regularly if it has to flourish. And it is easy said than done.
If cultivated properly it blossoms beyond expectations.
However, an element of friendship should always be there in marital relationships all the times to keep their sheen intact.
ALSO SEE
#JabWeMet: It started in a chat room
Jab We Met: A touching love story
Jab We Met: 'She had tears in her eyes'
Jab We Met: 'His words touched my heart'
Jab We Met: 'She loved someone else'
Jab We Met: 'I secretly nursed a crush on her'
Dear readers, do you have an interesting love story that you want to share?
Tell us where you first met your partner and how the two of you fell in love.
Write in to us at getahead@rediff.co.in (subject line: 'Jab We Met').
You can also include a photograph of you and your partner and we'll publish the best entries right here on rediff.com.