We invited you, dear readers, to share your love stories this Valentine's Day. Here, Rushilla tells us how she met the love of her life.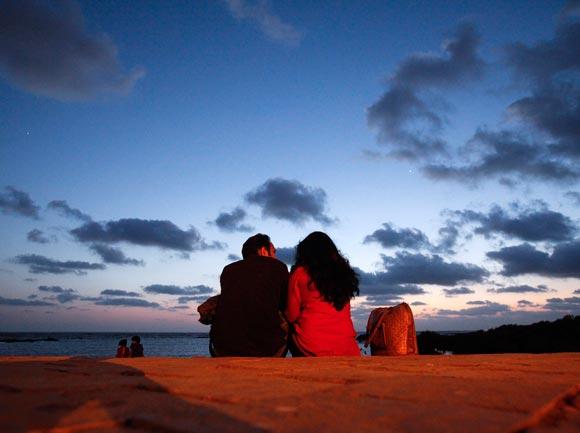 His name is Rishi and I am Rushilla.
Our story is quite a virtual one.
It was the time of online chat rooms and I was getting bored with my board exams.
I was in class 10, hardly 15 years old. (I am 27 now.)
I happened to be in a chat room where was I talking to many unknown boys and girls.
Suddenly I received a ping from his end too.
I replied to him and had a very sober chat.
Since I also had to attend tuitions, I used to have less time to chat.
I started to drift apart, not only from him but from the virtual world as well.
I got into engineering and was too studious to notice anything or rather feel about anything.
Few days later, I logged into the chat room again, very casually, and Rishi pinged me.
We exchanged numbers and started chatting.
I found him to be fun and independent. Besides, he was a biker. I may sound crazy, but I love bikers.
After chatting for six months, I thought I should meet him.
One cannot talk online and over the phone forever.
We had a 10-day camp at Amritvahini Engineering College in Maharashtra and luckily I was chosen from my college.
I was studying in Kerala and Rishi was in Pune at that time.
On January 4, 2006, we met for the first time at Pune railway station.
It was awkward, I wanted to run away and he was all cute.
He helped my group by taking us around Pune and also helped my professor with the luggage,
I guess our bond strengthened after we met, and let me tell you my relationship with Rishi was certainly not all dreamy and flowery.
We had our differences, but the good part is we are still together and madly in love with each other.
I got a job in Pune and after so many years of being apart, I finally got to enjoy my life with him.
We argue every single day and fight like cats and dogs, but I have learned that we can never be separated.
He rides his bike super fast and I really get angry about that.
Whenever I sit on his bike, we start arguing. The irony here being I used to love bikers; I guess I don't, any more.
I guess we have survived all these years because we were good friends first and everything else came later.
We understood the responsibility that came with a relationship.
We had our ups and downs like in every other relationship but we were firm as the mountain to not let go off each other.
On a perfect weekend, we dance together, cook together, eat together and laugh and of course fight later on.
I guess fighting and arguing are strengths of our relationship.
We are planning to get married this year. Wish us luck.
Lead image used for representational purpose only.
Photograph: Vivek Prakash/Reuters
ALSO SEE
Jab We Met: A touching love story
Jab We Met: 'She had tears in her eyes'
Jab We Met: 'His words touched my heart'
Jab We Met: 'She loved someone else'
Jab We Met: 'I secretly nursed a crush on her'
Dear readers, do you have an interesting love story that you want to share? Tell us where you first met your partner and how the two of you fell in love. Write in to us at getahead@rediff.co.in (subject line: 'Jab We Met'). You can also include a photograph of you and your partner and we'll publish the best entries right here on rediff.com.