We'd asked you, dear readers to share your love stories with us.
Here Syed Anwar tells us how he met Neha Shaikh.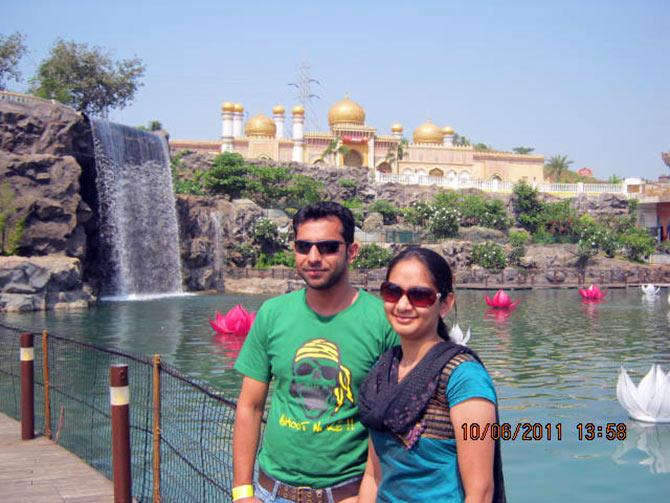 We met each other in 2013 at a tuition class where we were pursuing a foreign trade course.
Initially we didn't know each other and didn't talk, but later, in one of our introduction classes we came to know about each other.
After that she wanted to talk to me but was confused and scared.
She started talking to one of my friends and through him we started knowing and talking to each other.
She started liking me.
She liked my politeness and the way I spoke.
I found her very ambitious and courageous.
She was independent and that quality attracted me towards her.
She was also very religious and family oriented.
After our examination, we started dating each other.
Three months later, she proposed me but I didn't accept and insisted that we stay friends.
I belong to a small town and my family is narrow minded. So I knew it would be difficult for me to go against my family.
On the other hand, her family was very open minded.
Six months later, I realised how much I missed her. I realised she is the one who will make my life and future heaven.
I had always wanted to marry a career girl. In an arranged marriage set up, I wasn't sure that would happen. I decided to propose Neha for marriage.
I wanted to pop the question on Valentine's Day, but circumstances pushed me to propose her three days before. She accepted my proposal.
We continued meeting and planning for our future.
We fought several times and still do like cats and dogs. And this has made our bond stronger.
When we informed our families, her family did not have a problem, but my parents were not ready.
Eventually, I convinced my mom and sister.
It took some time but when our families met her, they liked her. We are planning to get married in December 2016.
I thank and appreciate my family for accepting our relation. We've both promised each other's families to live happily and make them happy too.
ALSO SEE
Jab We Met: 'My eyes would search for her'
Jab We Met: 'In her, I found a friend forever'
Jab We Met: 'She was filled with anger'
Jab we met: 'She was simple and beautiful'
Jab We Met: 'Jodiya upar se bankar aati hai'
#Jab We Met: 'I fell in love for the first time'
#Jab We Met: 'I liked his supreme self-confidence'
Click here to read more Jab We Met stories
Dear readers, do you have an interesting love story that you want to share?
Tell us where you first met your partner and how the two of you fell in love.
Write in to us at getahead@rediff.co.in (subject line: 'Jab We Met'). You can also include a photograph of you and your partner and we'll publish the best entries right here on Rediff.com.