We'd asked you, dear readers to share your love stories with us.
Awshesh K Gautam tells us how he met Shruthi.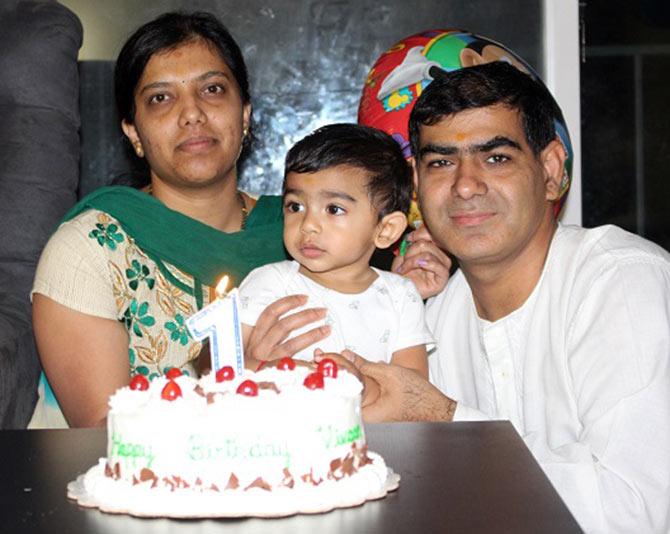 Our story dates back to 2007.
I had been working in CGI Technologies for three years and she had recently joined as a fresher.
I am from Panipat, Haryana and she is from Bangalore, Karnataka.
She was very shy, soft spoken and I was opposite.
It was not love at first sight, but I remember the date when things changed.
On March 31, I wrote an e-mail about something to the group and she replied immediately.
That day onwards we started texting each other and a month later, we started talking over the phone.
I think the feelings were mutual.
After five months of seeing each other, I moved to a different company.
At that time my family had started looking for a suitable girl for me.
I informed Shruthi that we'd have to tell our families about our relationship. Both families had some constraints but eventually they agreed.
In March 2010, I travelled to the US for my work and after I returned, we got married in December 2011.
We are blessed with a baby boy, Vivaan.
We are happily married and blessed to have each-other's company.
Ours is a perfect story of people from two states, two cultures and two different upbringing come together.
The photograph above is from Vivaan's first birthday.
ALSO SEE
Jab We Met: 'We studied in the same class'
Jab We Met: 'She completes me'
Jab We Met: I spoke to her after 11 yrs
Jab We Met: 'My eyes would search for her'
Jab We Met: 'In her, I found a friend forever'
Jab We Met: 'She was filled with anger'
Jab we met: 'She was simple and beautiful'
Jab We Met: 'Jodiya upar se bankar aati hai'
#Jab We Met: 'I fell in love for the first time'
#Jab We Met: 'I liked his supreme self-confidence'
Click here to read more Jab We Met stories
Dear readers, do you have an interesting love story that you want to share?
Tell us where you first met your partner and how the two of you fell in love.
Write in to us at getahead@rediff.co.in (subject line: 'Jab We Met'). You can also include a photograph of you and your partner and we'll publish the best entries right here on Rediff.com.
Click here for our complete Valentine's Day coverage
Visit Rediff's Valentine Store & Buy Amazing Touching Gifts for Your Loved Ones